SEX EDUCATION SEASON 1
Creator: Laurie Nunn
Directors: Kate Herron, Ben Taylor
Writers: Laurie Nunn, Sophie Goodhart, and others
Cast: Gillian Anderson, Asa Butterfield, Emma Mackey, Ncuti Gatwa, Conner Swindells, Kedar Williams-Stirling, Alistair Petrie
A review by Christoph Staffl
Sex Education takes place in a small British town and focuses on the lives of Otis, his best friend Eric and his crush Maeve. I read on Twitter that the school they are going to is a sixth-form college, which means they are all between 16 and 18 years old. Just FYI.
Otis lives with his mother, Jean, who works as a sex therapist. As a consequence, both of them talk openly about the topic. It seems like they can discuss everything. Especially Jean does not have boundaries and invades her son's privacy regularly. For example by talking about his masturbation habits. Otis' best friend is Eric. They've known each other basically their entire lives. They have traditions and inside jokes, which makes the friendship seem natural and real. As a young black, gay man, Eric has to overcome some obstacles, but it never appears forced or too on the nose. He also explores different parts of his personality vigorously – which is fun to watch.
Then we have Maeve. She lives alone and is in desperate need for some money. As a result, she disrupts Eric's and Otis' friendship and comes up with the idea of a sex clinic. By living with his mother and watching her behavior around patients (she has her office at home), Otis' picked up a lot of knowledge. This knowledge he now uses to make some money by acting as a kind of unofficial counselor. Who doesn't need the advice of a sex therapist in school? There is only one problem: Otis has some problems getting his own sexual life started. But that is just the beginning of everything that unfolds in the eight episodes of the first season.
One thing that is great about Sex Education is the shifting focus. While staying true to its core motives, the series explores various themes and topics. The writers, through excellent dialogue, make it seem very easy to shift from one issue to the next, sometimes in a manner of minutes. By limiting the series to eight episodes, the series is a dense experience and always focused on the matter at hand. Though ending way too soon, additional episodes may have hurt the overarching story-arc.
The overarching story-arc centers on Otis, who hopefully overcomes his problems and gains some independence from his mother. However, the creators do not shy away from shifting the focus to other characters as well. Throughout the series, different side-characters come into focus as our protagonist takes on their cases, which adds to a therapy-of-the-week-like feeling. This is not a bad thing at all. This way Otis can focus on his life, while the series as a whole explores various topics. They seem to come up naturally and not forced. Even supposed side-characters shine throughout the series. Before and after Otis has taken on their cases, they continue to exist and live in the background or even as more prominent figures. Our emotional connection is not cut, after the credits roll.
Though some of the topics, Sex Education explores in its first season, may have been talked about before in other series, Netflix' take on it seems fresh. This show, being set in a high-school-like setting, certain expectations occur naturally. The writers seem to be very aware of those expectations and play excellently with them. Everything starts with your typical stereotypes. But as the series progresses, these stereotypes can be broken and subverted. Of course, that is not true for all of them. Still, every new episode peels off another layer and exposes complex, compelling characters. Everyone seems to have a story to tell, a background that made them who they are.
As great as breaking with stereotypes and expectations might be, sometimes you have to let them play óut. Sometimes it is necessary to hit the viewers with a brick of reality. Not everything is shiny, bright and colorful as the school appears to be. The kids' homes seem to reflect their personalities and sometimes even the obstacles they have to overcome. I will not go into details, because I don't want to spoil anything for you – it is just something to look out for.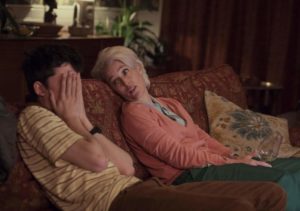 I repeatedly mentioned topics and themes Sex Education explores throughout its eight episodes. Though I don't want to talk about them in detail, because it would spoil some storylines for you, I just want to mention them:
Be it finding one's identity, exploring sexuality, masturbation, living through puberty and growing up, the first crush, what makes a friendship work, moving on with your life, or just the basics of listening to one another. All that and more is at some point in the focus of this series, and they still manage to tackle those topics with care and respect. They even consider different perspectives – e.g., female, male, straight or gay. And not everyone is white and privileged, which is always a nice change of pace.
The open-mindedness makes everything seem so easy and makes you fall in love with every single character. Kudos to every actor involved delivering performances that are always on point. The actors go from an exaggerated behavior when a scene requires it to a more subtle and nuanced approach in an intimate, crucial moment.
Underneath those scenes or along with them (depending on your preference), lies incredible music. Which brings me to my last point: everything I said so far, may seem like Sex Education is a serious show. It is not. Well, not always. It doesn't take itself too seriously. You will laugh, you will cry, you will be surprised and maybe even yell at the screen, but most of all: you're going to have a lot of fun.
The Verdict: Watch it! Binge-watching a TV show can be great. But sometimes I need to take a break for a day or two because I get so involved with the characters and sucked into this world. I want to enjoy it a bit longer. I did the same with Sex Education: five episodes on Saturday and the rest on Sunday. Stepping back also helps to get a better, more objective perspective. However, the short break confirmed my initial impression of Netflix's newest series: it is worth every damn minute. I tried to find something negative, but I could not come up with anything. Go and watch Sex Education.