Savage Sword of Conan #1
Writer: Gerry Duggan
Artist: Ron Garney
Colorist: Richard Isanove
Letterer: VC's Travis Lanham
Publisher: Marvel
A review by Brendan Hykes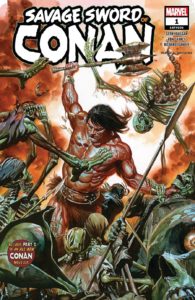 If I had to pick my favorite part of the Conan mythology, it would probably the Cimmerian god Crom whom Conan worships. Crom is a god that doesn't care for prayers and is more likely to visit curses on its worshippers than blessings. (This fact is mentioned more than once in the first issue of Marvel's newest Savage Sword of Conan series.) As the issue opens, Conan is adrift at sea, the only survivor of a long battle. He's found by a ship and pulled from the water, but his rescuers turn out to be slavers. He's thrown in the hold to recover so he can be sold with the rest of the slaves.
I'll admit the first half of the issue, written by Gerry Duggan, drags a little bit. Some narration-heavy pages, and not a whole lot happening, might slow the reader down. That said, once things get moving they move, they move fast, and they don't stop. There's a lot of intense action. Duggan leans heavily into the brutality of the character, his bloodlust and lack of concern for anyone around him mimicking the attitude of his god. The ending feels almost like trailer for the rest of the series.
Artist Ron Garney brings a lot to the table here, especially during the more action-packed sequences. He brings out the violence in the panels in such an aggressive way, I only wish he had more room to work in. The characters are all distinct and interesting. There's a lot to be said for Richard Isanove's colors, as well, helping to carry the tone of the book throughout. Overall, books set on the ocean are just fun to look at, and this one doesn't disappoint on that front.
Verdict: Buy it!
If you're a Conan fan, you'll definitely want to pick this up. The series looks to be a solid entry in the Cimmerian's adventures.