Ruinworld #1
Creator: Derek Laufman
Letterer: Warren Montgomery
Publisher: KaBOOM!
Review by Cory Webber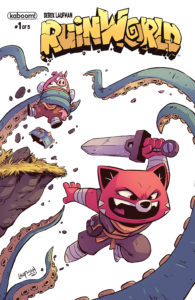 Ruinworld #1 tells the story of Rex, a seasoned "ruin hunter," and Pogo T. Wiggly, a farmer pig who volunteers to learn from him on his adventures. They are both on a quest for fame and fortune. Their luck seems to turn up when they discover a treasure map. Now, they just have to keep it long enough to find the treasure.
Ruinworld #1 was a pleasant surprise. Most of all, it's an all-ages book that appeals to all ages, like Shrek, but without the more adult-oriented jokes. It's just an all-around fun read.
Laufman, who pretty much did everything here, has created a well-developed, established world. His dialogue is constantly funny without coming across as just some silly romp. And, the pacing is great. While there are only a few characters, they are all fleshed out really well and carry the story just fine.
Laufman's art is a delight. Even though we see some severed squid tentacles and a puking pig, his art still conveys a lighter, comedic tone. He seems to have hit a sweet spot in which my inner child loves the cartoony characters and humor, and my adult self enjoys the storytelling, pacing, and overall composition. It felt as if I were playing a nostalgic video game from my youth, all while seeing it through a different lens. Also, can we get a Ruinworld video game, like stat?
While Laufman did do an amazing job in creating a fun, unique world for these cute little adventurers, it was Montgomery's lettering that really stood out. Yeah, you heard that right! In a book full of so much good, it was the lettering that was my favorite part. From emboldening the right words, to doing certain words in large fonts with fun, bright colors, it just added an extra layer that made the whole thing damn near perfect.
Verdict: Buy it.
Ruinworld #1 hits all the high notes that any #1 should hit. It is a four-part series; however, Boom! makes it a habit of giving books a four-issue order and then extending them if the sales justify it. So, let's go out and justify the extension of this series!