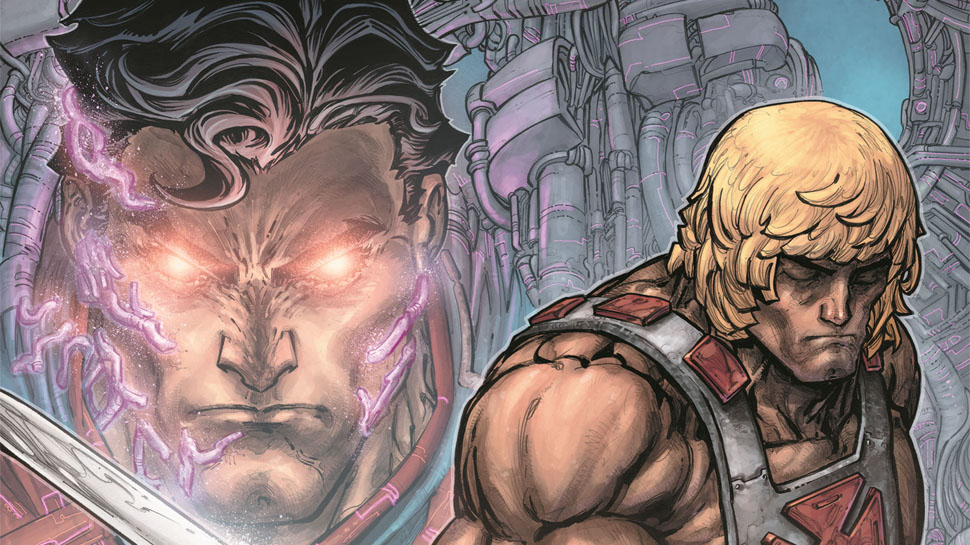 ---
RP's Rapid Reviews — July 18th, 2018
By Cory Webber
Each week, we here at RP try to deliver as many in-depth comic reviews as we can. Alas, we are only human, and can only do so much. But, we know how much you all love comics, and we want to review as many books as we can for you. I mean, it can be hard to wade trough the multitude of books released each week. So, without further ado, here are some quick-shot reviews of books that our staff did not individually review. They have been sorted by section (Buy It, Wait and See, Skip It).
---
BUY IT
Injustice VS Masters of the Universe #1 (DC) — By the power of Grayskull, this issue has transformed me into a fan of both crossover titles. Tim Seeley has done a fantastic job at introducing both universes to someone who is as uninitiated as I am. And, Freddie E. Williams II, the artist from both Batman/TMNT crossovers (personal favorites of mine), delivers some fine line work. Furthermore, Colwell's colors really accentuate Williams' work. Now, to be perfectly honest, before I opened this issue, I was thinking it would probably end up in the Wait and See section, at best — I mean, you just never know with some of these crossovers. But now, I find myself looking forward to the next issue!
Gideon Falls #5 (Image) — We can pretty much just go ahead and reserve a spot for this book in the Buy It section every time a new issue hits. Lemire and Sorrentino are a match made in comic book heaven. Most impressively, the panel layouts are just as integral to the telling of the story as the dialogue and art. There are a couple pages in which Norton is recounting his childhood where the panels are floating over a background of his childhood drawings of the black barn. It was a sequence that left me feeling equal parts creeped out and sympathetic to him. Seriously, I flipped through the book a few more time just to soak in the creative, mood-setting layouts. Get on this book now before this opening arc's finale in August!
Rome West TP (Dark Horse) — What if a small Roman fleet discovered America one thousand years before Columbus did? That's what this book posits, and it does so in an entertaining way that seems genuine and credible. Dark Horse collects this 12-issue series, originally published as a digital first series by Stela Comics. It comes from the same creative team that brought us Rebels. Brian Wood, who co-wrote the script, has such a strong knack for writing historical fiction. Here, he was able to cover roughly 1,600 years of alt-history by following the bloodline of one family. And Andrea Mutti's art perfectly complements his story with an acute attention to historical detail. Most importantly, this story has some things to say about culture, society, and politics — and it says them all well. In fact, there were several times when I felt like this story was commenting on our current state of global politics.
By Night #2 (Boom!) — After issue #1, I personally had this in the Wait and See section. Well, I've waited, and you know what I've seen? A book that deserves to be placed firmly in the Buy It section. Maybe my expectations were too high for the first issue, because I can't help but love this book. John Allison, a master of dialogue and solid characterization, is on top of his game. While his cast isn't quite as extensive as Giant Days when it first started, the characters he has written here are quirky, funny, and real; they sound and feel like real actual people. Now, throw in some sci-fi shenanigans and mystery, with a tinge of horror, and you have a book that can't be missed.
Rat Queens Special: Neon Static (Image) — In this one-shot, the Rat Queens are an elite team of shadow operatives in an alternate and futuristic steampunk world. And I gotta tell you, the creative teams's mix of a futuristic steampunk world with the wit and banter of these fierce, off-colored ladies was a genius combination. I'm not a very regular Rat Queens reader, so I can't really make a comparison as to how well these characters work in comparison to the original series. However, I did have a blast reading this self-contained one-shot. While Kirby's art is somewhat a departure from the regular series, he does include some fantasy elements that hearken back to it. Also, he gave the main characters a slight makeover to make them fit in to this new, wonderful setting. It left me hoping we see this iteration of the team in this cyberpunk alt-future soon.
Batwoman #17 (DC) — This issue marks the beginning of a new arc. Kate finds herself back in Gotham after being out in the field for a year. Also, this issue marks my first foray into this book. Marguerite Bennett does a fantastic job catching you up, making this a great jumping on point. Also, her dialogue is brilliant and surprisingly funny — I mean, this issue was packed with pithy jokes and funny one-liners. Lest you think this is a comedy book, Bennet has also packed this issue with wonderful relationships, intriguing mystery, and one hell of a cliffhanger ending. I should also point out that if you're looking for a strong LGBQT+, female-led superhero book, Batwoman is the perfect book. Furthermore, Fernando Blanco's art is dynamic, and his panel layouts either help amp up the action or set up the more personal moments perfectly. And, John Rauch's color work is beautiful. His use of Batwoman's orange-red on every page contrasts nicely with his blue-toned backgrounds. This book is now near the top of my reading pile for the weeks it comes out.
---
WAIT AND SEE
Flavor #3 (Image) — The majority of this issue doesn't do much to further the plot along. Like I mentioned in my review for the second issue, there are too many questions that continue to go unanswered. While I'm sure Keatinge will eventually reveal all, I'm certainly hoping it is sooner rather than later. Again, the back matter was just as entertaining as the comic itself. This falls in the Wait and See category, as I'm expecting this will read better in trade.
Ice Cream Man #5 (Image) — While the first four issues were creepy and unsettling, they ultimately had you mesmerized at the sheer audacity at what this creative team was attempting to do. Basically, Prince wrote each issue like a chapter in an anthology that had one commonality: the mysterious ice cream man. Each issue had a central conflict that ended in death. While this issue did fit inside that same structure, it also had some seemingly unrelated, yet equally disturbing, moments. This left me feeling confused, like maybe this arc will be different…? I'm going to wait and see what the next issue does before bumping this series back up into the Buy It section.
---
SKIP IT
VS #5 (Image) — I really wanted to like this book. I did give the first issue a positive review, but, somewhere along the way, something went wrong. Ribić's art was still phenomenal, and Klein's colors still gave the book a solid, otherworldly feel; however, I found each subsequent issue harder to follow. At times, certain action sequences were almost indiscernible, and I wasn't always sure who was saying what. Then, at the end of the issue, which is also the ending of the series, I wasn't sure what the final page was showing me. I really wanted to love this book. Unfortunately, I just couldn't make enough sense of the story; it's almost as if some pieces of the story were missing.
---
Well, that is it for this week. Let us know if you agree or disagree with any of these classifications, either here or on Twitter @RoguesPortal. Also, let us know if there are any books you want us to cover in future segments.