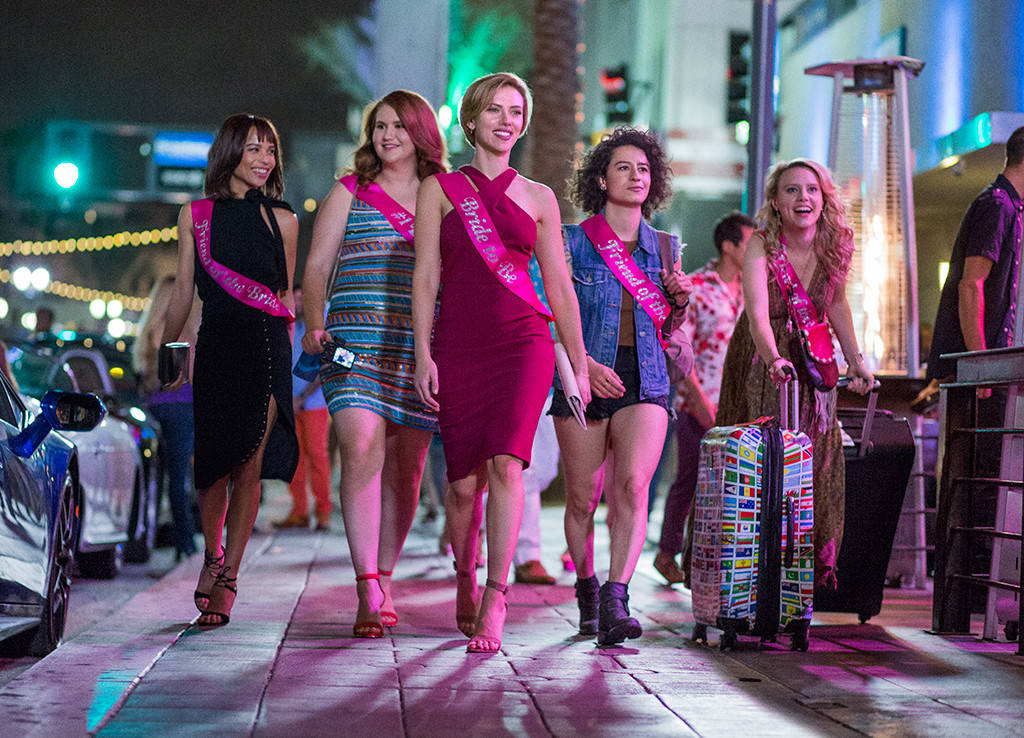 Rough Night
Starring: Scarlett Johansson, Jillian Bell, Zoë Kravitz, Ilana Glazer, and Kate McKinnon
Directed by: Lucia Aniello
Written by: Lucia Aniello and Paul W. Downs
Review by Stephanie Cooke
GO SEE THIS MOVIE.
Okay, I jumped to the punchline really quick there and I'll go into detail here but wow. I went to a screening for Rough Night expecting something that was… well, not great. SORRY OKAY?! I really and truly mean that now because after seeing Rough Night, I honestly just want to head back to the theatre with some more friends and see it again.
Rough Night is basically Bridesmaids meets Weekend at Bernies meets The Hangover with a star-studded cast that includes Scarlett Johansson, Zoë Kravitz, Jillian Bell, Ilana Glazer, and MY GIRL CRUSH (and EVERYONE'S girl crush), Kate McKinnon. These ladies play a group of friends dating back to their college days that promise to be friends for the years to come.
Flash forward to 10 years later and Jess (Scarlett Johansson) is getting married. Her BFF Alice (Jillian Bell) has put together an epic bachelorette party for her in Miami so the whole gang reunite in Florida for one last weekend of fun and excitement before Jess ties the knot. The weekend of excitement takes a turn for the worse when an, uh, unexpected situation occurs which leaves the girls scrambling to fix things and make it all right again.
It's R-rated hilarity that shows that women led comedies are JUST as funny as male-led comedies and that they can write and direct these bad boys (or girls!!!) too. And did you know that Rough Night's writer and director Lucia Aniello is the first EVER woman to direct a R-rated comedy?! WHAT THE!!!!! She kills it. Pun sort of intended.
Everybody in Rough Night is ACTUAL PERFECTION. The chemistry is all there and the whole ensemble work SO WELL together to bring it all home here. These women have a truly hilarious script to work with here that Aniello and Paul W. Downs (who plays Peter in the film) concocted together. There are a few moments when things get serious and I thought to myself "They can't possible recover from THIS!" but they do. There are these amazingly small things written in that keep taking us back to the core tone of the film, which is a comedy and I'm honestly astonished looking back at how they navigated the waters that led us from the beginning to the end.
Let me tell you… I liked Zoë Kravitz before I watched Rough Night but I don't think I had ever seen her in a comedy before. She's not expertly funny here but her character isn't necessarily meant to be the funny one. That being said, she SHONE in this movie, especially alongside Glazer who seemed to have a great time filming with her.
Jillian Bell is an actress who always puts EVERYTHING out there in her work and brings over the top characters to the screen. She makes no exceptions here but she isn't too much within the film and with four other main characters sharing the limelight, it was a great way to balance out her personality here.
Like Kravitz, Scarlett Johansson isn't really and truly funny in Rough Night but again, it's part of the character that we're given and with that in mind, she nails what she's meant to do within the role and gives away the spotlight to the other women like Bell and McKinnon to have us doubled over in our seats. Which, BY THE WAY, was something that happened numerous times while I watched the film.
Rough Night isn't about grossing you out and proving that women can do nasty crap too (like Melissa McCarthy's now infamous scene in the bathroom sink in Bridesmaids). It shows another side of women that we rarely see on film: an over the top but true take on what it's like to party with your lady squad. Drinking, drugs, getting carried away… most of us have been there in varying degrees. Some of the other parts of the film maybe not so much but the core of it, which involves having fun with your crew is absolutely relatable and real.
Verdict:
I don't know if you caught this earlier or not, but GO SEE THIS MOVIE. Honestly, I need more films like this in my life that are done right. I want funny women writing things, directing things, starring in things and getting the recognition that they deserve.
Tina Fey, Amy Poehler, and Mindy Kaling are goddamn hilarious but they're not the only funny women out there in the world and I want everyone to be inundated with so many that you wouldn't even know where to begin when naming them.
Rough Night was beyond fun and the perfect film to watch with one of my best friends sitting beside me. Get your squad together and prepare to laugh.
Rough Night is out in theatres on June 16.