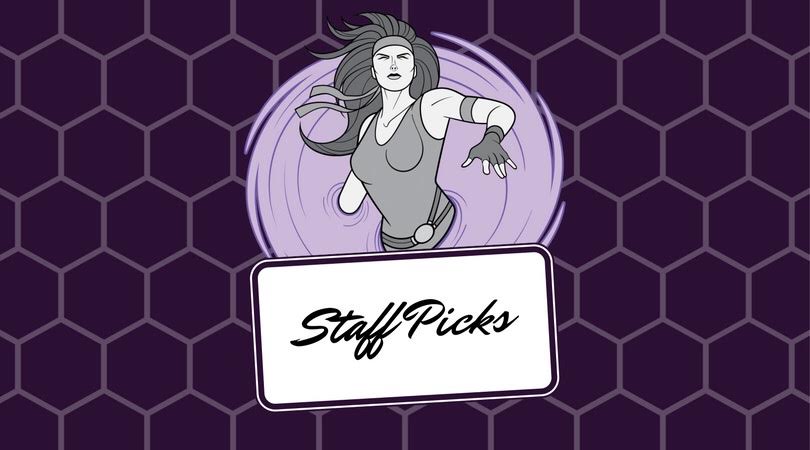 Corrine's Pick
Sandra
I'm habitually surfing through podcasts looking for something interesting or odd. With the sheer volume of work produced, it can be a little overwhelming to find something you like. So when I heard about Sandra, a fiction thriller podcast from Gimlet Media (known for shows like Reply All, Heavyweight, and The Habitat), I had to check it out. I binged the first season in two days.
The drama series follows Helen (Arrested Development's Alia Shawkat) navigating her new job with techno-conglomerate Orbital Dynamics. The company has developed a new, state-of-the-art digital assistant: Sandra. But Sandra (voiced by Kristin Wig) is not quite in the same vein of Alexa or Siri. It's actually staffed by human employees, all working in tandem to answer questions and provide an omnipresent, omniscient network for the users. As Helen settles into her role, her boss Dustin (voiced by Ethan Hawke) encourages her to connect on a more personal level. It works, until Helen realizes that sometimes technological connections come with certain drawbacks when incorporating humans.
With obvious similarities to David Eggers's The Circle and even Netflix's series Black Mirror, the show is a great look at the disconnect between technology and humanity, especially teasing the implications of these advancements that aren't always thought out by developers.
You can listen to the full season of Sandra on Gimlet Media's website or your preferred podcasting platform.
Hafsa's Pick
Secret Love of Geeks
SLG is one of my favourite reads this year. If you are a geek of any gender, I highly recommend it. It's so relatable to everyone, even if you don't match the writer's gender. You feel like you are a part of a community that understands your definition of romance and love no matter what that definition is. SLG is a beautiful mix of prose, lists, and comics coming together to produce a stylistic anthology that matches the writer/creator/artist's aesthetics and show you their experiences, personally. Honestly, the book has a way to draw you into the creative narrative without forcing the reader into the story. Go to your closest comic store and buy this book! You'll thank me!
Brooke's Pick
Sleepless
This week I finally got around to reading the first volume of Sleepless, and I loved it! It's the story of Lady "Poppy" Pyppenia, illegitimate daughter of the king, and her Sleepless Knight, Cyrenic. When Poppy's father dies and her uncle is newly placed on the throne, her position and safety at court are severely at risk. The talented Sarah Vaughn (writer) and Leila del Duca (artist) have created a fascinating world full of rival kingdoms, cultures, and beliefs. The characters are interesting; the artwork is beautiful; the whole thing just makes my fantasy-loving heart happy. If you like books about magic and court intrigue, pick this up and join me in waiting anxiously for the next volume.
Jameson's Pick
Craig of the Creek
With several of my favorite cartoons, like Adventure Time, Steven Universe and Voltron, inching ever closer to their series finales, I've started to worry about what I'm going to watch when they're all over! The good news is that there's a whole bunch of new cartoons on the air right now that are just as charming as my old favorites and one of the best is Craig of the Creek.
Craig of the Creek is a show about kids and kid society. The way it portrays different groups of kids feels a lot like Recess, but there's also something uniquely charming about it. Rather than highlighting the cliquishness of opposing factions, it seems to drive home the inclusivity of the titular Creek — every kid is a little weird in their own way and there's a place for every kid's weirdness to fit in. There's something inherent about childhood that Craig of the Creek really captures: the way little things can feel like the whole world to kids, the joy of playing make-believe and the freedom of having a kids-only space where you can really be yourself. This show truly has a lot of heart.
And good news! Just last week, it was confirmed that Craig of the Creek was renewed for its second season, so I hope it will become an essential part of the Cartoon Network lineup in the future.
Josh's Pick
Norsemen
I've been watching a lot of cyberpunk, science-fiction shows on Netflix lately and needed a change. A change in genre, and something less dark than my usual countenance.
Norsemen, called Vikingane in Norway, is a Norwegian comedy series that follows a group of Vikings in the year 790 as they navigate the political world. It's complicated when the chieftain's brother Orm is influenced by a Roman actor, and decides to build an art installation to make Norheim the cultural capital.
Norsemen deals with traditions, societal changes, workplace rights, personal fulfillment, political drama, and gender and sexual equality. I binge-watched the whole season this week and just found out Season 2 is coming out on Netflix in late September.