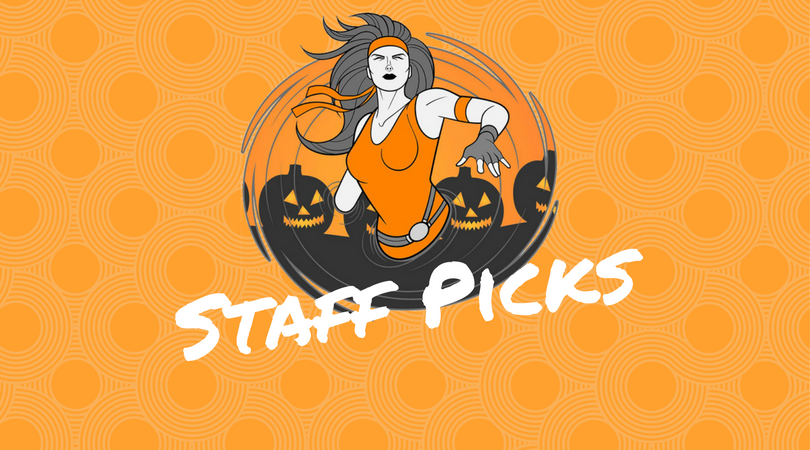 Hard to believe that we are already half way through October. In just a few weeks it will be time for all the witches and goblins to come out to play. Hopefully, you have been enjoying out staff picks this month, and just in time for the weekend, we have a fresh set of picks. So check them out and get ready for a good scare.
Christoph's Pick
My pick this week concerns a classic horror creature. Without it, our lives would be very different. No iconic asphyxiating noises, no rotting flesh, which is falling off a broken body while it wanders aimlessly through the countryside. The apparent fear regarding zombies is the fear of being bitten and ending up just like them. No control over your own life. No control who you might hurt. No control whatsoever. That's one key feature a story must have if it deals with zombies. That means, the characters must be in constant danger. Running for their lives. Hiding in ruins, searching for the last can of food, being as quiet as possible, while the herd wanders around them.
Or, if everything else fails, choosing the hard way: marching through the endless crowds of the undead, shooting, stabbing, punching, crawling – whatever might take you to the other side of this swarm. A swarm moves like one single organism. If one of them catches your attention, the others follow. No matter what. That's the feeling I want when watching a series with zombies. Fear The Walking Dead accomplishes precisely that.
It is four seasons in and still manages to make the creature that started it all the center of attention. Yes, there are living human bad guys and women, but it does not feel like we move from one extreme to the next. And the best thing: the characters involved are not just one stereotypical feat, but real people. Not heroes, just people trying to survive in a world full of terror. Losing loved ones, gaining new friends, making enemies, helping strangers – continually evolving. Watch Fear The Walking Dead.
Hafsa's Pick
The Picture of Dorian Gray by Oscar Wilde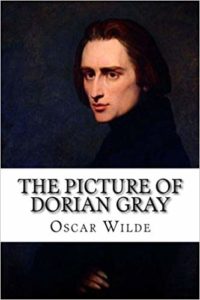 "If it were I who was to be always young and the picture that was to grow old! For that — for that — I would give everything! Yes, there is nothing in the whole world I would not give! I would give my soul for that!"
The Picture of Dorian Gray is the perfect melancholic and horrifying story of immortality that fits the shifting of the weather and the approach of Halloween. It is the perfect Gothic novel that combines ethereal and spooky in a way that is beautiful and tragic. Reading this book gives the reader chills and is a fodder for fanfiction, especially since Wilde is famously queer and it's not too hard to see the underlying queerness of the narrative. I highly recommend reading this book when you are in the gothic Halloween mood, not in the fun or the nerdy Halloween mood!
Michael's Pick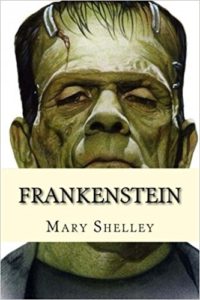 Mary Shelley's book Frankenstein is truly a masterpiece. This is not your Boris-Karloff-1930s-monster-kidnaps-girl-and-angers-village story that has somewhat cheapened the lore of Frankenstein's monster. It dives right into philosophical questions of life, love, and what it means to be human told primarily from the perspective of Victor Frankenstein and his monster.
One of my favorite parts about the book has to do with the author. Mary Shelley was on a summer vacation with her husband and friends sitting around and reading ghost stories during the dreary days. They decided to have a scary story competition. After a strange late-night vision, Mary (at age 18) began what would become a timeless classic.
If you truly want to get into the Halloween spirit and understand a classic monster, I couldn't recommend this book more. Of course, by the time you finish, you'll be left wondering who the real monster is.
Insha's Pick
Netflix shows, especially scary ones, are always a hit or miss for me. I can be engaged with the scares and the story, or I need to back away very slowly and go back to Vanderpump Rules. Haunting of Hill House went beyond my expectation of what this show could be. I'm a deep-rooted fan of the novel and the 1963 film, so seeing this was such a change of pace for the better.
Haunting of Hill House is a brilliant adaptation of a book that I've seen in a very long time. It modernized what the Shirley Jackson novel was about and provided family drama, intense moments, and an all-out rendering of what limited series can be. The spectacular characters are something that you'll hold on to all the way through. I instantly fell in love with the twins of this story, Luke and Nell, but you'll fall in love with every single person in this show. The acting is magnificent. The house is spooky, and the story is unbelievable but feels very realistic and grounded. When you get the chance, take the time and binge this entire series. Be right back as I cry about my sweet angel Nell.