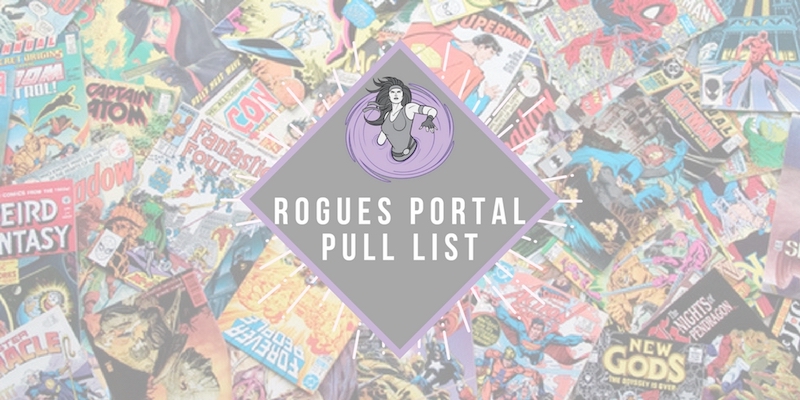 It is Wednesday my dudes! Welcome to New Comic Book Day: the day of the week when your local comic shop restocks the shelves full of brand new comicbooks. Let's see what's new on the Rogues Portal Pull List for November 29th. Tons of new comics come in each week, and it's not always easy picking out the best ones. So every week we here at Rogues Portal try to find the best books to add to our pull lists and yours. So here's what we're getting and what you should check out today!
---
Rogues' Essentials
Heavy Vinyl #4
The conclusion to this girl-powered music mystery series is bittersweet. I am SO hoping that it leaves open the possibility for more story arcs. – Anelise
This story about an all-girls, crime-fighting team who all work at a record store set in the 90's has been a pure joy to read. I cannot wait to see how Carly Usdin wraps it up. – Greg
---
Anelise's Picks
Powerpuff Girls: The Bureau Of Bad #1
Powerpuff Girls and comics. Enough said.

X-Files JFK Disclosure #2
Issue #1 of this series was gorgeously illustrated and a treat for any x-files fan. I'm looking forward to the second issue as we dive deeper into the alien conspiracy!
---
Greg's Picks
Motor Crush #8
I have loved this series since it debuted about a year ago. Great storytelling and engaging art.

---
Josh's Picks
Dark Ark #3
I've really been enjoying this twisted take on the classic Bible story. It's monsters galore, complete with a murder mystery!

Eternity #2
I get really excited exploring new universes, and in this issue, complete with Kirby-esque art, we will learn about the source of Divinity's powers.
---
Graphic Novels

Cannibal Volume 2 TP
I love a Southern body horror tale that takes familiar tropes and presents them in a unique way. – Anelise

Outcast By Kirkman And Azaceta Volume 2 HC
Outcast is one of the creepiest horror comics I have ever read, and the art is absolutely fantastic. – Anelise
That's all for this week! Thanks for checking out the latest edition of the Rogues Portal Pull List! We'll be back on December 6th with another stack of comics for you to check out. Stay tuned!