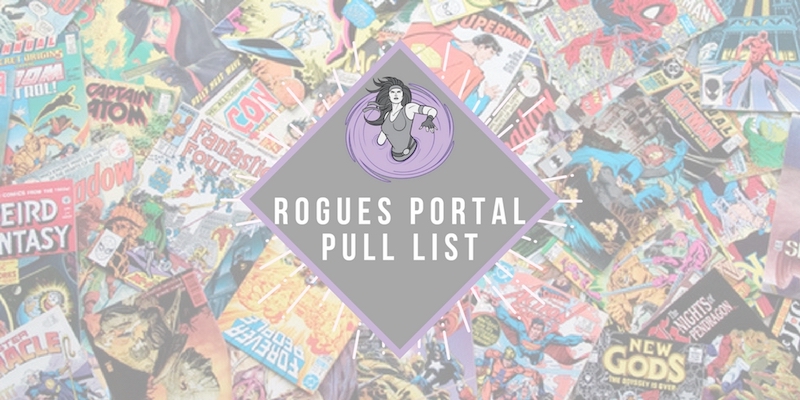 Welcome to the New Year! It's Wednesday, my dudes, and that means it's New Comic Book Day! There are tons of new comics hitting the shelves of your local comic shops every week, and it's not always easy deciding what to get, let alone what you should add to your pull boxes. So we've put together the Rogues Portal Pull List to show you the best comics that you might have missed! Here's what we're getting and what you should check out today!
---
Rogues' Essentials
Avant-Guards #1
Carly Usdin writes girl-centered narratives so well. I'm looking forward to this new school-story comic! – Anelise
I loved Usdin's last series that was done for Boom! Looking forward to see what she has in store for this series. – Greg
Exorsisters #4

This series balances fun and spooky in a brilliant way. – Anelise
Everything about this series just screams fun. Equal parts humor and mystery, this is a book you MUST be reading. – Greg
---
Anelise's Pick
Blossoms 666 #1
The Blossoms are the most interesting characters in Riverdale. I'm excited to see how this series packs in devilish drama!
---
Jim's Picks
American Carnage #3
This is a great topical crime thriller. One of the better comics to come out of Vertigo's reboot.
Outcast By Kirkman And Azaceta #38
Classic stories retold in contemporary comicbook form.
---
Josh's Picks
Aquaman #44
I loved the last issue of this. Kelly Sue Deconnick is not only exploring who Aquaman is as a character, but also the mythology of the ocean.
Die Kitty Die Heaven And Hell #4
The finale to Dan Parent and Fernando Ruiz's creator-owned project that takes a jab at all things comics.
Spider King Frostbite #1
Vikings and Aliens. The first volume was so good; I can't wait to see what happens here.
X-O Manowar #23
This series comes full circle not only with the return of Tomas Giorello, but also with the bounty hunters Aric encountered when he was off-planet. I tell you, this series is Conan the Barbarian meets Star Wars.
---
Graphic Novels
Jughead The Hunger Volume 2 TP
I like Archie and the gang, especially Jughead, and I like classic monster horror stories. Of course I'm getting this. – Josh
Proxima Centauri Volume 1 TP
If you like beautiful, existentialist stories, then pick this up and everything else created by Farel Dalrymple. – Anelise
Sons Of Anarchy Legacy Edition Volume 1 TP
No interest in biker gangs? Me neither! But I do love character-driven stories filled with lots of plot twists and heart, and SOA is definitely that. – Anelise
---
That's all we have for this week! Thanks for checking out the Rogues Portal Pull List! We'll be back next week with a brand new list for you to check out. Same Bat-Time. Same Bat-Channel!