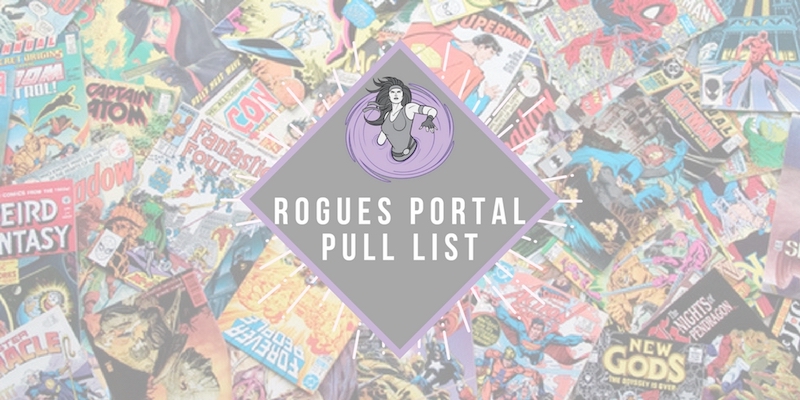 It's Wednesday, my dudes, and that means it's New Comic Book Day! There are tons of new comics hitting the shelves of your local comic shops every week, and it's not always easy deciding what to get, let alone what you should add to your pull boxes. So we've put together the Rogues Portal Pull List to show you the best comics that you might have missed! Here's what we're getting and what you should check out today!
---
Rogues' Essentials
Doctor Who The Thirteenth Doctor #1
Jodie Whittaker has proven a worthy Doctor Who…is Jody Houser a worthy Doctor Who scribe? – Michael
Given Houser's excellent run on Faith? I'd say this is the best mixing since chocolate and milk. Can't wait! – Stacy
Empty Man #1
Never got to read the original, but a story about a dystopian pandemic world written by Cullen Bunn has me all in. – Michael
Like Michael I never caught the original series. However every horror, heck every book I have read, from Cullen Bunn recently has been amazing, so I have to check out this first issue. – Greg
Green Lantern #1
Morrison's return to the DC universe and a character who when done right is one of my favorites has me looking forward to the first issue. – Greg
Police procedural of Green Lantern. And its written by Grant f—-ing Morrison. I'm intrigued!
---
Christoph's Picks
Batman #58
The last issue was mostly grunting because KGBeast and Batman were fighting – still a great, but brutal issue (is there anything King can't write?). Hopefully, though, there is more dialogue this week.
Giant Days #44
It's Giant Days. You know you have to pick this comic up. Every month John Allison delivers another fabulous chapter in the lives of our heroines, and this month its Valentines Day vs. Esther.
Nightwing #52
If you do read Batman, but not Nightwing, are you aware that Dick survived the headshot? Just asking. Anyway, Dick changed and I am not sure for the better, but I want to know where this is headed.
---
Greg's Picks
Bully Wars #3
Young's twist on high school bullying has been a fun read and run so far.
Marvel Knights 20th #1
The original Marvel Knights really helped to rewrite what comics could be. I'm intrigued as to how Marvel handles the return to this universe.
---
Josh's Picks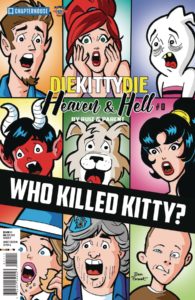 Die Kitty Die Heaven And Hell #0
You should really check out this series about a witch with her own comic book series. By famous Archie comic artists Dan Parent and Fernando Ruiz, this series pokes fun at the comic industry in general, particularly how companies will "kill" their characters to increase revenue, and sign movie deals. Its super meta.
James Bond 007 #1
Its Bond and one of the greatest hench men in the 007 franchise: Oddjob. I'm getting it.
---
Michael's Picks
Dreaming #3
Are we already at #3? That's ok–these creative teams have done a great job keeping the Sandman stories going so far.
Fearscape #2
Surprised and intrigued by this series so far. It's like a Dante and C.S. Lewis mashup with an incredibly unreliable narrator that you can't help but keep reading.
Outer Darkness #1
Sci-fi horror is one of my favorite genres when it's done well. Looking forward to see if this breaks through and stands above what's an overall disappointing sub-genre.
---
Stacy's Picks
Battlestar Galactica Classic #1
While the modern series lost me around Season 3, I'll always have a soft spot for the classic '70s Battlestar Galactica in all its glorious gorgonzola glory. Bring it on!
Immortal Hulk #8
While I tend to like my Hulk heroic rather than horrific I can't deny that The Immortal Hulk is a really, really great read. If you haven't checked it out yet, you should.
Wrong Earth #3
The Wrong Earth is a great premise executed with humor and heart. If it isn't on your pull list yet, it definitely should be.
---
Graphic Novels
Crisis On Infinite Earths Companion Deluxe Edition Volume 1 HC
Worlds lived. Worlds died. And the DC Universe was never the same (for years) afterward. This deluxe edition of the mega-crossover event of the '80s is hefty, but well worth it. – Stacy
Domino Volume 1 Killer Instinct TP
If you haven't got a chance to read this fantastic comic, which is written by Gail Simone, here is your chance to catch up. Don't miss it! – Christoph
Giant Days Not On The Test Edition Volume 3 HC
…and if you don't read Giant Days, here is your chance to catch up on issues #17-24. – Christoph
---
That's all we have for this week! Thanks for checking out the Rogues Portal Pull List! We'll be back next week with a brand new list for you to check out. Same Bat-Time. Same Bat-Channel!