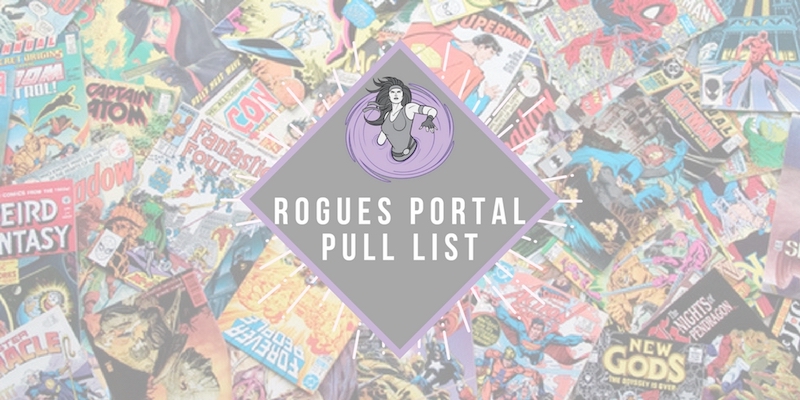 It's Wednesday, my dudes, and that means it's New Comic Book Day! There are tons of new comics hitting the shelves of your local comic shops every week, and it's not always easy deciding what to get, let alone what you should add to your pull boxes. So we've put together the Rogues Portal Pull List to show you the best comics that you might have missed! Here's what we're getting and what you should check out today!
---
Rogues' Essentials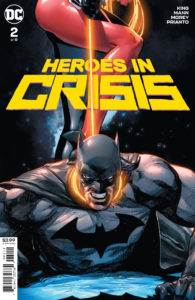 Heroes In Crisis #2
The first issue was so moving and so compelling, and I can't wait for #2. – Anelise
I loved the first issue. We were dropped right into the story and learned a lot about some characters. Is there anything Tom King can't do? – Christoph
Tom King and a mystery. Easy buy. – Josh
Ice Cream Man #8
Ice Cream Man is my favorite horror series on the stands right now. – Anelise
This series has continued to be intriguing and a must read month in and out. – Greg
---
Anelise's Picks
Hex Wives #1
The Stepford Wives/Coven mashup I've always wanted to see.
Nancy Drew #5
I did not like the classic Nancy Drew books; I LOVE the Nancy Drew comic run.
West Coast Avengers #3
Kelly Thompson is brilliant. West Coast Avengers is brilliant. Do not miss out on this fun, heartfelt team.

---
Christoph's Picks
Man-Eaters #2
A compelling first issue, with world building done right, a girl dressing her tampons as superheroes, and great artwork. What more do you want?
Shanghai Red #5
Before Shanghai Red, I did not know I liked pirate stories. But who could pass on something that is so well-executed?
West Coast Avengers #3
Kelly Thompson writing Kate Bishop leading the West Coast Avengers. It is funny; it is engaging; and the team dynamic is something else entirely.
---
Greg's Pick
What If? Magik #1
Magik is such an interesting character as it is. I cannot wait to see what this alternative story is going to show us.
---
Josh's Picks
Britannia Lost Eagles Of Rome #4
This a great series that is isolated from the rest of the Valiant universe. If you like history or mysteries, go get the last 3 issues and this one.
Faith Dreamside #2
Two of Valiant's fan favourite female heroes. How can you not want to pick this up?
Justice League Dark And Wonder Woman The Witching Hour #1
Wonder Woman under Hecates' power fights the JLD. This should be fun
Wytches Bad Egg Halloween Special #1
New Wytches?! Take my money!
---
Stacy's Picks
Archie Meets Batman '66 #4
You are reading Archie Meets Batman '66 right? If not, why are you depriving yourself of joy?
Doctor Who The Eighth Doctor The Time War Series Volume 1 Audio CD
Ever wonder what the Eighth Doctor did during the time war before The Night of the Doctor mini-sode? Here's your chance to find out in these excellent audio plays from Big Finish.
Doctor Who The First Doctor Adventures Volume 2 Audio CD
Did you enjoy David Bradley's performance as the First Doctor in Twice Upon a Time? Well, Big Finish is producing a line of First Doctor audio adventures featuring the original version of everyone's favorite Gallifreyan renegade.
Edgar Allan Poe's Snifter Of Terror #1
Hardly a typical adaptation of Poe's works, this anthology features takes on the classic tales of the macabre by creators who haven't read them at all, hosted by a surly and inebriated Poe who's not at all happy about it. This sounds like a hoot.
---
Graphic Novels
American Vampire Omnibus Volume 1 HC
American Vampire is so very, very good you guys. Any chance to get as much of it as you can all at once is something I heartily recommend you jump at. – Stacy
---
That's all we have for this week! Thanks for checking out the Rogues Portal Pull List! We'll be back next week with a brand new list for you to check out. Same Bat-Time. Same Bat-Channel!