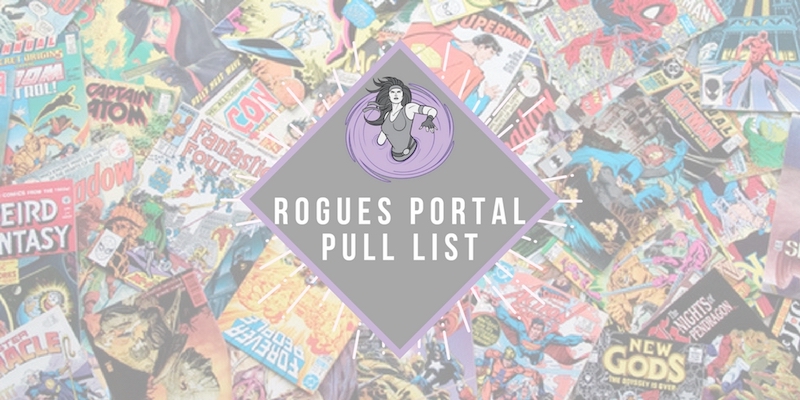 It's Wednesday my dudes, and that means it's New Comic Book Day! There are tons of new comics hitting the shelves of your local comic shops every week, and it's not always easy deciding what to get, let alone what you should add to your pull boxes. So we've put together the Rogues Portal Pull List to show you the best comics that you might have missed! Here's what we're getting and what you should check out today!
---
Rogues' Essentials
Birthright #31
Yes! My favorite fantasy comic is back! – Cory
What Cory said… – Christoph
Cemetery Beach #1
I'm definitely intrigued by the art and the promise of action and old future tech! – Jameson
This looks like sheer depraved insanity, and with Warren Ellis at the helm, that's a good thing. – Michael
Crowded #2
Crowded #1 did a great job introducing us to the main characters and the basic plot points. Let's hope the creative team continues to excel. – Christoph
The first issue was a perfect #1. Can't wait to see how they follow it up. – Cory
Terrific start from the first issue, and I hear it only gets better and more insane. – Michael
House Of Whispers #1
Did someone say Sandman? Reading this is a no-brainer. – Anelise
New Sandman characters and voodoo magic? Let's go! – Michael
Iceman #1
I really enjoyed the last series. While that seemed to focus on the adult Bobby Drake embracing personal changes and relationships, this one seems like it is going to up the action. I ca not wait to see where it goes. – Greg
My wonderful son Bobby Drake is back! And since this new run is also being written by Sina Grace, I have high hopes for it. – Jameson
Low Road West #1
A refugee sci-fi series is right up my alley. – Anelise
Another BOOM! title you don't want to miss! – Christoph
The concept sounds pretty strong and BOOM! has been putting out some really good books recently. Cannot wait to check it out. – Greg
MCMLXXV #1
The solicit gets more and more intriguing, and then I read "enchanted tire iron," and, well, I was sold. – Michael
Agree with Michael. Mention an enchanted tire iron, and I am going to have to at least check out the first issue. – Greg
Moth and Whisper #1
Aftershock is becoming one of my favorite publishers by telling intriguing stories with a diverse cast of characters. Moth and Whisper seems to be no exception: a YA cyberpunk thriller starring a genderqueer super-thief. – Christoph
This comic has it all: a genderqueer protagonist, a cyberpunk setting, two cunning super thieves and awesome stylized art by Jen Hickman! – Jameson
Seeds #2
Eco-comics are a thing, and they are a very good thing. READ THIS. – Anelise
Journalism, alien conspiracy, and the bees. You guys seriously need to pick this up. – Josh
---
Anelise's Pick
Welcome To Wanderland #1
Subversize fairy-tale stories are rad. I hope this lives up to the premise!
---
Cory's Picks
Archie 1941 #1
This is a look at how Archie and the gang deal with the threat of war as they become draft-eligible. Plus, Waid and Augustyn are teaming up again for this one.
Infinity Wars #3
I've really been enjoying this event series. Deodato's art is epic and cinematic, and Duggan's story is intriguing and full of surprises.
Mech Cadet Yu #12
The end is here *sad face emoji*. This series has been a delight, with every issue upping the ante, both with the action and the emotion.
---
Greg's Pick
Catwoman #3
Jones has done an amazing job with both the art and the writing. It has been great seeing how the wedding affected Catwoman. Also the big bad here is super creepy.
---
Jameson's Picks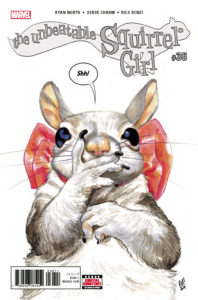 Unbeatable Squirrel Girl #36
I am contractually obligated to recommend Squirrel Girl until it's Marvel's #1 best selling book.
Voltron Legendary Defender Volume 3 #3
The current Legendary Defender run is cute, and issue #3 is focused around Pidge, so I'm definitely in.
---
Josh's Picks
Hawkman #4
I freaking love Hawkman now. He isn't the toxically masculine, musclebound, murder-your-enemies type anymore. He's Indiana Jones with wings, and I love what Robert Venditti is doing with the Hawkworld mythos. Making Carter Hall fight his past lives is genius.
Ninja-K #11
The fight I didn't know I needed: Ninjak vs his closest friend, the Eternal Warrior. Ninjak has to find him first though.
---
Michael's Pick
Weatherman #4
This series is the perfect blend of "WOW that was hilarious" and "OMG can they actually write that?" and it gets more so with each issue.
---
Stacy's Picks
Mage The Hero Denied #12
The epic saga of Kevin Matchstick nears its conclusion. Mage is one of the best urban fantasy comics out there. If you haven't done so yet, seek out The Hero Discovered and The Hero Defined. You'll be glad you did.
Mystery Science Theater 3000 #1
If the comic is anything like the Netflix revival, we're in for a great time.

Wrong Earth #1
A Silver Age superhero and his "Grim 'n Gritty" counterpart switch universes in this tale of superheroics gone awry. Can't wait to give this one a read!
---
Graphic Novels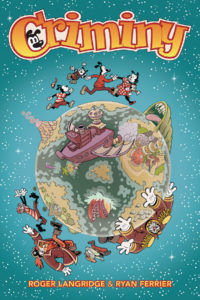 Criminy Volume 1 TP
This is a fun, heartfelt read that will appeal to all ages. – Anelise

Oblivion Song By Kirkman And De Felici Volume 1 TP
In my book, Robert Kirkman can do no wrong. – Anelise
Slam The Next Jam TP
I loved this series as it came out. Glad to see the trade of the second arc is finally hitting the shelves. – Greg
Star Trek The Next Generation Through The Mirror TP
The TNG crew VS their most formidable enemy: themselves! – Stacy
Star Wars Darth Vader Dark Lord Of The Sith Volume 3 The Burning Seas TP
"The Burning Seas" was one of the best Darth Vader stories so far. If you have not read it issue by issue, here is your chance to catch up on a devastating, brilliantly-executed storyline. This series does not disappoint! – Christoph
Star Wars Thrawn TP
Here's your chance to catch up on the excellent Thrawn miniseries if you haven't read it yet! – Jameson
Stephen King's The Dark Tower Beginnings Volume 4 Treachery HC
This volume depicts the adventures of Roland of Gilead before he began his epic quest to find the Man in Black and the Dark Tower. If you're looking for more of King's Gunslinger universe tales, this book's for you. – Stacy
---
That's all we have for this week! Thanks for checking out the Rogues Portal Pull List! We'll be back next week with a brand new list for you to check out. Same Bat-Time. Same Bat-Channel!