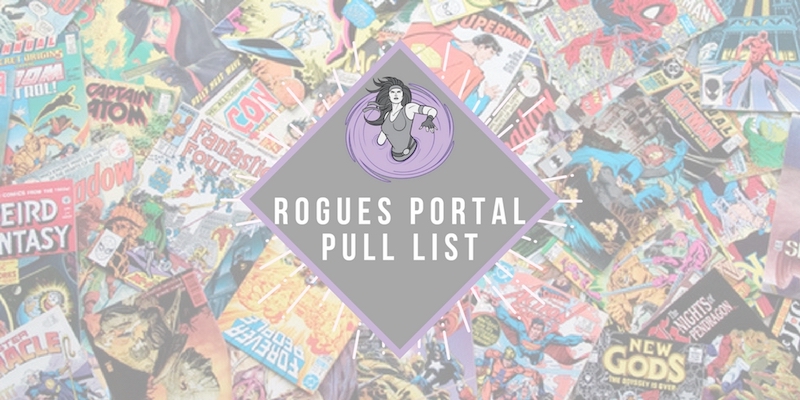 It's Wednesday my dudes, and that means it's New Comic Book Day! There are tons of new comics hitting the shelves of your local comic shops every week, and it's not always easy deciding what to get, let alone what you should add to your pull boxes. So we've put together the Rogues Portal Pull List to show you the best comics that you might have missed! Here's what we're getting and what you should check out today!
---
Rogues' Essentials
Domino #5
This series has made me fall in love with a character I never really knew before. – Anelise
If you are not reading this comic, you might need to rethink your pull list. – Greg
The writing and story for this series has been top-shelf quality. Thanking my luck that this comic is being made. – Michael
Farmhand #2
Creepy sci-fi with compelling characters. Love it. – Anelise
The first one struck the right balance between relatable awkward family drama and creepy, haunting twists. Can't wait for more. – Michael
Her Infernal Descent #4
This is a comic for all you lit-majors out there. Or just anyone that enjoys a good story–which is everyone, right? So, read it. – Anelise
I love the descent-into-hell narrative with the added bonus of seeing some influential thinkers come to life. – Michael
Outcast By Kirkman And Azaceta Volume 6 Invasion TP
I love a good possession story. And this one delivers both in art and storytelling. – Anelise
One of the better demon-possession stories–not just comics–out there. – Michael
Relay #2
Philosophical sci-fi is the best sci-fi. – Anelise
Cates and Thompson leading the way on this book is what made me check it out. The social commentary and writing in issue one has me coming back for issue 2. – Greg
Sandman Universe #1
THIS BETTER LIVE UP TO ALL MY EXPECTATIONS. I love Sandman. Please be good. – Michael
Ditto Michael. – Anelise
Spider-Man Kraven's Last Hunt Deluxe Edition HC
This is my all-time favourite Spidey story! – Josh
Easily one of the most powerful Spider-Man stories of all time. – Stacy
Unbeatable Squirrel Girl #35
I honestly can't get over the fact that Kraven has become a recurring character on Squirrel Girl. Everything about this comic is too good, always. – Jameson
Squirrel Girl is always a delight. – Stacy
---
Anelise's Picks
Eternity Girl #6
I'm so sad this is ending. What a beautiful gift it has been!

Nancy Drew #3
I never cared about Nancy Drew until now.
---
Cory's Picks
Black Badge #1
A story about a black ops team comprised of Boy Scouts. Oh, and it comes from Matt Kindt and Tyler Jenkins.

Mech Cadet Yu #11
The penultimate chapter is upon us. I'm not crying! You're crying!
Outpost Zero #2
The first issue about the "smallest town at the edge of the universe" amped up the suspense right out the gate. And, McKeever's dialogue is fresh and natural.
Port Of Earth #8
Zack Kaplan's first two books are being optioned for TV. Port of Earth is one of them. The first 8-issue arc wraps up here, but don't worry: another 8-issue arc is coming out next year.
She Could Fly #2
The first issue was an emotionally raw and compelling story made all the better by Christoper Cantwell's personal connection to the story.
---
Greg's Pick
Catwoman #2
I am a huge fan of Catwoman. I love the fact that she is going to not only be on her own adventures, but we get to see how the events of Batman #50 have affected her. On top of that, Joelle Jones writes and draws.
---
Jameson's Picks
Dinosaucers #1
THE VILLAINS ARE ANTHROPOMORPHIC DINOSAURS. I have nothing else to say about this.
Hot Lunch Special #1
This book is about a sandwich shop that gets involved with the mob, and Eliot Rahal has teased that it's a very personal story for him about family and individualism. I'm intrigued!
Lumberjanes 2018 Special #1
This special issue is about the unique drama of trying to put together a couple's costume for a special summer camp ball. This standalone Lumberjanes story is sure to be cute!
Voltron Legendary Defender Volume 3 #2
The new Voltron issue is out already? Where does the time go? I'm excited to see if this arc picks up, and I have a feeling it will, since this issue is all about Hunk solving engineering problems!
---
Josh's Picks
Bloodshot Salvation #12
The finale to Jeff Lemire's run on Bloodshot. And it'll go out with a bang!
Hawkman #3
I love how Venditti is merging Hawkman's extraterrestrial and historical lives into a single coherent history.
---
Michael's Pick
Amazing Spider-Man #3
The twist at the end of the second issue reminded me of that Spider-Mans pointing at each other meme. Wondering what in the world could happen next in this crazy story.
---
Stacy's Picks
Doctor Who The Road To The Thirteenth Doctor #2
Can't wait to see Jodie Whittaker as the 13th Doctor? The comics are building to her debut with a series of interconnected stories. A good chance to enjoy some foreshadowing before 13's regular series takes off!
Fantastic Four #1
The World's Greatest Comic Magazine is back, and it's about damn time.
---
Graphic Novels
Aquaman By Peter David Volume 2 TP
Long before Jason Mamoa showed up, Peter David was crushing it on Aquaman. His stuff is required reading on the character. – Stacy
Look Back And Laugh TP
Humor, depth, autobiography, and a lot of cats. Count me in. – Anelise

Mighty Morphin Power Rangers Lost Chronicles Volume 1 TP
I need more Power Rangers in my life. What's your excuse? – Josh

---
That's all we have for this week! Thanks for checking out the Rogues Portal Pull List! We'll be back next week with a brand new list for you to check out. Same Bat-Time. Same Bat-Channel!