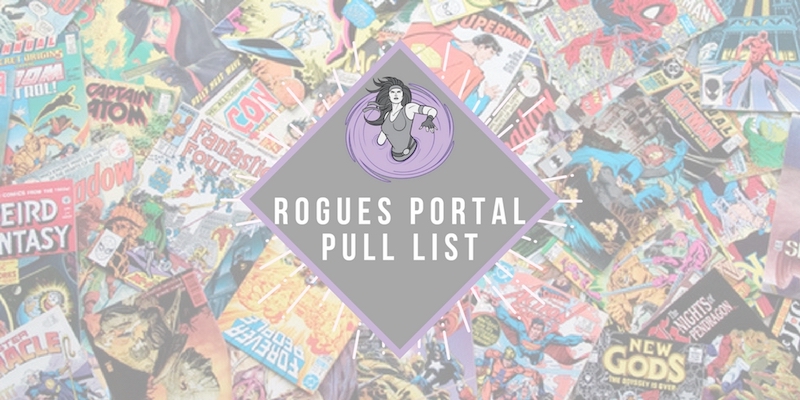 Another dawn, another day, another comic to be read. It's Wednesday my dudes, which means it's New Comic Book Day! There are tons of new comics hitting the shelves of your local comic shops. It's not always easy deciding what to get, let alone what you should add to your pull boxes, so we've put together the Rogues Portal Pull List to show you the best comics that you might have missed! Let's see what's new for May 23rd. Here's what we're getting and what you should check out today!
---
Rogues' Essentials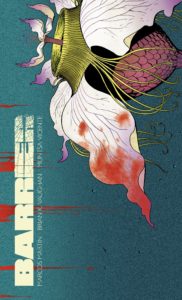 Barrier #4
Gorgeous, gorgeous, gorgeous! – Anelise
This series started off strong, but issue 3 was a master class in visual storytelling. – Cory
This series has been visually stunning while telling an entertaining and intriguing story. – Greg
Black Hammer Age Of Doom #2
The best "superhero" book on the stands! – Frank
Big fan of Lemire and this take on Golden Age comics. – Jim
I'd make the argument that this is our generation's Watchmen. – Michael
Delta 13 #1
This space horror from the creator of 30 Days of Night sounds like it could be terrifying fun. – Cory
I am incredibly intrigued by the previews for this series. Add in the talented creative team, and I am willing to give it a try. – Greg
The cover gives me a Borg Queen/Sarah Kerrigan mashup vibe…can't wait to see what's inside the book. – Michael
Old Man Hawkeye #5
Each issue of this series is dark and delightful. – Anelise
This dark epic is finally getting good! – Jim
Skyward #2
The first issue made me more excited about a comic than I have been in quite some time. – Anelise
The first issue hooked me real good with its high concept premise and energetic art. – Cory
Good humor, intriguing mysteries, and compelling characters make for the perfect storm of a great series. – Michael
X-Files Case Files Florida Man #2
Just witnessing how Mulder dealt with Florida humidity in issue #1 is enough to bring me back for issue #2. – Anelise
I want more Gator-themed stores! – Greg
Has a classic X-files feel to it. Captures Mulder and Scully–and the weirdness of Florida–perfectly. – Michael
---
Cory's Picks
Elsewhere #7
This Elseworlds take on Amelia Earhart and other mysterious real-life missing persons is fun, adventurous, and clever.
Super Sons #16
Sad to see this series fall into the category of "Series Cancelled Too Soon".
---
Frank's Picks
Deadly Class #34
The Deadly Class TV show trailer is here, and Remender is going to have another hit on his hands. This book continues to be great!
Grimm Tales Of Terror Volume 4 #3
GFT Tales of Terror might be my favorite horror book on the shelves right now. A perfect blend of modern horror and urban legend; it's a lot of fun every month.
S.H.I.E.L.D. By Hickman And Weaver #5
I was floored when I saw this solicit. I loved this book and can't wait to see how Hickman completes Leonardo's story.
---
Jameson's Picks
Adventure Time Beginning Of The End #1
I think Ted Anderson and Marina Julia are going to do a great job on this Adventure Time miniseries, which is slated to be 3 comics. I love when creators who are fans of a specific series are given a chance to work on it because I know they'll do it with love!
Lumberjanes #50
One of my favorite comics is celebrating their 50th issue anniversary, and I'm so excited for them!
Star Wars Doctor Aphra #20
This is a good week for Star Wars comics, since a whole bunch are coming out, but Doctor Aphra is my favorite! And since issue #20 is the start of a new arc, it's a good time to pick it up if you've been curious about it.
---
Jim's Pick
Manifest Destiny #35
I enjoy the unique blend of history and horror.
---
Josh's Picks
Brothers Dracul #2
Vlad the impaler fights his first blood sucker! I am so for this series!
Shadowman #3
Andy Diggle is writing this and is sending Shadowman on a quest to recover a piece of his loa's past. I'm really enjoying this supernatural series.
X-O Manowar #15
Jumping on point and Aric backstory! Let's see Aric in action before he was abducted by the Vine and stole highly advanced alien armour.
---
Michael's Pick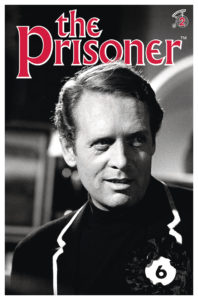 Prisoner #2
I was pretty intrigued by the first one in the modern-day follow-up to the cult classic.
---
Stacy's Picks
Doctor Who The First Doctor Adventures Volume 1 Audio CD
Did you enjoy the First Doctor's appearance in Twice Upon A Time? Well Big Finish is doing an entire series starring the First Doctor starring David Bradley! Big Finish has done great work with Doctor Who over the years and I can't wait to check this out.
Pellucidar At The Earth's Core #1
I've always enjoyed Edgar Rice Burroughs and his underground world fiction is something I've been meaning to check out. Who doesn't love a little high adventure in their comics diet?
Terrifics #4
So, a stretchy guy, a smart gut, an invisible girl, and a big elemental-themed brute are on a team together. Huh. Sounds familiar. Seriously though, the Terrifics is a lot of fun!
Witchfinder The Gates Of Heaven #1
Mike Mignola's horror verse is amazing, and Sir Edmund Grey, the Witch Finder is easily one of his best creations. If you like Victorian horror you definitely want this on your pull list.
---
Graphic Novels
Black Hood Volume 2 The Lonely Crusade TP
Forget Riverdale's serial killer. This is more along the lines of the Punisher comics, where a former cop is a vigilante known as the Black Hood. – Josh
Mike Allred's Madman Artist Select HC
Before Deadpool, before Squirrel Girl, there was Frank Einstein, the Madman! Mike Allred's work is a joy and if you haven't had a chance to check it out here it is in a glorious hardcover collection. – Stacy
Redneck Volume 2 The Eyes Upon You TP
I fell off of this series month to month as I just have to much on my pull list. Looking forward to catching up with the release of the second volume. – Greg
Snotgirl Volume 2 California Screaming TP
Humorous and weird. Snotgirl is right up my alley. – Anelise
---
That's all for this week! Thanks for checking out the Rogues Portal Pull List! We'll be back next week with a brand new list for you to peruse. Same Bat-Time. Same Bat-Channel!