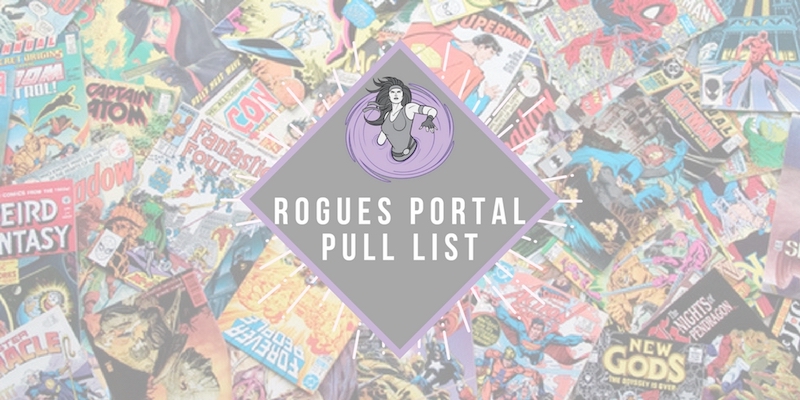 It's Wednesday my dudes! And every Wednesday tons of new comics hit the shelves of your local comic shops. It's not always easy deciding what to get, let alone what you should add to your pull boxes, so we've put together the Rogues Portal Pull List to show you the best comics that you might have missed! Let's see what's new for April 4th. Here's what we're getting and what you should check out today!
---
Rogues' Essentials
Analog #1

I'm cheating here cause I've already read this book. It's off to a great start. Intriguing premise and solid humor, which is what I've come to expect from Gerry Duggan. – Cory
With all the privacy concerns that are in the news these days it sounds like this book is dropping at the right time. Cannot wait to see how a world without security is handled. – Greg
A world where the security of the internet has been compromised? Confidential documents transported by men with guns and handcuffed to briefcases? Cantankerous AI's? Spies? I'm in. – Josh
Long Lost #5
I say it each month, but this book is amazing. – Greg
This is the best monthly comic right now, full stop. This issue will knock you on your ass. Buckle up. – Mark B.
---
Anelise's Picks
Shade The Changing Woman #2
Things are getting crazy weird for Shade, and I'm loving it!

---
Cory's Picks
Deathstroke #30
Deathstroke vs. Batman. 'Nuff said!
Demi-God #1
This book explores what happens when an ultra-slacker is given superpowers overnight. Zaniness will ensue.
Elsewhere #6
The adventures of Amelia Earhart continue in this wonderful book. If you're not reading this, then I don't see how we can be friends!
Mech Cadet Yu #8
Still the best book out there. Can't wait to see what happens next!

---
Greg's Picks
Batman #44
I know that this book doesn't need my recommendation for sales. But seriously, if you dropped off this series you need to get back on it.

New Mutants Dead Souls #2
Rosenberg hit it out of the park with issue #1. I am hoping the momentum continues with this second issue.
---
Jameson's Picks
Isola #1
This comic is already everything I want it to be and more. It's a compelling and immersive high-fantasy world with gorgeous art. Recommended for fans of Studio Ghibli!
Motor Crush #11
Between this and the debut of Isola, it's a good week for fans of Brenden Fletcher.
Zero Jumper #1
I'm a big fan of contained mini-series and this one, which is recommended for fans of Ghost in the Shell and Star Wars, definitely looks interesting to me! Plus it's got tropes I like: time travel, the last human, humanity on the brink of extinction… Worth checking out!
---
Mark B.'s Picks
Jazz Maynard Volume 2 #3
One of the greatest European comics right now. Be grateful Lion Forge picked this title up, and do the same with this issue.
Snotgirl #10
I hate that Snotgirl is bi-monthly now, but it makes it all the sweeter whenever an issue comes out. A great, mysterious slice-of-life book.
Sonic The Hedgehog #1
I'm still replaying old Gamecube games of the ol' blue blur, so yeah, I'm stoked to see Sonic find a home at IDW.
Venomized #1
My sweet symbiote and his burly boy are taking the Marvel Universe by storm, and I couldn't be happier. This is gonna be epic.
---
Graphic Novels
Eternity TP
This was such a fun book. A cosmic adventure of two parents trying to get their son back and exploring a world known only in imagination. Influenced by Jack Kirby, but Matt Kindt and company deliver something completely fresh. – Josh

---
That's all for this week! Thanks for checking out the Rogues Portal Pull List! We'll be back next week with a brand new list for you to peruse. Same Bat-Time. Same Bat-Channel!