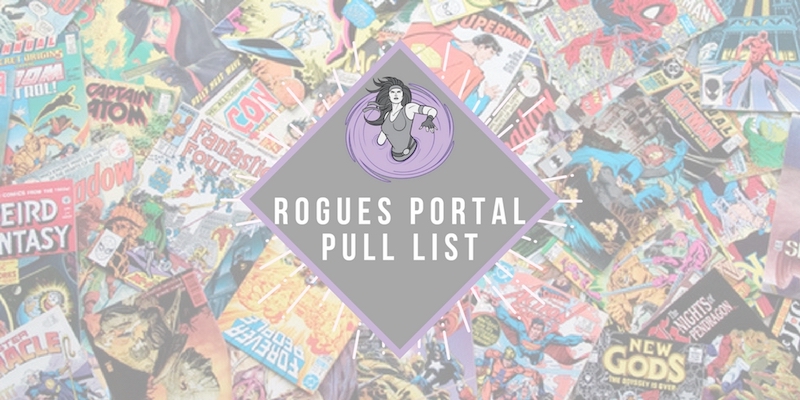 Guess what guys? It's Wednesday, and we have a brand new Rogues Portal Pull List for you! Every Wednesday new comics hit the shelves of your local comic shops, so we here at Rogues Portal try to find the best books to add to our pull lists and yours. Tons of new comics come out each week, and it's not always easy picking out the best ones. Let's see what's new for February 21st. Here's what we're getting and what you should check out today!
---
Rogues' Essentials
Ice Cream Man #2
Ice Cream Man is my favorite new horror series of 2018. SO GOOD. – Anelise
The first issue was weird and creepy in the best ways. Can't wait to see if they can keep it going. – Cory
Punks Not Dead #1
I was intrigued by the title, but now knowing it's about a ghost and Sid, I'm even more excited. – Anelise
With a name like this, what is not to love about the book? And then I hear what it is actually about, and I am all in. – Greg
The premise: A bullied 15-year-old is haunted by the ghost of Sid Vicious. I am overwhelmed by curiosity, I have to check this one out. – Jameson
---
Anelise's Picks
Archies #5
If you were ever in a high-school band, The Archies will speak to your almost-famous soul.
Regression #7
Regression gets better and more twisted with each issue. This is a must read for horror fans!
---
Cory's Picks
Birthright #30
Can Mikey finally free himself from Lore? I can't wait to see how this plays out. Birthright is consistently a great read. A must read for fantasy fans.

Descender #27
Descender takes a trip 4,000 years in the past as we learn the origin of the Harvesters.
Eternal Empire #7
As a big fan of Alex + Ada, I was stoked to see Luna and Vaughn start a new fantasy book together. My excitement waned as the series came out. It has been a slooooow burn, but it is starting to get good.
Further Adventures Of Nick Wilson #2
I loved the character work established in the first issue. Excited to see this one dive a little deeper.
---
Greg's Picks
Fence #4
I knew very little about fencing before this series started. Yet, here I am invested in how fencing works and in the round robin tournament.
Long Lost #1
If you missed out on the first printing of this great series, here is your chance to catch up.
Pumpkinhead #1
Creepy kids who all get their own personal demons? I'm in.
---
Jameson's Picks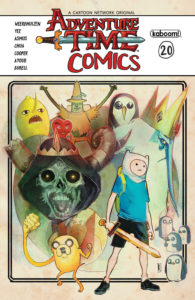 Adventure Time Comics #20
I hear Ooo's first collective garage sale ends in disaster in this issue. That's a disaster I want to see.
---
Josh's Picks
James Bond M #1
Let's explore the personal life of 007's superior for a bit shall we?
Quantum And Woody #3
Quantum and Woody go Down Under. Crikey! Throw another shrimp on the barby, and let's meet Woody's dad, mate! (I'm a terrible Aussie.)
---
Kylee's Picks
Mata Hari #1
The Berger Books imprint is so excellently curated, and I'm excited to see the creative team's take on this femme-fatale.
---
Graphic Novels

Black Panther The Official Movie Special HC
After seeing this movie, I absolutely need more of the Wakanda that they created. – Cory
Dust Ship Glory GN
Historical story about a man building a ship in the middle of landlocked Saskatchewan during the Great Depression. Its a wonderful character study about a man with mental health issues.
Sami The Samurai Squirrel: Welcome To Woodbriar GN
A samurai squirrel fighting against a mysterious ghost? Count me (and my children) in! – Cory

Sovereigns End Of The Golden Age TP
Gold Key's classic heroes are thrown into a world shattering mystery that leads into redesigns and updates for each of them. – Josh
---
That's all for this week! Thanks for checking out this week's Rogues Portal Pull List! We'll be back next week with a brand new list for you to peruse. Same Bat-Time. Same Bat-Channel!