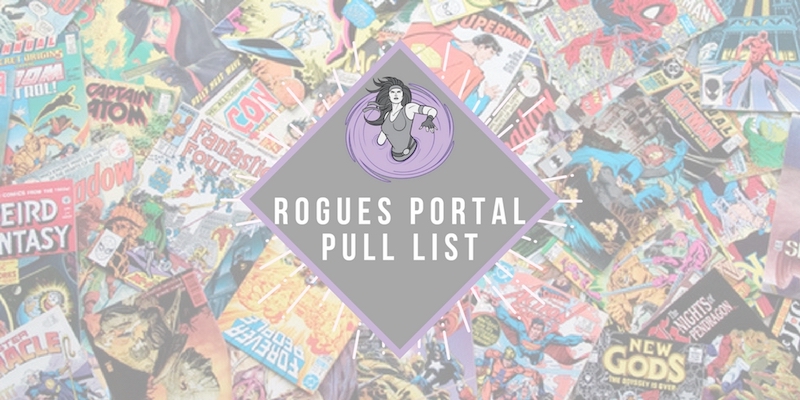 Guess what guys? It's Wednesday and we have a brand new Rogues Portal Pull List for you! Every Wednesday new comics hit the shelves of your local comic shops, so we here at Rogues Portal try to find the best books to add to our pull lists and yours. Tons of new comics come out each week, and it's not always easy picking out the best ones. Let's see what's new for January 31st. Here's what we're getting and what you should check out today! 
---
Rogues' Essentials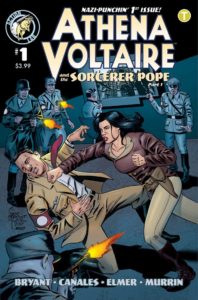 Athena Voltaire and the Sorcerer Pope #1
This comic is being billed as "the Nazi-punchin' 1st issue" and Athena is pictured on the cover punching Adolf Hitler in the face. What's not to like?? – Jameson
The Sorcerer Pope? I'm in it for the title alone! – Josh
Bingo Love GN
The best romance story I've read in ages! This is a book about loving your soulmate, loving yourself and loving life! So happy to see older, queer black women depicted so beautifully. Perfect for Valentine's day. – Jameson
Tee Franklin is a badly needed voice in the industry, both with her works and her strong advocacy for diversity in comics. Bingo Love has been on an amazing journey from Kickstarter to Boom and has had a lot of support along the way. Here's hoping that this beautiful unconventional romance is a step forward in popularizing both black and queer experiences in comics. – Kylee
Curse Words #11
I am SO happy this colorful, wizordy world is back. – Anelise
Free Margaret! – Greg
Judas #3
This series has done a great job of handling a controversial figure in Biblical mythology. I'm excited to see what this issue has in store. – Anelise
I really was not sure what to expect when I heard about this series. The first two have told a very interesting story so far, so I cannot wait to see where we go next. – Greg
Marvel Two-In-One #3
Zdarsky is flexing his more dramatic creative muscles here to great effect. – Cory
This book has been a blast so far, and I hope it leads to a full fledged FF title someday. – Frank
Old Man Hawkeye #2
The emotional depth and gorgeous, flowing hair of issue #1 had me hooked. Eager to see what's next! – Anelise
You may be cool but you will never be Old Man Hawkeye cool – Greg
Secret Loves Of Geeks TP
This book is so fun and perfect for Valentine's Day. – Anelise
I love how this book recognizes that there are so many different kinds of love and tries to represent as many as possible! – Jameson
Looks like a great follow up to The Secret Loves of Geek Girls. – Mark Jones
Sideways #1
After Rocafort's work on Ultimates, I will give anything he is drawing at least one issue. – Cory
I'm giving this a shot for my man Mr. Kenneth Rocafort. – Frank
Slots #5
This series has been interesting so far and shows that not every comic has to be filled with explosions and big bad villians to get your attention. – Greg
A gritty story of fathers and sons set against a gritty Las Vegas backdrop. – Jim
Unbeatable Squirrel Girl #29
Is there a better creative duo than Ryan North and Erica Henderson? I'm a 36-year-old white man, and this comic is at the top of my reading pile each month. – Cory
Still the best book coming out of Marvel right now. Even better since it's started featuring Loki Laufeyson. – Jameson
---
Cory's Picks
Angelic #6
Spurrier has quickly become one of my favorite writers. This is the concluding installment of the opening arc in this quirky yet serious story of flying monkeys, evil cats, robotic flying dolphins and their search for truth about their beginnings.
Archie #28
Waid's Archie has been a true joy to read.
Batgirl And The Birds Of Prey #19
A cover by the Dodsons, plus this book getting back to its Pre-New 52 status is good enough for me.
Cold War #1
Cryogenically frozen, average humans are thawed out and handed a weapon to fight in a war they know nothing about. Sign me up for at least the first few issues.
Detective Comics #974
This is one of the few Rebirth titles that has been consistently on point.
Flash #40
Two words: Gorilla Grodd
Giants #3
The Valderrama Brothers' first stateside series is a story of a monster-infested future that is full of heart and intrigue.
Mister Miracle Director's Cut #1
These Director's Cuts are always fun, and this one happens to be for one of the greatest books to come out last year.
Ms. Marvel #27
Consistently one of the best Marvel books.
Planet Of The Apes Ursus #2
David F. Walker's back story of one of the greatest PotA villains got off to a great start last issue.
Shade The Changing Girl Wonder Woman Special #1
The first two installments of the Milk Wars have hooked me just enough to check out this next chapter involving Shade and Diana.
---
Jameson's Picks
Star Wars Thrawn #1
The Star Wars franchise sees me, understands me and knows I want to read anything featuring Thrawn.
---
Jim's Picks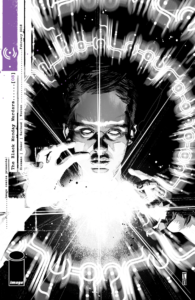 Black Monday Murders #8
Glad this comic is back. I enjoy the scale and sweep of a story with ancient gods, market clashes, sacrifices and conspiracies.

---
Josh's Picks
Bloodshot Salvation #6
This has been a great series. Early volumes of Bloodshot were about him being a soldier and weapon. This is about him as a father and husband. Guest appearances by Ninjak, Shadowman and Dr. Mirage.
Ninja-K #4
Ninja-G! The orgin story of MI-6's first female agent in the height of the Cold War.
Skybourne #5
This is a crazy and irreverent series. Immortals, Merlin the Wizard, secret Church agencies, and spies. The final issue is finally here.
---
Stacy's Picks
Jupiter Jet #3
Jupiter Jet is a whole lot of fun. Can't wait for more!
---
Graphic Novels

Jimmy's Bastards Volume 1 TP
While his superhero-themed stuff can drive me up a wall I can't deny Garth Ennis is great with genre fiction. So to hear he's been writing a black comedy spy series? Sign me up. – Stacy
Kim Reaper Volume 1 Grim Beginnings TP
Sarah Graley is one of my favorite artists. Everything she makes is so charming! This one will certainly be worth it for the adorable art alone. – Jameson
Lumberjanes Volume 8 TP
Lumberjanes is one of my favorite books out there right now! Friendship, the supernatural, bad-assery, it has it all. Plus, in Volume 8, a new non-binary camper leaves the Scouting Lads and becomes a Lumberjane! Yay representation! – Jameson
Mighty Mouse Volume 1 Saving The Day TP
I really like Sholly Fisch's writing, so to hear he's been working on a Mighty Mouse comic? I'm in. Can't wait to check out this trade! – Stacy
Pestilence Volume 1 TP
Zombies have been overdone. We all know a thousand different ways we would survive a zombie apocalypse, but how would a Dark Ages knight? Complete with Church conspiracies! – Josh
Robotic Existentialism The Art Of Eric Joyner HC
Mention robots AND existentialism and I'm sold. – Anelise
Trollhunters The Secret History Of Trollkind TP
I love the show on Netflix and I am super excited to learn more about Trollkind! – Hafsa
Unbeatable Squirrel Girl Novel Volume 1 Squirrel Meets World SC
I've enjoyed enough of Squirrel Girl in comics to know it's a safe bet she'll be equally entertaining in prose. Looking forward to this one. – Stacy
You Have Killed Me GN
Reprint of a great crime noir from the creative team that brought us Lady Killers. – Cory
---
That's all for this week! Thanks for checking out this week's Rogues Portal Pull List! We'll be back next week with a brand new list for you to peruse. Same Bat-Time. Same Bat-Channel!