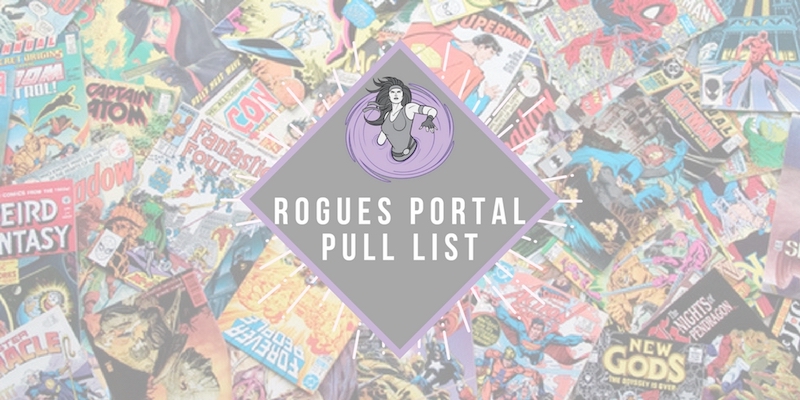 It's Wednesday my dudes! And that means it's New Comic Book Day at Rogues Portal. Every Wednesday new comics hit the shelves of your local comic shops, so we here at Rogues Portal try to find the best books to add to our pull lists and yours. Let's see what's new on the Rogues Portal Pull List for January 24th. Tons of new comics come out each week, and it's not always easy picking out the best ones. Here's what we're getting and what you should check out today! 
---
Rogues' Essentials
Saladin Ahmed is the writer for Marvel's Black Bolt, a surprisingly good comic. I can't wait to see how his first creator-owned book goes. – Cory
Saladin Ahmed burst on to the scene with Black Bolt last year. That book is so good I will read anything that Saladin writes and I recommend any comic fan to do the same. – Robert
This comic has been a surprising blend of classic/original horror, and I am looking forward to what's next! – Anelise
I have really been enjoying this series, which uses all the classic characters in new ways. This is an elseworld's story done right. – Greg
---
Anelise's Pick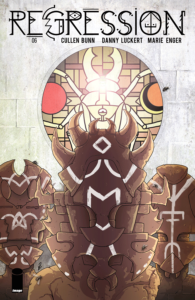 Regression #6
I am so glad this series is back! I re-read volume 1 over the holidays, and, if you are looking for scary good horror, READ THIS.

---
Cory's Picks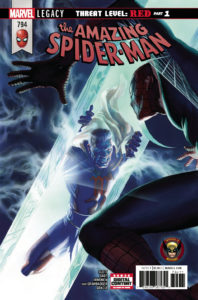 Amazing Spider-Man #794
We are getting closer to #800. It's weird to think that Slott wrote issues #600 & #700!
Black Cloud #7
Latour has crafted a complex, unique world.
Black Panther #169
Coates has been weaving an intricate tale of Wakanda and its king.
Dept. H #22
Matt Kindt is constructing a wonderful murder mystery that takes place at the bottom of the ocean.
Flash #39
One word: Grodd.
Redneck #9
Donny Cates has been on fire this year and Redneck is one of those books that always makes its way to the top of my pile when it comes out. This second arc has added some interesting elements to the story.
Thanos #15
I shouldn't be enjoying a book about Thanos as much as I am with this, but Cates is killing it! Plus, the cover has Thanos with a Hulk on a leash!
---
Greg's Picks
Detective Comics #973
This latest arc has been brilliant so far. It's revisiting the Victim Syndicate, and Clayface loses control of himself.
Legion #1
Legion is such a complex character. If done right, this story should be amazing.
Nightwing: The New Order #6
This is another great elseworld's story. I am looking forward to seeing how the team wraps up the story.
Phoenix Resurrection The Return Of Jean Grey #4
We are getting closer to the end of the story. So far Rosenberg has crafted a story with some true intrigue and mystery. So, what's next?
---
Jameson's Picks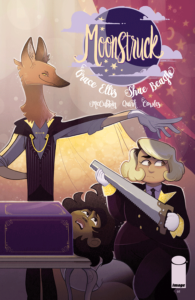 Moonstruck #5
Moonstruck is my favorite comic out there right now! It's cute, it's queer, it's cozy, and it features characters I love from all magical creature types!

Star Wars Adventures Forces Of Destiny Ahsoka And Padme #1
Ahsoka and Padme?? Going on adventures?? TOGETHER?? That's all I needed to hear.
Steven Universe #12
The Steven Universe comic always makes up for in charm what it sometimes lacks in substance. This week, the Gems are going to throw Connie a sleepover party to help her de-stress before a test! Cuuuute.
Vinegar Teeth #1
A Lovecraftian horror/humor miniseries? Okay, sign me up; I'll definitely give it a look.
---
Josh's Pick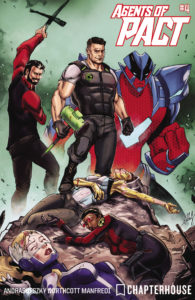 Agents Of P.A.C.T. #4
This finale features a kickass team of female super-spies/heroes.
Captain Canuck #2
Canada's superhero returns from a long hiatus. Anyone else would abandon the series, but I love this character too much to stop.
Fantomah #4
The world's first female superhero has a modern look, and she's looking for the person who kidnapped her sisters. Nothing will stop her.
Ninja-K #3
Ninja-K #2 left me on a cliffhanger! You need to be reading this because MI-6 has ninjas for spies. What more do I need to say? Ninjas! Spies!
Northguard Season Two #1
If Captain Canuck is Canada's superhero, Northguard is its superspy. Pick it up if you're a spy fan.
Pitiful Human-Lizard #17
Toronto's worst superhero is in outer space. It's a heartfelt comedy that focuses more on character than on super-heroics.
---
Robert's Picks
Action Comics #996
I, like any other comic fan, have my favorite characters and one of them is Booster Gold. This is the fourth issue in the Booster Gold/ Superman team-up, and it has been fun.
Avengers #677
Weekly Avengers book from all the writers of Avengers over the last couple of years?? Three issues in, and it has yet to disappoint.
Doomsday Clock #3
This book has surprised me. Not Gary Frank, because he has been amazing forever. Really what surprised me is that Geoff Johns is able to capture Alan Moore's voice and get the tone of Watchmen down. That alone has me in for the whole ride, even with news of this book going to every other month.
Monstress #13
When I picked up the first issue of this series, I had no idea what was going on. Now I am so into the world of this story that every break they take seems too long.
Sherlock Frankenstein And The Legion Of Evil #4
This book has been a revelation for me. I first saw David Rubin's art in Ether, but it was in the world of Black Hammer (working with Jeff Lemire) that his artwork has hit another level. This is the story of how Black Hammer's daughter found the heroes in Black Hammer, and this is the final issue. It has been a joy to read.
Southern Bastards #19
The two Jason's have taken a long break between #18 and #19. However, the story is so compelling that I am willing to read this series regardless of any frequency issues. With Aaron weaving the tale and Latour drawing it, it's absolutely killer.
Wild Storm #11
Warren Ellis is telling a long-form story, and with the last couple of issues, he has really been hitting his stride. I love this series.
---
Graphic Novels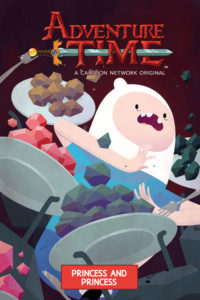 Adventure Time Volume 11 Princess And Princess GN
As Adventure Time gets close to its series finale, I have to get my fix. Finn is now the Princess of the Rock Kingdom in the comics, so clearly disaster is going to ensue. – Jameson
Aquaman Volume 4 Underworld TP
Aquaman has been one of the unsung books of DC's Rebirth initiative. – Cory
Spy Seal Volume 1 The Corten-Steel Phoenix TP
There is something about anthropomorphic animals and the cutesy cartoony style this is drawn in that compels me to want to check it out. – Cory
X-O Manowar Volume 3 Emperor TP
Aric is now the emperor of his own planet after ending a centuries-long power struggle. How can the Visigoth keep the peace when all he's known is war? His rocket to power has also made him some powerful enemies. – Josh
---
That's all for this week! Thanks for checking out this week's Rogues Portal Pull List! We'll be back next week with a brand new list. Same Bat-Time. Same Bat-Channel!