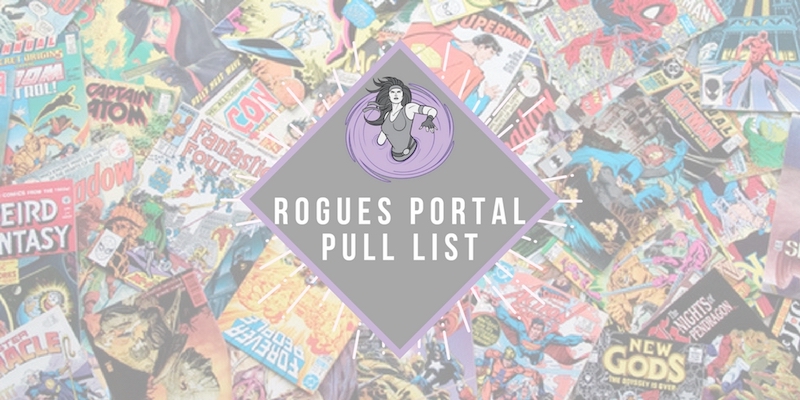 It's Wednesday my dudes! And that means it's New Comic Book Day at Rogues Portal. Every Wednesday new comics hit the shelves of your local comic shops, so we here at Rogues Portal try to find the best books to add to our pull lists and yours. Let's see what's new on the Rogues Portal Pull List for January 17th. Tons of new comics come out each week, and it's not always easy picking out the best ones. Here's what we're getting and what you should check out today! 
---
Rogues' Essentials
Strangers In Paradise XXV #1
Terry Moore's name warrants at least giving the first three issues a try. His other current book, Motor Girl, is wonderful, and I expect this to be as well. – Cory
It's SiP. It's Terry Moore. If you're not reading this book, then you probably don't like puppies or breathing either. – Frank
---
Anelise's Pick
Ice Cream Man #1
Horror and existential philosophy AND ice cream? COUNT ME IN!
---
Cory's Picks
Aquaman #32
Abnett is weaving a tale as grandiose and epic as Game of Thrones. A must read!
Batman #39
Tom King has proven his mettle on Batman. He can stay on this book as long as he wants. Same goes for artist Joelle Jones. This is the end of the Super Friends story arc.
Batman Teenage Mutant Ninja Turtles II #3
Any time you join two of my favorite childhood favorites together in one book, you have my $$$!
Copperhead #18
If a western set in the far reaches of space intrigues you, then give this book a shot. This week's issue finds our hero in dire straits.
Damage #1
I admittedly don't know much about this book, but the premise of someone hulking out for one hour and dealing with the "Damage" has me intrigued…at least for one issue.
Days Of Hate #1
Love him or hate him, but when Ales Kot is on, he's on. The premise of this book is a What If of sorts that tells the story of America being divided into two groups: a white supremacist loving group who fell in line with the police state, and a guerilla state of those who opposed it. The book picks up in 2022, a few years after this divide, as the two groups prepare for war.
Doctor Strange #384
Donny Cates. Enough said.
Further Adventures Of Nick Wilson #1
The premise has me intrigued. A superhero, who in his 20's was at the height of fandom and popularity, loses his power and struggles to figure out who he is.
Mighty Morphin Power Rangers #23
This is a bit of a guilty pleasure for me; however, Jamal Campbell's art alone is reason to give this a whirl.

Mighty Thor #703
Aaron & Dauterman have my permission to write Thor forever. They have done no wrong, and, yes, I do know that Thor is a woman (and she freaking rocks!). However, in this issue she is missing. Please tell me she's okay!?
Peter Parker The Spectacular Spider-Man #299
Chip Zdarsky was meant to write Spider-man. He brings him back to where he belongs: as our friendly neighborhood Spider-man. To be clear, I am enjoying Slott's globe-trotting Spider-man, but this series just feels like home.
Superman #39
Superman performing Make-A-Wish requests? Sign me up!
---
Frank's Picks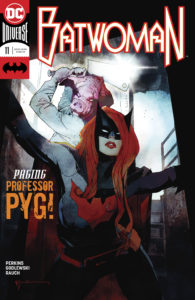 Batwoman #11
This book has the most atmosphere of any DC title right now, Kate is just tough as nails every month.
X-Men Gold #20
Both X-Men Gold and Blue have been moving in great directions, excited to see what this month has in store!
---
Greg's Picks
Evolution #3
This book has been a great mix of mystery and horror. Can't wait to see what's next!
Fence #3
Once again I have been intrigued by a comic about a sport I know little about.

---
Hafsa's Picks
Four Women TP
I am always interested in female-centric narratives, even if it is created by a male. I am curious about how the narrative will unfold! – Hafsa
Giant Days Not On The Test Edition Volume 2 HC
Giant Days has not disappointed me so far. I love the way it is about college women and how they navigate adulting. Can't wait to read the collected edition. – Hafsa
I Am Harriet Tubman HC
Be still my feminist heart! A book about Harriet Tubman for kids! Yes, Please! Can't wait to read about her life as written for kids. Hope this inspires a new generation of intersectional feminists! – Hafsa
---
Jameson's Picks
Call Of The Suicide Forest #1
As we know from the original graphic novel, Aokigahara is a great backdrop for a horror story. I'm interested to see if this new miniseries will live up to the original, and of course I'm always on the lookout for more good horror art!
Star Wars Adventures Forces Of Destiny Hera #1
I love that Forces of Destiny focuses on the awesome women of Star Wars, and there is no more bad-ass lady than Hera from Star Wars Rebels. I can't wait to see what adventures she's getting up to!
---
Josh's Pick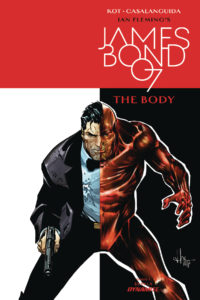 James Bond: The Body #1
New 007 story! Bond tells his physician about the injuries he received in his last mission. This is a place we've never seen Bond before and I'm interested to see where Ales Kot takes him.
---
Stacy's Picks
Jupiter Jet #2
Action Lab makes fun comics, and Jupiter Jet #1 was an absolute hoot! Check it out.

Mage The Hero Denied #5
Guys, it's MAGE. Do I really need to pitch this to you? Matt Wagner is a genius and this is his masterwork. Run, don't walk.
Pacific Rim Aftermath #1
Want something to tide you over until Pacific Rim: Uprising? This series-set between films-should help control the cravings until we get more of that amazing Jaeger vs. Kaiju action.
Red Sonja #12
Sonja's here in the modern day (she was transported from the Hyborian Age to Manhattan by magic); this one's a return to form, and it stars everyone's favorite she-devil with a sword. What's not to like?
---
Graphic Novels

Anarky: The Complete Series TP
Real Talk: Alan Grant and Norm Breyfogle took the idea of the vigilante hero out for justice for all and with the character of Lonnie Machin challenged a lot of preconceived notions of what a superhero might be. Some might look at the costume and think Anarky is a poor man's V, but check this one out. It's got slam-bang action and food for thought. – Stacy
Dept. H Volume 3 Decompressed HC
Matt Kindt is always a mind-trip, and this tale of solving a murder 6 miles under sea level is classic Kindt. – Cory
Gene Colan's Tomb Of Dracula Artist's Edition HC
A definitive edition of some of Gene Colan's best horror comics work. – Stacy
Legend Of Korra Volume 2 Turf Wars Part Two TP
Yes! It's the long awaited second installment in the first comic series about Korra, Asami and friends since the Legend of Korra ended in 2014! All of the Avatar comics are charming and add a lot of depth to the Last Airbender universe. – Jameson
Night Night Groot Board Book HC
I bought this book for my toddler at Disneyland last month. This nighttime book is as adorable as our titular character. There are cameos galore, plus the added challenge of trying to find Ant Man on each page. I may or may not have spent more time with this book than my two-year-old. – Cory
Super Powers By Jack Kirby TP
This one's a childhood favorite. If you want a taste of how delectably epic Kirby can take anything, even a toy line tie-in comic, check out his work on SUPER POWERS! – Stacy
Tales From The Age Of The Cobra TP
This one definitely sounds intriguing, new spins on classic stories in the style of the 1001 Arabian Nights, but with a modern sensibility? Sign me up. – Stacy
---
That's all for this week! Thanks for checking out this week's Rogues Portal Pull List! We'll be back next week with a brand new list. Same Bat-Time. Same Bat-Channel!