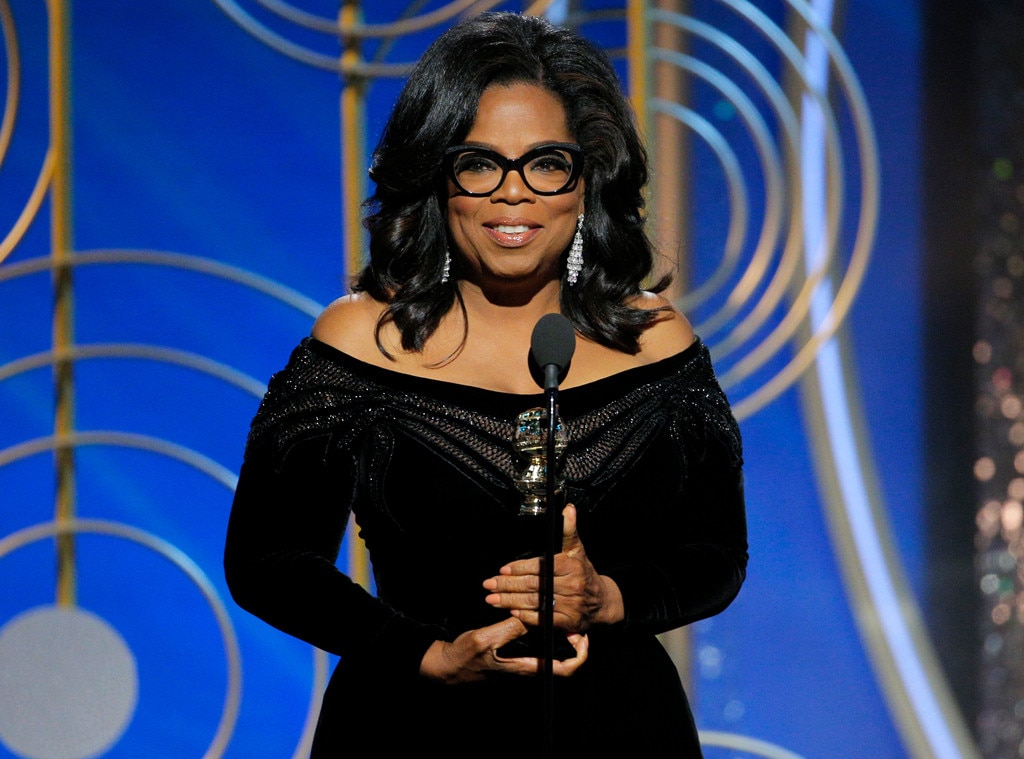 The 75th Golden Globes produced lots of conversation topics. Quite rightly, the first public act of solidarity among women in the industry after the sexual assault scandals dominated the night. Most of all, Oprah Winfrey received the Cecil B. DeMille Award and gave a speech for the ages. All we'll say is Andrew cried, and you should watch it.
Now for the awards themselves, here's a reaction to winners, speeches, and what this might hint at for Oscar time brought to you by Andrew Rostan and Nick Schofield.
BEST SUPPORTING ACTOR
Willem Dafoe entered the Golden Globes with a string of wins from every critics group. The Globes being the Globes, the streak ended. I half expected this but thought that the spoiler would be Christopher Plummer. His last-minute turn in All the Money in the World grabbed a multitude of attention. Instead, the HFPA awarded Sam Rockwell for Three Billboards Outside Ebbing, Missouri. As you know from my review, I thought Rockwell was outstanding in a poorly written role. Three Billboards received mixed reviews, and if the divisive reaction continues, I don't know if this is a sign of things to come or a singularity.
That said, Rockwell committed to the all-black tuxedo and was his usual delightful self!
BEST ORIGINAL SCORE
Music drives The Shape of Water. Elisa plays her favorite jazz and pop tunes for the Amphibious Man. AND Alexandre Desplat's airy score, reminiscent of his countryman Michel Legrand's best, provided the romantic uplift for the finest scenes. This is a great win.
BEST ORIGINAL SONG
I haven't seen The Greatest Showman so…"This Is Me" sounds good?
BEST ACTOR IN A MUSICAL OR COMEDY
Here's James Franco, the actor versus James Franco at the Globes.
Franco, the actor, excelled as Tommy Wiseau in a sanitized version of Greg Sestero's book which stripped away the darkness and focused on the strange man with a dream. Within those limitations, Franco transformed himself so fully that he lost all traces of the man. It's pitch perfect—to the same unrecognizable pitch as Wiseau's accent.
Franco on stage acted like Wiseau. He brought Wiseau on stage and literally pushed him from the microphone. Then he proceeded to deliver part of the speech in his Wiseau accent. Except for his call-out to his brother, it was a little distasteful.
BEST ANIMATED FEATURE
With Coco, Pixar rebounded from a slump of less than memorable films and unnecessary sequels. They returned to superb storytelling and pulled the emotional heartstrings again, with music and world-building to match. This win cements.
BEST SUPPORTING ACTRESS
Laurie Metcalf was my top choice for this category. That said, Allison Janney was my number two for her gritty (with a hint of sparkling) performance in I, Tonya. A potentially one-note role became a riveting dive into a woman's soul. Moreover, Janney wore one of the best dresses of the night. And she thanked the bird!
BEST SCREENPLAY
There is no universe in which Martin McDonagh's messy, tonally out of whack screenplay for Three Billboards Outside of Ebbing, Missouri was better than Greta Gerwig's sweeping, intimate, beautiful script for Lady Bird.
People often refer to the Hollywood Foreign Press Association as a joke. I usually decline to agree. But this was bad.
BEST FOREIGN FILM
For several decades, Fatih Akin's voice has stood out amidst world directors. In the Fade, his tale of a German woman facing the Neo-Nazis who killed her Turkish husband is merely the latest unforgettable story of his. But this year, the movie marks its territory in a time when the nomination field is wide open (with The Square, Loveless, and First They Killed My Father).
BEST DIRECTOR
Let's talk about why Rogues Portal favorite Guillermo Del Toro deserved this award. And anything else to come.
The Shape of Water is an outstanding movie, but the screenplay by Del Toro and Vanessa Taylor was functional, sometimes creaky, and focused more on love and fantasy than story. Del Toro directed the film with opulence, a perfectly moving camera, and a romantic vision. He singlehandedly lifted it to a new plane. That's the mark of a great director.
And of course, Del Toro's acceptance speech was pure Del Toro. The most emotional moment of the night was Oprah Winfrey's speech. I have nothing to say except I cried and you should all watch it here. The second most emotional moment came when 101-year-old Kirk Douglas wheeled himself onstage. The third belonged to Del Toro, talking about how the monsters—the powerful imperfections of humanity—are always there for him and save his life, time and time again. It was a message to remember. (And his refusal to be played offstage, this cineaste having his moment, was great.)
Also, Natalie Portman calling out the "all-male nominees," especially in light of one Best Picture winner, was glorious. And the reactions were priceless, from McDonagh's cackle to Christopher Nolan's shifty embarrassment.
BEST ACTRESS IN A MUSICAL OR COMEDY
Saoirse Ronan gave the performance of the year in the movie of the year. Enough said. Well, maybe not. Many times, including for most of this evening, actors who receive major awards check off a few boxes. Physically demanding roles. Portraying great historical figures. Accents. A bit of ham. And for actresses, the idea that you deglamorize yourself. Ronan may speak with an American accent; she's been mastering voices outside her Irish brogue her whole life. But to play Christine "Lady Bird" McPherson she used no trick, gimmick, or overstatement. I was once a teenager myself and can confirm that her emotional outbursts were not exaggerated. Most of the film she's low-key, witty, thoughtful, and still incredibly active as she chases her dream.
Ronan spent most of the night hugging and chatting with Gerwig and Metcalf. When she ascended the stage with her sleek dress and sleeker hair, she was ready—and very Lady Bird-like. She rapidly chattered her expressions of thanks, never missed a beat, and called out her Facetiming mother.
BEST PICTURE, MUSICAL OR COMEDY
Lady Bird, as I mentioned above, is the best movie of the year in my opinion. Even though it denied a Picture prize to that laugh riot Get Out (a terrific black comedy, of course, which qualifies it for the spot more than The Martian two years ago), there's no argument. It's beautiful, funny, moving, and tells a sweeping, universal story in ninety minutes. This win and its nominations across the board in Guild Awards cement it as an Oscar favorite.
I award major kudos to the producers who declared only Gerwig could speak for the movie. Earlier, oddly enough, Gerwig introduced the film's nomination with a tight, sure-handed speech. As a winner, she hyperventilated and barely got any words out. If you think this wasn't endearing, you're wrong.
BEST ACTOR IN A DRAMA
Gary Oldman won for going the classic Awards Season route. An anti-Ronan if you will. He donned excessive makeup and imposed his will on audiences to play Winston Churchill in Darkest Hour. Last night, he also made a long speech full of humility and gratitude, even though he completely misquoted Churchill. But that was the thing… his speech was long. And no one made a move to play him off. This after Gerwig sped her way through accepting an award for making a Best Picture winner. Time may be up, as the buttons said, but Hollywood still has ways to go in showing what they value. (Or at least the HFPA does.)
BEST ACTRESS IN A DRAMA
Frances McDormand, as I wrote in my review here, gave the performance of a lifetime in Three Billboards. Her tragedy-stricken mother remained charming and empathetic even as she performed very bad misdeeds.
She also gave the most memorable winner's speech of the night. Del Toro hit our sentimental core. A tipsy-looking McDormand got on stage and gave a master class in emphatic arm gestures. Among the highlights: she offered to buy other nominees tequila and pointed out the HFPA got it right by electing a female president. In the middle, she also thanked McDonagh and her co-stars.
BEST PICTURE, DRAMA
This category was sort of tough. But the originality of The Shape of Water and the magic of Dunkirk's screenplay and technical genius lost to Three Billboards Outside Ebbing, Missouri. (NBC's caption added the word "of" to the title—possible unpreparedness)? What intrigues me is that, again, Three Billboards divides people, but this is the first time it has won a competitive Best Picture. Since these awards have been spread out among many titles, this may be a singularity like Rockwell's win. (McDormand will remain in the conversation no matter what.) It also may be the beginning of a great Oscar push. We'll see when the nominations are announced in two weeks.
BEST ACTRESS IN A LIMITED SERIES/MOTION PICTURE FOR TELEVISION
There are two particular triumphs that make this category so special this year. First is Nicole Kidman taking the award for her work on Big Little Lies. It's well deserved too; Kidman's portrayal of Celeste Wright in Big Little Lies is complicated, nuanced, and heartbreaking. Big Little Lies is a mirror to our own society, and Kidman's ability to help make that mirror as reflective as possible through her work is a testament to her talent.
Second is the caliber of all the work nominated. Very talented women competed in this field, including Kidman's own co-star, Reese Witherspoon. Each series tackles, in its own unique way, issues affecting women that are hard for us to sometimes recognize and acknowledge are there.
I'd also argue that despite Kidman's win, the real triumph of this category is Jessica Biel's nomination for The Sinner. This was her first starring television role in over a decade, and the critical praise The Sinner has received–including her nomination–is incredible.
BEST ACTOR IN A LIMITED SERIES/MOTION PICTURE FOR TELEVISION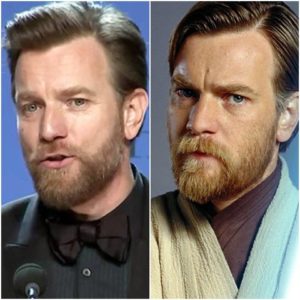 Winning an award for a dual role is a rare distinction, and Ewan McGregor joins that club this year for Fargo. Playing the Stussy brothers, McGregor's physical transformations into each character are really astounding. It's as much a triumph of his own acting as it is hair and makeup, so let's make sure to tip our hats off to them too.
Also, get a load of McGregor's beard. Looks awfully similar to a role he's played before, no?
BEST SUPPORTING ACTRESS IN A LIMITED SERIES/MOTION PICTURE FOR TELEVISION
Big Little Lies hits it out of the park again with a win for Laura Dern in this category. Dern, one of the undying loves of my life, continues to show why she is such an incredible actress. As well, she'll knock you dead in that gorgeous dress she was wearing.
Her acceptance speech was poignant, too. "May we teach our children that speaking out, without the fear of retribution, is our culture's new North Star," she remarked, of both the themes of her Big Little Lies role and the culture of silence that pervades our society still today. Of all the speeches of the night, hers may have stuck out the most.
BEST SUPPORTING ACTOR IN A LIMITED SERIES/MOTION PICTURE FOR TELEVISION
If I told you Big Little Lies took another category, would you believe me? This time, Alexander Skarsgård nabs it for his role as Perry–the abusive husband of Kidman's character, Celeste. It makes sense he took this category, but for my money, I wish David Harbour had won for Stranger Things. Harbour's a talented, dynamic actor, and his work on Stranger Things is a testament to his skill.
BEST ACTRESS IN A TELEVISION SERIES DRAMA
It's not surprising Elizabeth Moss took this category for her work on The Handmaid's Tale. She's always done great work, and this show has received so much buzz and acclaim that this basically felt inevitable. While I appreciated her taking Margaret Atwood's famous quote from The Handmaid's Tale and making it into a positive, inspiring message, I'm conflicted about her stance on fighting against injustice and inequality. Moss is a Scientologist, a "religion" known for its abuse and mistreatment of people, along with alleged human trafficking. I think the best we can do is take her message with just a grain of salt.
BEST ACTOR IN A TELEVISION SERIES DRAMA
How is it 2018 and we're still having to break color barriers? Sterling K. Brown took the award this year, becoming the first black actor to win in this category. Brown won for his work on This Is Us, the emotional, heart-driven NBC drama that's captivated our nation as of late.
Always humble, Brown reminded his kids in his speech that he'd be there in the morning to pick them up for school; after, he focused on thanking his castmates, and in particular Dan Fogelman (writer/executive producer, This Is Us). Brown called out Fogelman, thanking him for writing "a role for a black man that could only be played by a black man."
It's both nauseating and exciting that Brown made history this year. Why it took 75 years to get here is beyond ridiculous to me; however, now that we're here, the gates are open for more black actors to be recognized for their work.
BEST ACTRESS IN A TELEVISION SERIES COMEDY
Rachel Brosnahan took this category for her work in the new Amazon series Marvelous Mrs. Maisel. Given the relative newness of this series, it's very curious that it has already started netting awards.
Pamela Adlon's crass, deadpan humor in Better Things combined with the depth and honesty of the show, I felt, deserved the Golden Globe. Adlon was a major force in why Louie was so successful and has turned Better Things into its own tour-de-force. Hell, the show netted a damn Peabody Award last year.
Still, Brosnahan's success for her role already is noteworthy. She got a two-for-one by winning this category; not only did she win the actual award, but she also got it presented to her by one of the great matriarchs of comedy–Carol Burnett. That's such an honor, and I hope Brosnahan (nor anyone for that matter) forgets it.
BEST ACTOR IN A TELEVISION SERIES COMEDY
MY MAN AZIZ. I was so desperately hoping he would win for his work in Master of None, and I nearly jumped out of my seat when they called his name. He also made history this year, becoming the first man of Asian descent to win in this category.
This win is well-deserved. The second season of Master of None is funny, dramatic, complicated, heartfelt, frustrating, and joyous. Ansari helms a cast of incredible actors–comedic and otherwise–that make the show live and breathe before its audience.
Though Ansari takes home this award, it's not just his–the cast and crew of Master of None work collectively to tell the story very well (as evidenced by Ansari and his co-writer Lena Waithe taking home the Emmy for Outstanding Writing for a Comedy Series last year).
BEST TELEVISION SERIES DRAMA
In the age of this Current Federal Administration™, the dialogue in some political circles fears the threat of reverse momentum on progressive initiatives throughout the last forty years or so. This talk is dystopic in nature and has often pointed to Margaret Atwood's The Handmaid's Tale as warning of what may be to come.
So, it's no surprise that this drama series resonated with audiences this year and takes home the Golden Globe. The show's executive producer, Bruce Miller, even thanked "… those who stop[ped] The Handmaid's Tale from becoming real." Our cultural ethos in this new political age makes this drama series feel more prophecy than entertainment.
BEST TELEVISION SERIES COMEDY
Marvelous Mrs. Maisel has somehow managed to catapult to the top very quickly. I'm sure this is a combination of several unique factors (both in quality and in timing), but the significance of its rise to critical acclaim in such a short timespan is worthy of notice.
This is also a small win for Amazon; after landing in some rocky terrain with sexual harassment and misconduct issues surrounding Transparent and Mozart in the Jungle, the streaming service only managed three total nominations this year. Marvelous Mrs. Maisel took both awards it was nominated for, perhaps signaling Amazon isn't dead in the water yet.
For my own money, I believe Master of None should have taken this category. This season really pushed the line between comedy and drama, often to very emotional effect. The show, like its fellow contender Black-ish, also manages to explore perspectives in our modern society that almost never get any real screen-time elsewhere. This isn't to say that Mrs. Maisel is devoid of these things, or that the story's perspective isn't worthy of our attention, however. These perspectives, when brought to the screen well, should enter the awards process as factors for consideration.
BEST LIMITED SERIES/MOTION PICTURE FOR TELEVISION
Surprise! It's Big Little Lies again! After going head to head with the same shows all night (Fargo, Feud: Bette and Joan, The Sinner, etc.), Big Little Lies manages to come out on top.
"This show is so much about how the life we present to the world that could be very different from the life we live behind closed doors," said Reese Witherspoon, who was nominated for her role in Big Little Lies and also acts as executive producer for the show.
She went on to thank those this past year who have spoken up against injustice, harassment, and abuse. "We see you, we hear you, and we will tell your stories," Witherspoon concluded.