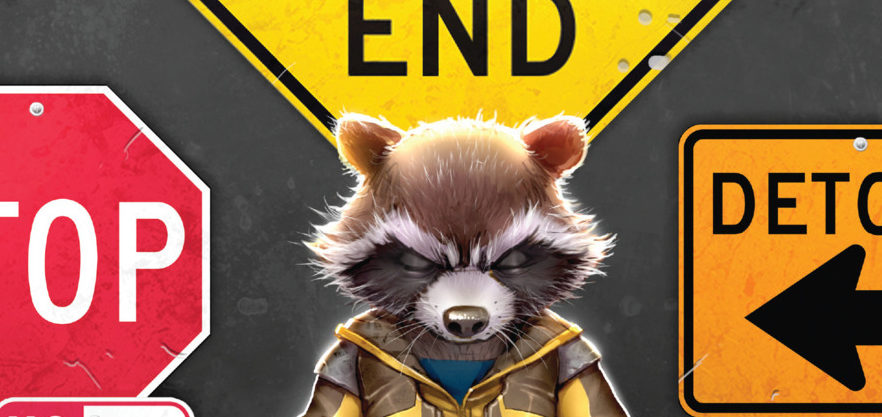 Rocket Raccoon #2
Writer: Matthew Rosenberg
Artist: Jorge Coelho
Colorist: Antonio Fabela
Letterer: Jeff Eckleberry
Publisher: Marvel
A review by David Hildebrand 
It's been only two weeks and I have another issue of Rocket Raccoon in my hands! Matthew Rosenberg did a remarkable job with the first issue and Rocket Raccoon #2 is even better!
Rocket is stuck on Earth as the Guardians ship crashed back during Civil War II. Rocket doesn't like Earth and wants off of the planet, NOW! He crossed paths with an old friend that had information to help him off the planet, but things didn't end well at the end of the first issue. His contact was killed, leaving Rocket back looking for help off of Earth. 
Rocket Raccoon #2 starts out the same way as the first issue with Rocket claiming "This planet sucks!" as he battles with the man that killed his contact. Rocket handles the situation as only Rocket would and, in the process, escapes the police once again. He's back on the streets looking for Ra'chaun, the only guy that can get him off of Earth. His search leads him to a bar of aliens who are also in the same situation as Rocket. However, there is one problem, the aliens are being hunted for fun because they can't work, they can't leave, can't fit into the system, so no one will miss them. And things get worse for Rocket at the end of the issue. 
Rocket Raccoon #2 was a lot of fun to read. In fact, I read it again as soon as I finished it the first time! I like how Rosenberg is showing the struggles of little Rocket as he makes his way through New York. He doesn't understand the city and the city doesn't understand him. Especially when he looks like a cat running around in a jumpsuit. Even Spider-Man (Morales) questions why Rocket is dressed the way he is before realizing who he really is. There is also a page where Rocket encounters a variety of people as he travels through the city. I would have loved to see those situations in more detail, but the way Rosenberg shows it, works. 
I'm a big fan of Coelho and Fabela's art in this issue. I have always been of the opinion that there is a wrong way and a right way to do Rocket. There is no grey area for me with this character and these two hit the bulls-eye with the look and feel of Rocket. They also do an outstanding job of capturing the feel of the city's atmosphere just right, as well as all the supporting characters that inhabit it.  
The Verdict
Buy it! If you are a fan of the Guardians of the Galaxy or Rocket Raccoon then there is no reason this shouldn't be on your weekly pull list! And I can say for the first time ever, I could hear Bradley Cooper's voice as Rocket as I read. And that's a big deal to me because I read everything Guardians put out and never had that connection until I read this issue. With the cliffhanger at the end, I eagerly away the third book!