Advanced Review: Rock Candy Mountain Vol. 1
Writer/Artist: Kyle Starks
Colorist: Chris Schweizer
Publisher: Image Comics
A review by Samantha Pearson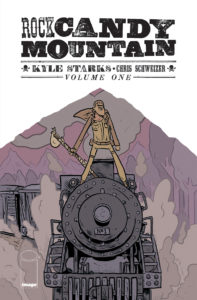 The first four issues of Kyle Starks' hobo epic Rock Candy Mountain are combined in the series' first trade paperback, set for release on September 27, 2017 through Image Comics. Rock Candy Mountain Vol. 1 introduces us to the unlikely hero Jackson and his even more unlikely companion Pomona. The former is a fight-hardened hobo on a mission for a better life. The latter is a man who just wants to go home and doesn't mean to get caught up in Jackson's death-defying antics.
Together, they make a pretty great team, though their personal safety does fall by the wayside more than once.
As with any good epic, the stakes are high in Rock Candy Mountain. Several people — including Satan himself — are after the notorious Jackson, who's running toward the mystical Big Rock Candy Mountain (yes, just like the song). Meanwhile, Pomona thought he'd found a better life in another mystical land and then realized he didn't. He thinks Jackson's mission is crazy — and futile. These two are at very different points in their respective journeys. The potential is there for them to learn from each other, but only if they can get past their differences.
That's a little bit hard, when the FBI, the Hobo Mafia, and the literal Devil are following every step you take. But what's a good buddy comic without a heck of a lot of tension? A lot less fun, that's for sure.
Rock Candy Mountain is a layered story with a frankly shocking amount of depth. It's a funny book with wild fight scenes, but it's also a story about class and race and police bribery and brutality and history. So much history. Kyle Starks pours every ounce of his interest in hobos into this book. The story and art reflect a genuine passion for making these characters as human as possible. Because of that, the book stands out as something far more than just a quirky, niche tale of heroics and devilry.
Chris Schweizer's colors elevate Starks' work beautifully. Every panel jumps off the page and draws your focus to the action at hand, pulling you effortlessly from moment to moment. Together, Starks and Schweizer create a tapestry that is as rich in art as it is in history and humor; Rock Candy Mountain is nothing like you'd expect from something described as a "hobo epic".
Hearing Starks talk about this book illuminates its import even more. It has so much heart and soul, and the relationship between Jackson and Pomona makes it resonate so strongly. Starks gives each character — even secondary ones — incredibly distinct voices. Rock Candy Mountain Vol. 1 is the first half of an arc that is, ultimately, about the limitations of human empathy and the vastness of hope, which should be at odds with each other but somehow aren't within the context of the story. It's fantastic, from cover to cover, and the ending leaves you aching for more.
Verdict
Buy it! This book completely shocked me with its palpable humor and emotional depth. Rock Candy Mountain Vol. 1 is a wild ride (literally and figuratively, since much of it is spent train-hopping) that is 100 percent worth your time. Before Image releases the second arc in the story, get your hands on this TPB and experience the first. I promise you will not regret it. Not for a moment. Pre-order it now for delivery on September 27!