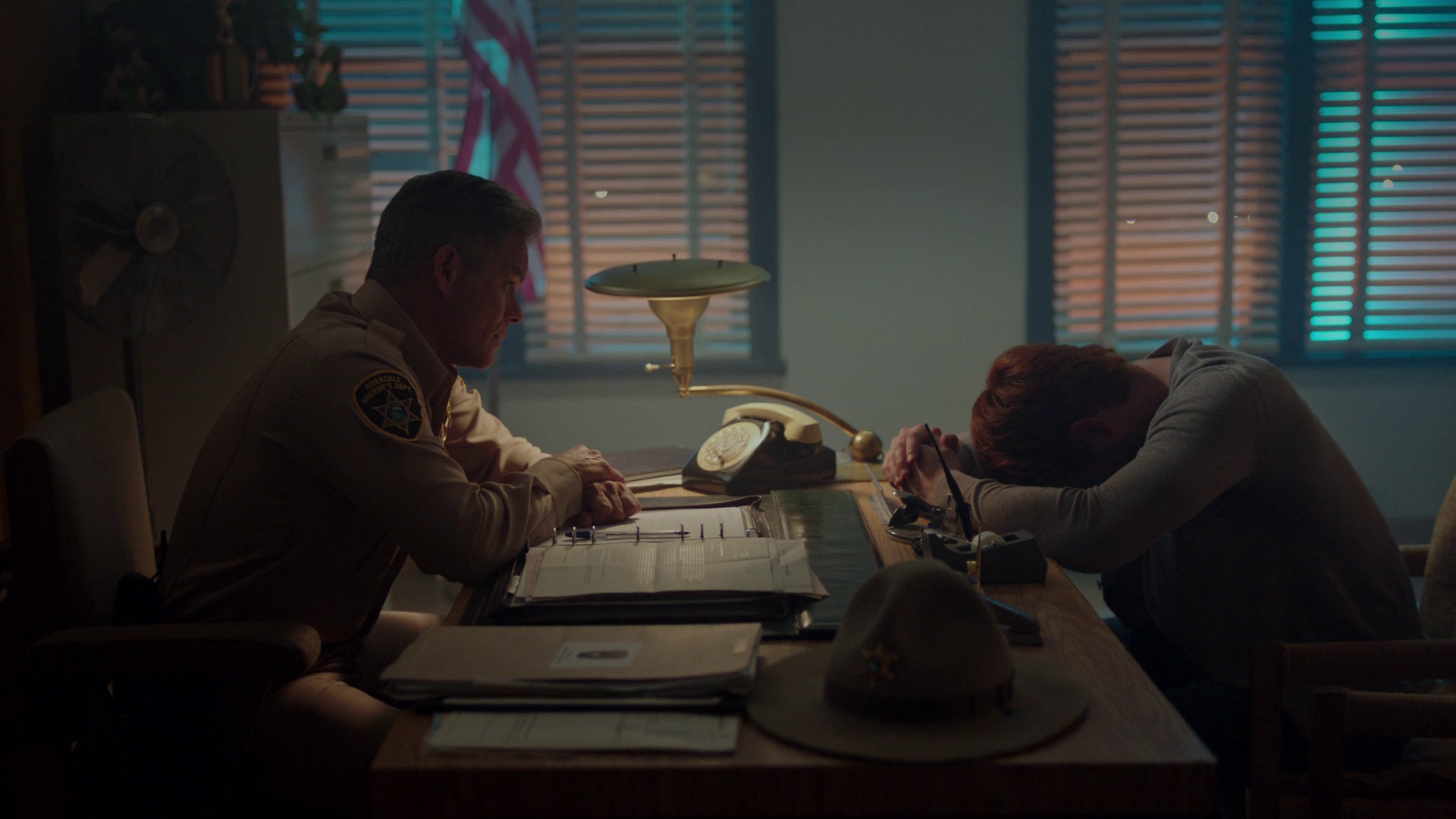 Riverdale "Chapter Fifteen: Nighthawks"
Director: Allison Anders
Starring: KJ Apa, Lili Reinhart, Cole Sprouse, Camila Mendes
Writer: Michael Grassi
A review by Michael Walls-Kelly
Only a dumbass lunatic brings a baseball bat to a gunfight.
This is a really deceptive episode of Riverdale. It plays like a middle-of-the-pack season one episode. The show continues to wrap up some loose ends from last season, there's a big event to rally around, and it even seems to be returning to the status quo from what happened in the premiere.
Until a man in a black hood shoots Moose and Midge.
But before we get to that Zodiac homage of an ending, let's talk more about the episode. It's a clever way to lull the audience into thinking we're going to get more of the same. And that's not even a bad thing! Season one Riverdale, even without the Jason Blossom murder, was an entertaining show. But I found myself a little disappointed that the Fred Andrews (Luke Perry) shooting was going to backburnered more than I expected. Well, if this Black Hood is the same shooter then it looks like I have nothing to be disappointed about.
Archie (KJ Apa) continues having a strong presence this season. He's proactive and interesting and at the heart of the show for the first time. With his father home and recovering, Archie is still having flashbacks to the shooting. He's worried about protecting his family, friends, and town. He's also dealing with his own trauma. In order to stay awake at night, he buys some Jingle Jangle, which is still a stupid name.
It looks like Reggie (Charles Melton) is the main Jingle Jangle — so dumb — dealer at Riverdale High. This is a good call on the show's part. Season one Reggie (played by Ross Butler) was shuffled off into the background and almost completely forgotten about. It was an odd choice for a character who is so important to the Archie Comics. Having him deal Jingle Jangle — ugh — will keep him involved in the overarching story if, as it seems, the drug business has something to do with the killings.
Veronica (Camila Mendes) is dealing with family issues as well, but hers are almost the direct opposite of Archie's. She isn't worried about protecting her parents. She's worried about being protected from them. Hiram (Mark Consuelos) and Hermione (Marisol Nichols) continue to try to return their lives to what they were before, with their adoring daughter completely oblivious to how ruthless they can be. They start on the path to that. Hiram, at least, seems like he's making an effort, but at the end, Veronica finds out Smithers, the Lodge family butler, has suddenly left due to an emergency. Has he really? Or did Hiram send him off, severing one of the only warm, familial relationships Veronica has left?
This is one of the most soap opera-y storylines on the show right now — there are slaps, threats of slaps, blackmail, cover-ups, all that good stuff — and all three actors seem to be relishing it. Consuelos, in particular, appears to be a great addition to the series and I'm excited to see his first real interaction with Archie.
The Jughead (Cole Sprouse) and Betty (Lili Reinhart) storylines are the ones that give this episode a "tying up loose ends" feel. Jughead is doing everything he can to save his father from doing hard time for helping cover up the murder of Jason Blossom. This means the welcome return of Skeet Ulrich as F.P. Jones. Ulrich was a nice surprise in the first season, and the reduction of his sentence — thanks to Betty threatening Cheryl (Madelaine Petsch) into covering for F.P. — is welcome, if a little too convenient. It's not a surprise that he would be released from jail. Ulrich was bumped up to a regular cast member this season, but it feels a little too easy. But if we get more melodramatic scenes between Ulrich and Sprouse then I'm all for it.
Betty spearheads the big event of the week. After the shooting at Pop's Chock'lit Shoppe people are afraid to go in there. They're calling it "Death Diner." Pop Tate (Alvin Sanders) may be forced to sell the place, but Betty decides to hold a big fundraiser to save an important landmark in her life. She's fighting for the status quo, to make everything go back to normal. She kind of succeeds.
The Lodges make a "charitable donation" to Pop to keep him on his feet, earning Hiram some brownie points from Veronica. Really, Hiram purchased Pop's and agreed to keep him on as manager. There are always backroom deals and family secrets lurking around Riverdale, so things are definitely back to normal.
And what's more normal than a traumatic event involving teenagers? Midge (Emilija Baranac) and Moose (Cody Kearsley) are parked in the woods, enjoying some Jingle Jangle — dammit — and listening to some music. Then a hooded figure walks up and fires a gun into the driver's side window while Donovan's "Season of the Witch" plays. I appreciated the wake-up call, and I appreciated the reference to the opening of the movie Zodiac.
Most of all I appreciated the show saying "this isn't season one anymore, so don't get comfortable."
Verdict: Keep Watching! I mean, with that cliffhanger, how could you resist? Even if that doesn't do it for you, Riverdale continues to hit the most entertaining beats. Josie and the Pussycats — and Cheryl — sang a cover of Kelis's "Milkshake" while standing on top of Pop's Chock'lit Shoppe. The main cast continues to drop charmingly overwritten puns and references, and every one of them is up to the task. I'm especially pleased with KJ Apa. He wasn't given a lot of notes to play in the first season. I was a little concerned about his expanded role here, but he's more than up to the task. The show definitely lucked out with its central four characters, and I'll continue watching the show if only to see them.