Writer: Magdalene Visaggio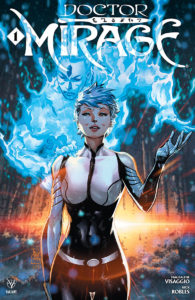 Artist: Nick Robles
Colorist: Jordie Bellaire
Letterer: Dave Sharpe
Cover Artists: Philip Tan with Jay David Ramos
Variant Cover Artists: Roberta Ingranata with Warina Sahadewa; Nick Robles; Jeff Dekal; and MJ Kim with Jordie Bellaire
Editor: Lysa Hawkins
Assistant Editor: Drew Baumgartner
Publisher: Valiant
Former paranormal investigator and TV star Shan Fong Mirage is mourning the death of her husband. As if losing your spouse is not enough, she's also lost her ability to see and speak to the dead, the ability that let her be a TV Paranormal Investigator with her husband. With no spouse, no show, and no dead to keep her company, Shan Fong finds herself alone for the first time in her life. Nothing is as it seems in Doctor Mirage #1, and you learn this quickly when the entire concept changes halfway through the issue. 
Doctor Mirage #1 (of 5) is the start of a new take on Doctor Mirage, part of Valiant's pantheon of characters. The first few pages start off with a Kirby-esque bombastic narration that gets you right in the action. However, instead of punches and complex machinery, you get in the midst of an emotional journey that is enjoyably sarcastic and grounded. This series has the potential to live up to some deeply emotional and big magical moments. There's clearly a price to pay when it comes to magic in this book, and Doctor Mirage #1 makes no accident of connecting drugs, addiction, and magic. 
Magdalene Vissaggio finds a solid balance of delivering harsh emotional truth and magical riptides that pull Mirage into questioning herself. As much as Doctor Mirage is trying to convince the reader she's okay, she's also trying to convince herself of the same. Nick Robles's art paired with Jordie Bellaire's colors is a magnificent pairing, as their depictions of magic in this book make it feel like a double-edged sword. The attention to detail in color in this book is the most impressive. Through Bellaire's colors alone, we see the entire first issue go from dawn to sunrise. 
The focus on the minutiae of the day and what it all means in the process of recovery makes this book a stand-out, and anyone who likes their heroes with some serious emotional stakes is going to enjoy this one!