Writer: Cullen Bunn
Artist: Adam Gorham
Colorists: Jose Villarrubia
Letterer: Dave Sharpe
Cover Artists: Dan Brereton (A, Punk Variant), Zu Orzu (B), Cris Delara (C), Adam Gorham (Pre-Order Edition)
Publisher: Valiant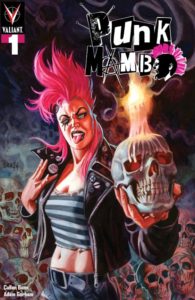 Punk Mambo opens in the boggy swamps outside New Orleans, where we find out titular pink-mohawked hero fighting off an army of inbred, cannibalistic monsters. What seems like a routine hostage rescue mission turns into a deeper mystery, much to her annoyance as all she wants is a quiet evening to catch up on Downton Abbey. As she is fighting off the Grunches, a strange spirit appears out of the blue and kidnaps the Loa Ayezan (Aye for short) who has been more or less forced into aiding Punk Mambo on her missions.
Punk Mambo later learns (through the help of New Orleans Voodoo legend Marie Laveau) that Aye has been taken by a being known in some parts as Uncle Gunnysack. Her best bet at retrieving her spirit friend tool is to travel to the heart of Voodoo: Haiti. However, once she gets on the right trail, it seems Punk Mambo's quest is only just beginning.
Punk Mambo — aka Victoria Greaves-Trott — has shown up in Valiant comics here and there, primarily in Shadowman. She brings that perfect British anarchist vibe down to the swamps of New Orleans in a way that perhaps only John Constantine could match (she's even got her own song!). It's like a great gumbo when all the right ingredients come together. And who better to give Punk Mambo her own series than Cullen Bunn?
Bunn has really come on the scene as a reliable source for the weird, the macabre, the horrific, and the bizarre. And he puts all of this and more into the first issue of Punk Mambo. It's not every day that you open up a #1 issue and are almost immediately confronted with grotesque and disturbing inbred cannibals.
Even though Punk Mambo has danced around in the background of Valiant comics, she feels like she's well established while you're reading this book. Her ability to wield magic, and her recollections of deals made to look young after 40 years, already speak to a dark past that will hopefully be explored more as the series continues. Bunn does a great job painting her as a complex individual, too — does she want Aye back because of the companionship, or is it more that her pride was injured?
I also appreciated the way Bunn threw dialect into the mix. Punk Mambo uses words that give away her British background (cheeky, knickers, etc.), and he shortens and double-negatives the swampland rednecks dialogue in a way where you can hear the words, but aren't slowed down by it. I can't tell you how many times I've read comics that bring in dialects and make it burdensome to read (I'm looking at you, X-Men books). Maybe this is a matter of making myself a more well-rounded person, but regardless, Bunn does a good job in making it feel genuine and readable.
Gorham and Villarrubia do a terrific job matching Bunn's intense joyride of a story with the art. You can almost feel the sweat and mosquitoes on your back in the Louisiana swamplands, and the subtle details that go into every panel are eye-catching but not overwhelming. The neon pinks and greens of our punk rocker hero and her magic is a strange juxtaposition with the earthy, muddy tones of the world around her, but they work in harmony nonetheless. Top that off with Sharpe's lettering that changes based on who's speaking (harsher, squiggly lines for the Grunches and a soft blue and white blend for Marie Laveau), and it's really hard to find a fault with this book.
Punk Mambo promises to be a thrilling supernatural ride through Voodoo culture with a hard-living Londoner to guide us. Fans of series like Punk's Not Dead, Hellblazer, and Sandman will find a story that stands up on its own studded leather boots.