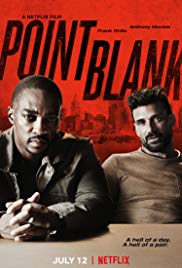 Starring: Frank Grillo, Anthony Mackie, Marcia Gay Harden, Teyonah Parris
Director: Joe Lynch
Writer: Adam G. Simon, based on Point Blank by Fred Cavayé and Guillaume Lemans
Everybody's always talking about how they'd do anything for their fucking family. Well this is as fucking "anything" as it gets right now, pal.
Point Blank is a remake of a French film of the same name that was released on Netflix on July 12. It's an action-thriller from director Joe Lynch (Everly, Mayhem) and stars Frank Grillo and Anthony Mackie, so there was absolutely no way I wasn't going to check it out. Ultimately, it left me a little cold, but there are still some aspects worth checking out.
Mackie plays a nurse named Paul, whose wife Taryn (Teyonah Parris) is expecting. He's a normal guy with a normal wife and a seemingly positive outlook on life. When Frank Grillo's Abe is brought into the hospital after being shot and hit by a car — and apparently murdering the city's District Attorney — Paul is called into work to care for him. Unfortunately, Abe's brother Mateo (Christian Cooke) kidnaps Taryn and forces Paul to help Abe escape from the hospital and from the police.
There's also stolen evidence, crooked cops, and a William Friedkin-loving film buff gangster, but that's the thrust of the story. It's a standard action movie about two guys who get on each other's nerves who are forced to team up to take down the bad guys. It's executed well, but it doesn't come close to the heights of the genre like Lethal Weapon, Midnight Run, or the more recent The Nice Guys.
The biggest selling point for a movie like this is the chemistry between the leads. Mackie and Grillo have teamed up briefly before, facing off against each other in Captain America: The Winter Soldier. Grillo is one of my favorite actors ever, and I always find Mackie enjoyable. Both of them are charming actors with very different vibes. I just would have liked to see that contrasted more.
Grillo plays the tough guy, and Mackie's supposed to be the everyman. He's very competent and quick to do whatever he needs to in order to make sure his wife and baby are safe. It's an interesting take, and it gets us into the action quicker. But it doesn't make for a lot of tension between our leads, which means we get mostly some vague bickering before they team up for real.
The antagonist is Lieutenant Lewis (Marcia Gay Harden), and I guess it's supposed to be a surprise reveal, but she's the one chasing Paul and Abe, and Abe has a flash drive with info about dirty cops, so of course, she's a dirty cop. She does a good job and is believable as an intimidating badass, which isn't a surprise to anyone familiar with her work. 
The first half of the film, with Paul and Abe at each other's throats as they try to get back to their wife and brother respectively, is the best part of the movie. It moves quickly (the entire film is only 86 minutes, which is right in the sweet spot), and it's shot well. Unfortunately, the movie kind of fizzles out once they stop running and decide to take the dirty cops head-on.
The best part of the second half is that we get to meet Big D (Markice Moore), maybe my favorite character in the film. Abe owes him money, but he's able to cut a deal with him to help with their plan. Big D is a cinephile, but not in a constantly-quoting-lines or meta-humor kinda way. He's watching the credits of To Live and Die in L.A. when Abe and Paul show up to his house, and he makes them watch Sorcerer while they're waiting for something to arrive. He even namedrops Christine! He was a nice shot of personality into the proceedings.
It's too bad that the actual plan for the finale is poorly conveyed and ultimately anticlimactic. It almost feels like there were sections of it that they could shoot, or didn't have time to reshoot? I don't know, but it didn't really work. It felt like there were moments that should have happened that didn't, but not in a purposeful way.
Lynch has never blown me away as a director. I thought Everly and Mayhem were fine, but they mostly coasted on the charm of their actors. I'd put Point Blank in the exact same boat. If you're a big fan of Grillo or Mackie, or you're an action genre completist, then check this movie out. If not, follow Big D's lead and watch some Friedkin instead.