Let's get one thing straight: I love The Worst Witch.
I was really into Harry Potter as a kid. I definitely have a more complicated relationship with the series now, but it brought what I needed for a long time. But I'd always loved series about girls doing magic or having special powers – Sailor Moon, Witch, Winx Club – I ate that stuff up. When my sibling and I found The Worst Witch airing one night on HBO Family in the US, we were both pretty much sold. I did a lot of exploring into the small fandom. It happened in the early 2000s, spending quite a bit of time reading fanfiction and working on making our Halloween costumes look as screen accurate as possible with my mom.
And then I kind of…forgot about it for a while. I didn't know anyone at my school who had HBO Family. I was also too nervous to speak to anyone online about it. Once the show stopped airing, it fell out of the forefront of my mind a few months later.
This love was re-sparked by the new CBBC adaptation of The Worst Witch, which premiered on Netflix over the summer.
Some background: The Worst Witch often gets compared to Harry Potter due to its themes. It's actually a book series written by English author Jill Murphy and first published in 1974. It's the story of Mildred Hubble, a clumsy but well-meaning witch in training, and her adventures at Miss Cackle's Academy for Witches, a magical all-girls boarding school. She's accompanied by her friends, the bright and cautious Maud Spellbody and the mischevious prankster Enid Nightshade. She has a pretty vicious rivalry with snobbish rich girl Ethel Hallow, whom her stern teacher, Miss Hardbroom, favors greatly. Murphy also illustrated the books with stylized line drawings.
Naturally, it hit all my buttons. Magic school? Check. Three young heroes going on adventures? Check. Really cute school uniforms? Major check.
The series was first adapted in 1986 as a made for TV movie which I still haven't seen (it's on my list), starring Diana Rigg and Tim Curry. My primary experience with the series was through the 1998 ITV television series, starring Georgina Sherrington as Mildred and a pre-Rogue One Felicity Jones as Ethel Hallow (who I definitely had a crush on at the time).
This 2017 adaptation stars Bella Ramsey as Mildred (Game of Thrones' scene stealer, Lyanna Mormont). It's light, whimsical, and episodic – the feeling of the 1998 series remains intact. The show is perfect for those Harry Potter fans. Those who are looking for another magical world to dive into and retains the childlike wonder of the first book and film. Ramsey is an interesting Mildred – the show focuses more on her feelings of imposter syndrome rather than her clumsy nature, which is something I can appreciate as a person who's struggled with this before.
Mildred is the first magical child from a non-magical family. She is expected again and again to prove her worth as a witch. These plots more often than not have the threat of expulsion from school looming over her head. A new world that suits her as a magic user lost forever with no way to return. It's a deep issue for a children's show to touch on. Fortunately, Mildred has a strong support system from her friends, and she's also got a lot of resolve. Her non-magical upbringing allows her to create clever solutions to magical problems her peers might not ordinarily think of.
In addition, the show deals heavily with living up to expectations through Ethel Hallow (Jenny Richardson). She's given a chance to shine in this adaptation. The show invents a new character in older sister Esmeralda (played by Miriam Petsche, and a welcome addition to the cast), cast as a mentor for the younger witches as well as a rival for Ethel.
The Hallow family reveres and dotes on Esmeralda, who is top of her class and an excellent witch – almost in an Olga-Helga Pataki situation, if you know Hey Arnold. Ethel's shown to be neglected in attention from her parents (word of the second season says that her younger sister Sibyl is to make an appearance), and this shows in her need for acknowledgment by her peers as well as her self-sabotaging nature. I'm interested to see more of this storyline in coming seasons. In particular, if there are effects of the Hallows' pressure on Esmeralda.
A final welcome addition is representation of various people in this adaptation. Meibh Campbell's Maud is chubby, which is canon in the books but not in previous adaptations. It was a welcome change to see body diversity amongst our heroines. Also, there is quite a bit of representation of people of color both amongst students. Enid Nightshade, as well as recurring characters Drusilla Paddock and Felicity Foxglove, and teachers, Shauna Shim's Miss Drill, who is by and far the funniest character on the show.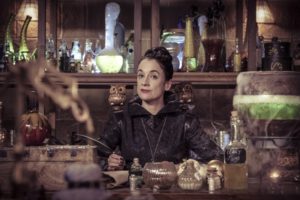 My biggest issue with the show is the portrayal of Miss Hardbroom, who was my favorite character in the 1998 series. In that adaptation, Hardbroom spoke loudly and sternly but clearly and was not afraid to admonish the students as well as show a softer side and even worry. Raquel Cassidy is a good actress in this new series. However, my issue is with her direction. It seems she was told to do her very best 'Alan Rickman as Snape' impression. She spoke in low, breathy tones and taking great pauses in her sentences, especially when speaking to Mildred or other students.
The writing also occasionally portrays her as a villain rather than Mildred's antagonist. Something which she is clearly not in the books or previous adaptation. She cares for her students and their well-being, she is merely very strict. I do like the portrayal of her friendship and past with Miss Pentangle (reminiscent of Wicked's Glinda, a great job by Amanda Holden), where we do get to see a fond side of Miss Hardbroom. I'm interested in seeing if this changes in season 2. Or, if the character of Hardbroom is expanded on at all as she was in the books.
VERDICT: Watch it! The show is definitely geared towards children and families. With its episodic nature, and aside from a running plot about which Cackle should be headmistresses, it's not often dark. Overall, it's a very good first season with quite a bit of worldbuilding and fun. Within, Worst Witch it appears that will only continue to expand.