Author: Fran Ruiz
Illustrator: María Hesse
Translator: Ned Sublette
Publisher: The University of Texas at Austin
It opens, appropriately enough, with a quote from Bowie, part of a conversation between him and television presenter Alan Yentob in the 1975 documentary Cracked Actor: "If I've been at all responsible for people finding more characters in themselves than they originally thought they had, then I'm pleased."
As a key to understanding one of the most iconic musicians of our time, one can see how this was possibly a statement both Fran Ruiz and María Hesse leaped at. For the former, it must have offered a way of juxtaposing Bowie's many alter egos alongside his journey from struggling musician to rock god. For Hesse, it must have encouraged her to incorporate as many illustrated versions of those egos into these pages as possible. Either way, it serves as a great introduction to a colorful life story.
This isn't a traditional biography by any stretch, which makes perfect sense for anyone even vaguely familiar with the life and times of David Robert Jones. There have been a significant number of those published over and beyond his lifetime, some focusing on the personal, others on his music alone, and still others on how those two aspects merged to create a genuinely exciting artist. This illustrated version serves its purpose well because art (or artifice) was such an integral part of his persona.
Anyone trying to piece together the Bowie myth from its humdrum beginnings in a small English suburb to the influential, avant-garde force he had long turned into by the time of his passing in 2016 must also come to terms with his own muddying of the waters. He didn't write his memoirs, often chose to falsify his past, and responded to direct questions with deliberate half-truths. Keeping that in mind, this fanciful approach sometimes feels like the most appropriate one, even as it uses a first-person narrative: "I'm Major Tom. I'm an extraterrestrial. I'm the king of the goblins … I'm everything you can't imagine …"
The creators have serious credentials too: Ruiz happens to be a professor of geography and history, translator Ned Sublette is a musicologist, while Hesse is the writer and illustrator of Frida Kahlo: An Illustrated Life, which has been acclaimed for its minimalist interpretations of Kahlo's bold art. Here, Hesse's work gives the pages a hypnotic power, mimicking legendary photographs in a style all her own. Interestingly, the sources list definitive biographies, documentaries, interviews, as well as live performances.
What I particularly liked about Bowie: An Illustrated Life was the timeline in its closing pages, with illustrated snapshots highlighting key moments in Bowie's history: from marriage and his years of struggle in the early 1970s, to Ziggy, the Thin White Duke, success, addiction to cocaine by the end of the decade, divorce from his first wife Angie in 1980, the suicide of his half-brother in 1985, marriage to supermodel Iman in 1992, a heart attack during a 2004 concert in Germany, and his shocking demise hours after the release of his final album.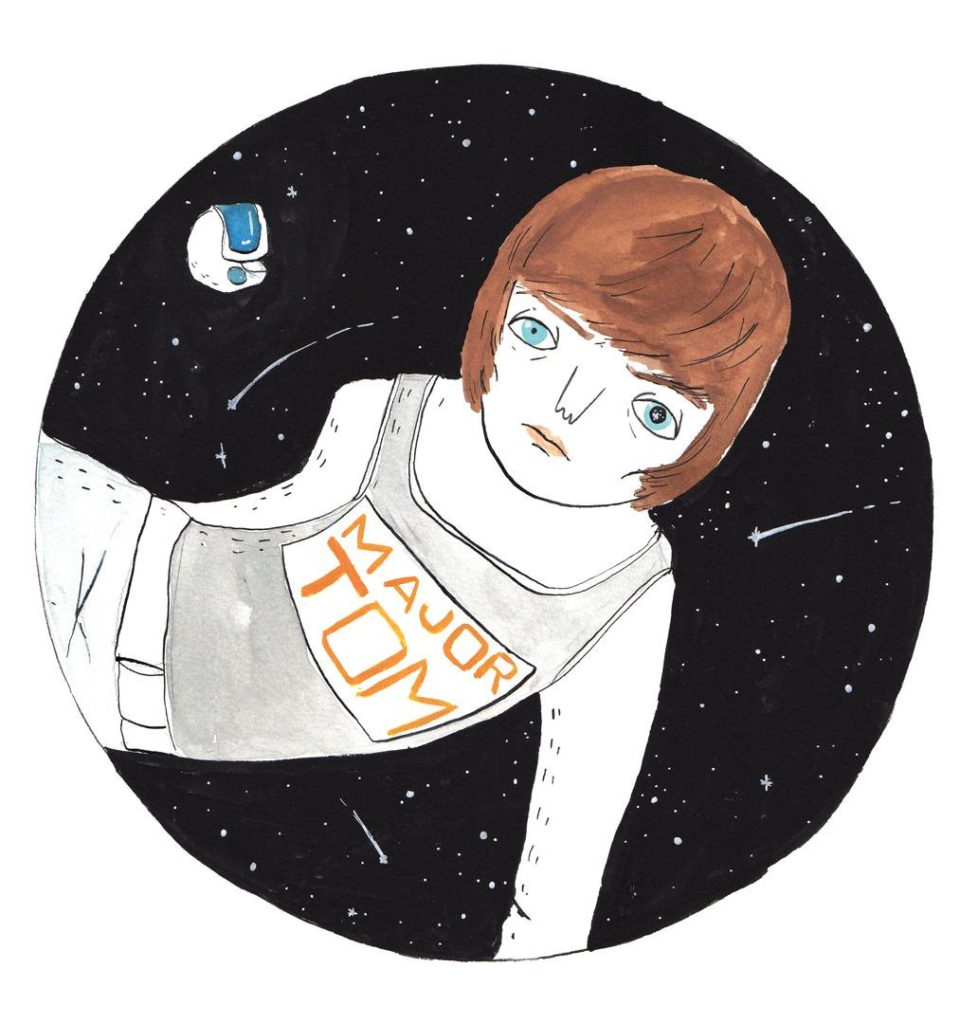 This won't be the last book devoted to him, primarily because he retained his enigma while continuing to live under the spotlight. We may never really get the measure of the man, but every little bit helps.