Starring: "Weird Al" Yankovic, Kevin McCarthy, Michael Richards, Victoria Jackson
Writer: Al Yankovic, Jay Levey
Director: Jay Levey
Studio: Orion Pictures
Whether you love him or hate him, you have to admit when it comes to parody, few can match the power of "Weird Al" Yankovic. Yankovic made quite the name for himself in the '80s and '90s with clever parodies of popular songs. I mean, who hasn't heard the Michael Jackson-inspired spoofs "Fat" and "Eat It"? What about the hilariously controversial "Amish Paradise," a playful riff on Coolio's hit song "Gangsta's Paradise"? Following in the footsteps of other popular musicians, Yankovic made the leap to the big screen in 1989 with the cult classic UHF, a film that has about as much in common with "Purple Rain" as it does "The Godfather Part II." Which is to say very little.
Written by Yankovic and frequent collaborator Jay Levey (director of many of the former's music videos), UHF tells the story of George Newman (Yankovic). He's a down-on-his-luck dreamer with an overactive imagination and a piss-poor work ethic. George daydreams of adventure and excitement. He inserts himself in spoofs of films like Raiders of the Lost Ark and Rambo, which ultimately leads to George getting fired from one unfulfilling job to another.
Our hero's luck appears to change when his uncle reluctantly hires him to manage Channel U62, a crappy local TV station. He also elects to host the station's low-budget kids show "Uncle Nutzy's Clubhouse." Things go from bad to worse, however, when George discovers the station is basically bankrupt and will likely not last another week. He also runs afoul of RJ Fletcher (Kevin McCarthy), the head of the local network affiliate and all-around douchebag.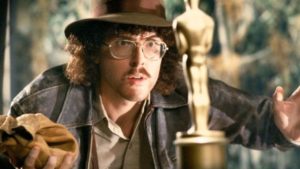 Lamenting his impending failure, George hands over hosting duties to hapless janitor Stanley Spadowski (a pre-Kramer Michael Richards), whose crazy, childlike antics end up bringing national attention to the show and help keep the station from going into the black. Inspired by Stanley's wacky personality, George develops an entire lineup of quirky, offbeat programs that propel Channel 62 to number one.
Fletcher discovers the lowly little upstart is beating his station in the ratings. He concocts a scheme to buy out George's uncle and turn the station into a parking lot. Our intrepid heroes start a telethon to raise enough money to keep the station afloat. When Stanley gets kidnapped by Fletcher's goons, George is going to have to rely on his imagination and quick-thinking to save both his friend and the station.
I remember seeing UHF for the first time several years after its initial release. It was during the height of my "Weird" Al fandom, and I absolutely loved it. I rented it several times during my high school years and laughed at every sight-gag, pun, and film spoof. Watching it now as a mostly adult-like person is a different experience altogether. It's enjoyable, but it certainly hasn't aged well.
For one thing, you'd be hard-pressed to find anyone who knows what the title actually refers to (Ultra-High Frequency, natch). The production value is decent for a low-budget comedy with very little star-power, which doesn't say much. The original score, ironically, is lackluster at best, although the film does benefit from the inclusion of Yankovic's Dire Straits spoof "Beverly Hillbillies" and a few other b-sides.
Sadly, the film's greatest strength is also one of it's biggest weaknesses: Yankovic himself. He does a serviceable job portraying George, but his acting ranges from bland to manic with little transition. There isn't enough depth to his character that makes him truly likable (apart from the fact that it's "Weird" Al in a movie). This is an issue with much of the cast, including SNL-alumn Victoria Jackson as George's put-upon girlfriend, and pre-Nanny Fran Drescher as Channel 62's equally put-upon receptionist-turned-reporter. Much of the cast is made up of Yankovic's friends and fellow comedians, many of whose cameos would be lost on today's generation.
There are a few stand-outs with McCarthy as the fantastically over-the-top villain. He gleefully chews the scenery around everyone else, and the late Trinidad Silva serves as the deranged, poodle-flinging host of "Raoul's Wild Kingdom." The greatest accolade has to go to Michael Richards as Stanley. Richards's quirky antics made famous in Seinfeld are on full display here. He is truly the heart of this ridiculous film and has an incredible comedic presence throughout.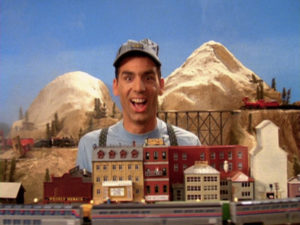 Not surprisingly, one area that still works is with the film and TV parodies. UHF is filled with commercials for ridiculous stores like Spatula City and hilarious trailers for films like "Conan the Librarian" and "Gandhi 2." One of the film's more memorable gag-filled scenes is a commercial for "Town Talk," a talk show featuring George as a Geraldo-esque host who, in addition to "blow[ing] the lid of Satanism" and teaching us all about "lesbian Nazi hookers abducted by aliens and forced to join weight-loss programs," manages to uncover the hidden secrets of Al Capone's glove compartment ("Road maps!"). A Klansman even gets his head comically crushed by a chair!
Other shows such as the aforementioned "Raoul's Wild Kingdom" features poodles being taught how to fly by being thrown out a third-story window (it's funnier than it sounds). There's also "Secrets of the Universe," where station engineer Philo instructs viewers how to make Plutonium.
So, yeah, UHF is not the comedy classic of my youth. Nor is "Weird" Al the finest musician-turned-actor of our generation — but a lot of the jokes are pretty timeless. Even the jokes that are dated can still get a laugh. If you haven't seen it, it's definitely worth a look, and if you have seen it, I recommend re-visiting just for the commercials alone. It's dumb and fun and surprisingly pure, even with the occasional dark humor.