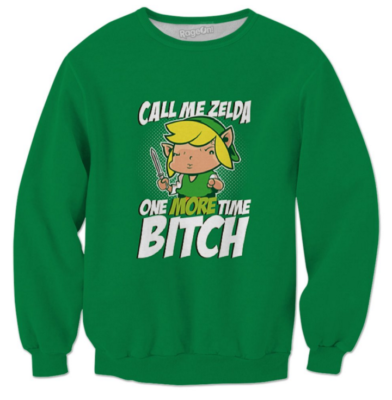 If I'm looking for some geeky attire for that die-hard geek friend of mine and I'm willing to spend whatever amount of money on them, I always, always shop at RageOn! I own a few of their tops and I am in love with them. Thus far I have one Yu-Gi-Oh tank top, one Dragon Ball Z tank top, which has Vegeta in all 4 forms, as well as a Super Saiyan Vegeta hoodie. I also own a Bob's Burgers top as well as a Rick and Morty top, all of which I absolutely love and are the best quality. Best of all, they're all are eye-catching and head turning!
RageOn! has pioneered the art of made-to-order, dye-sublimation, also known as all-over-printing, which enables print and design of any colours across the entirety of a product; essentially limitless! By printing on a made-to-order basis, Rage On saves money on inventory and storage, and is 100% green with zero waste.
Their designs are always out there and while some can be completely over-the-top, others look amazing and badass!! They sell other products as well, such as phone cases, backpacks, and other accessories!
Here are a select few of my favourite items!
Rick and Morty Jumper
From:
BerryGoodVibes
This jumper is pretty trippy but a must-have for any die-hard
Rick and Morty
fans out there! Of course there are tonnes of
Rick and Morty
products but this one of my favourites! This is a quite a mild design in comparison to the other designs out there and I love the colours as well.
Nightwing Tank Top
From:
Geek Gear
This is for that gym junkie friend of yours who trains like the characters. They train hard and their inspiration tends to come from cartoon characters. So this Nightwing tank top would be perfect for them!
Not Zelda Sweatshirt
Okay, this is a really cute jumper and an even cuter gag gift for that gamer friend of yours. It's a common mistake that people make, thinking Link is actually Zelda. He must be pretty tired of hearing it by now!
Piccolo Jumper
From:
AnimeVibes
I love, love, LOVE Piccolo! Our Green Dad is an awesome character in the
Dragon Ball Z
series and if you know someone who also a big fan of this Namekian then they will ADORE this jumper!
Dragon Ball Z Top
From:
zombiewarrior33
I own a lot of Vegeta products! From Funko Pops, to figurines, to clothing, to wall scroll… I own A LOT of Vegeta, so I don't think one more could hurt! This is an awesome piece of art on the jumper and makes a change to have him drawn differently. It'll give my Vegeta collection a breath of fresh air and a great piece for that fan who loves this pint-sized Super Saiyan