Across the millennia-spanning arc of human history, mankind has celebrated many triumphs. But, from the pyramids to the moon landing, they all now pale in comparison to the landmark achievement that Valiant has bequeathed unto civilization…with Valiant Cat Cosplay Covers!
Fawkes and Nak, alongside Freyu–creator of the Cat Cosplay of the Feline Variety blog and trusted human–arrive in stores this December, transformed into the world's most valiant heroes for a new line of shelf photo covers spanning ten best-selling series!
From teenage martial arts master Archer, to reality-warping cosmonaut Divinity, to sky-soaring sensation Faith, and MI-6 super-spy Ninjak, each Cat Cosplay Covers captures a furried friend pouncing into action as one of Valiant's leading heroes inside a custom-built costume. All costumes and photographs were tailor-made by the minds behind the Cat Cosplay of the Feline Variety blog.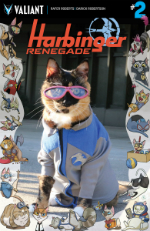 A portion of the proceeds from all Cat Cosplay Covers sold will benefit the Brooklyn Animal Rescue Coalition (BARC), a New York-based non-profit that operates a beloved, no-kill shelter for cats and dogs in Brooklyn's Williamsburg neighborhood. BARC's mission is to provide a safe haven for abandoned animals–with quality food, shelter, medical attention, and the love they deserve–and to find permanent loving homes for them.
Designed by the Cat Cosplay of the Feline Variety blog – the gold standard of the "cat cosplay" genre that also boasts a legion of fans and followers across Tumblr, Instagram, Twitter and Facebook – Valiant's Cat Cosplay Covers mark their first officially sponsored collaboration between CCFV and a comic book publisher or entertainment company.
Available as "order-all" covers across all of Valiant's December 2016 series, Valiant Cat Cosplay Cover will be available for the series listed below:
A&A: The Adventures of Archer & Armstronger #10
Bloodshot U.S.A. #3 (of 4)
Britannia #4 (of 4)
Divinity III: Stalinverse #1 (of 4)
Faith #6
Generation Zero #5
Harbinger Renegades #2
Ninjak #22
Savage #2 (of 4)
Wrath of the Eternal Warrior #14
They're intrepid! They're fearless! They're cosplay cats! And proceeds help real live animals just in time for Christmas!
For Valiant merchandise and more, visit ValiantStore.com