Port of Earth #8
Writer: Zach Kaplan
Artist: Andrea Mutti
Colorist: Vladimir Popov
Publisher: Image Comics
Review by Jim Allegro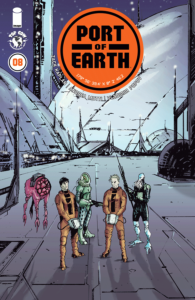 Agents Rice and McIntyre are fast on the trail of hostile aliens in Port of Earth #8. Zach Kaplan wraps up the second arc of the geopolitical science-fiction series from Top Cow Productions with a standoff in the port between ESA agents and a scheming assassin. The resolution deepens the conspiracy surrounding the motivations of the murky Alien Consortium that hosts the enigmatic way station built on earth.
Solving that mystery is the only reason left to read the comic. Kaplan's effort is an example of a book with a strong premise that lacks effective execution. The series is weak on dramatic tension and the device of an interview between a television journalist and an ESA spokesperson has run out of steam. Also, the much anticipated glimpse inside of the port did not live up to expectations, and the conclusion of the storyline was predictable. The only lively part of the issue was the conversation between the agents, who are torn between their professional responsibilities and suspicions about the Consortium.
I also find Andrea Mutti's art to be hit or miss. I like the way that he and colorist Vladimir Popov shroud the inside of the port in blurry lines and bright but muddy colors. But, overall, the art is not especially provocative, and it does little to amplify the sinister nature of Kaplan's plot. Port of Earth should be a dark and entertaining story about powerful people who conspire with murky strangers that may not have our best interests at heart. Instead, it is a flat and conventional tale about an alien encounter.
Verdict: Skip It!
You might be able to talk me into buying the trade paperback when it is released, but it would take some convincing. I do not recommend sparing the effort on the single issues. This comic is a SKIP.