The time has finally come. After a year of building hype and speculation, Overwatch League will finally begin its inaugural season this week. This isn't Blizzard's first foray into the esports world, but it is their big attempt to bring esports mania into the mainstream. Here is the nitty gritty on what to expect from the first year of Overwatch League.
World Wide Teams and Talent
Unlike traditional sports, where each continent has its own league structures, Overwatch League is world wide. The inaugural 12 teams will play all of their matches at the Blizzard esports arena, but teams are representing cities from around the world. Nine teams represent North America, but there are three teams from other territories: The London Spitfire, the Shanghai Dragons, and the Seoul Dynasty.
The talent is pulled from a worldwide pool too. Both the London Spitfire and New York Excelsior's entire roster is made up of Koreans. This is not uncommon in the esports world. South Korea is where esports was born, and they have been dominating certain games so much that anyone who isn't Korean is considered a foreigner.
Despite the worldwide hype and global distribution of teams, the first season will be played entirely at the Blizzard Esports Arena in Burbank, California. This is more for logistics than anything else though. Having entire teams trek across the world for a single set of matches is an expensive endeavor, and athletes here in the US have problems with jet lag going from one coast to the other. Imagine having to fly the full Dallas Fuel squad to Seoul and dealing with that kind of jet lag. It would make for worse competition and a crummy season. This also minimizes any lag that would muck up matches played over oceans online.
Regular season runs from January 10th to June 16th, with post season taking place June 17th to July 28th. Playoffs will run from July 11th to 22nd. The grand finals will take place from July 26th through July 28th.
Fancy Watching
One of the biggest changes Blizzard has made to Overwatch is a huge suite of observer tools, making competitive play a blast to watch. First things first, every team will have a home jersey and a white away jersey. These colors even translate to skills, so while you might drop down a shield with Winston that is blue, in the Overwatch League, that shield will be the same color as the jersey the player is wearing.
On top of that, each casual player is going to get a free skin out of it! You can pick one skin for one character for one team for free! Any additional Overwatch League skins you want, you can purchase with real money, with a portion of these purchases going to the team itself. These skins won't drop in loot boxes either, so that means if you want to rep your favorite team, you get to support them while doing it.
Match Structure
Each round will be across four matches on all four map types in a four match set. Unlike other competitive esport games, each team does not have a veto to block playing a specific map, or a draw phase where they can ban certain heroes from the game. The first map is always an Escort map, like Durado or Junkertown. The second map is an Assault map, like Temple of Anubis or Volskaya Industries. The third map will be a Control maps, such as Ilios or Oasis. The final map in the match will be a Assault/Escort hybrid map, like Numabni and King's Row.
As each match is played, teams will be awarded points based on the objectives. Every checkpoint crossed in an assault map will net one point, with each team getting a chance on defense and offense. At the end of the season, point totals will determine who moves into the post-season, so every match counts.
Divisions
The league is divided into two divisions, with six teams each. Here is a look at what each team's home jersey will look like on a specific character, but remember, every character is getting a skin from every team, so here are just a few!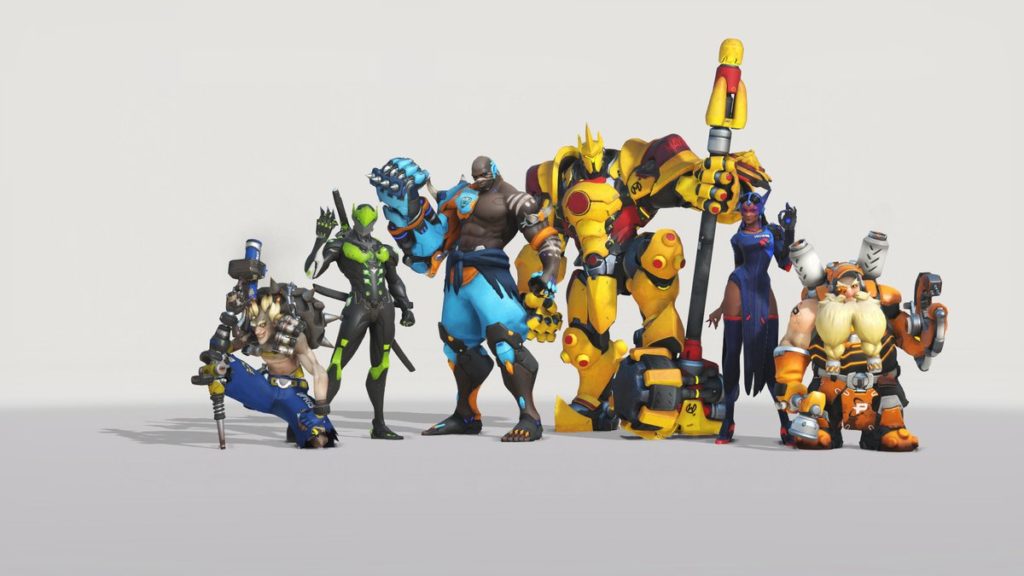 Atlantic Division
Boston Uprising (Junkrat)
Houston Outlaws (Genji)
London Spitfire (Doomfist)
Floridia Mayhem (Reinhardt)
New York Excelsior (Symmetra)
Philadelphia Fusion (Torbjörn)
Pacific Division
San Francisco Shock (Zenyatta)
Los Angeles Valiant (Widowmaker)
Shanghai Dragons (Reaper)
Dallas Fuel (Bastion)
Seoul Dynasty (McCree)
Los Angeles Gladiators (Tracer)
Controversy Already?
Overwatch League hasn't even started yet, and the scandals are already rolling in. In November, the San Francisco Shock fired their esports manager following sexual assault allegations. The Philadelphia Fusion couldn't compete in the pre-season due to 'unspecified player issues', like Su-Min "SADO" Kim account boosting on the side and some issues with international visas. SADO has been issued a 30-match suspension for the offense.
Just this past week, Shanghai Dragon's coach, Chen "U4" Congshan, was fined ¥20,000 for account boosting, and another ¥40,000 for using improper communication channels, totaling ¥60,000 in fines (about $9,000) before the league has even started. Two other players for the Dragons, Fang "Undead" Chao and Liu "Xushu" Junjie, were fined earlier this year for sharing an account, and their coach was fined as well for not stopping his teammates from engaging in the behavior.