Oh Joy Sex Toy Volume 1-3
Oni Press / Limerence Press
Created by: Erika Moen & Matthew Nolan
Artist: Erika Moen
Design: Matthew Nolan, Erika Moen & Allyson Haller

Review by Insha Fitzpatrick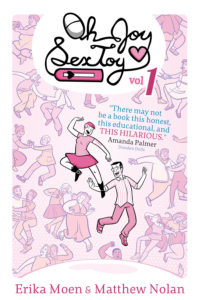 One of the coolest ways to learn about sex is through comics and with Oh Joy Sex Toy, you get all of that and much much more. Oh Joy Sex Toy is created by Erika Moen and her husband, Matthew Nolan. They started this research on their website ohjoysextoy.com and haven't stopped since. Recently, Oni Press and Limerence Press have recently taken all of Erika and Matthew's reviews, research and education material from their website and worked with them to build these fantastic and super cute volumes of pure sexy goodness.
Oh Joy Sex Toys Volume 1 – 3 cover… well… just about everything. In all three volumes, the topics have such a awesome and wide range from strip clubs, sex toys, erotica, porn to products, sexuality, health and more. It's open and honest with the reader and it makes you feel comfortable to talk about these subjects out in the open. (I personally read this on the train and got so many stares from the guy next to me. Worth it.) You don't feel alone about the things you want to try or have thought about trying. OJST is very queer and trans inclusive and that is a big thing that's missing in a lot of sex talk.  
An interesting and important thing I really want to point out is the range of reviews they have. They review every type of sex toys because not only do they cover female products from companies like OhMiBod or Lelo, but they also cover male products from Fleshlight and more. That's very cool! There aren't a lot of people who are willing and able to review sex toys, but Matthew is so about it. They review products that aren't so mainstream too. The one thing I enjoy is that Erika draws "The Masturbators" to help you on your journey to figure out which of these products are right for you and/or with your partner. The Masturbators are the perfect supporting cast who are different body types, races, disabilities and sexualities because not only one type of person has sex. (They're so perfect.)
A couple more cool thing about Oh Joy Sex Toy is that they cover porn sites like Cocky Boys and Crash Pad, sexual health stuff like Herpes, UTIs, Emergency Contraception, and interviews with pornstars, book reviews and instruction guides on how to pleasure yourself and/or your partner. They also cover the prices of the products (ranging from not too expensive to super expensive) and a couple of ways you have make that product work for you. It also covers It's honestly such a big range that it couldn't get any better. Oh, but it can…
At the end of every volume, they have a couple of guest comic artist who come in and do some really cool and super sexy guest strips. They have got to be one of my favorite parts about Oh Joy Sex Toy. Some of the stories are personal while other are funny and sometimes a bit sad, but they all come from a place of openness and the creators are absolutely amazing. Some of my personal favorite guest strips are DIY BDSM Toys by Valerie and Adam, Beware the Wood Witch by Claudia Aguirre, What's the Buzz by Benjamin, Mermaid by Ghostgreen, Erotica Comics by Jess Fink and my all-time favorite one so far, Dragon Age by Molly Ostertag. They're all so unique and tell you so much about things you didn't know about sexuality and leave you wondering about it. (For example, I didn't know much about ASMR until I read Grace Allison's explanation of it. So good.)
One thing I did find upsetting was the fact that some of the reviews can definitely get a little one sided. Erika and Matthew have their own personal likes and dislikes when it comes to some of their favorite things. They keep that in mind during their reviews, but one person's disliked sex toy is another person's hallelujah scream. When you read these reviews, keep in mind what YOU may like or want in your bedroom. It's all up to what you think and what feels right for you.
Verdict:
BUY IT!  One of the best thing about reading any type of sex or smutty comic is to feel safe and not judged. Oh Joy Sex Toy provides a safe atmosphere to read, learn and think about sex and sexual health, but to also open your mind to the possibilities of your wants and needs for your own sexuality.