No Angel #1
Writers: Eric Palicki & Adrianne Palicki
Art: Ari Syahrazad
Colors: Jean-Paul Csuka
Letters: Jim Campbell
Cover: Amancay Nahuelpan
Publisher: Black Mask Studios
A review by Stephanie Pouliotte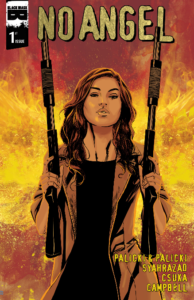 No Angel is the latest dark-fantasy series from Black Mask Studios, the creator-oriented publisher that's in its third wave of comic titles. Black Mask has carved itself a place in the modern comic's landscape, publishing fresh and bold titles that allow creators to take risks more established publishers may shy away from. They aren't afraid "to advocate for the brave storyteller" co-owner Matt Pizzolo says on their site and you can certainly see that reflected in their loud and proud "Class of 2016" titles such as Kim & Kim, Black, Jade Street Protection Services, and The Forevers. Surprisingly, No Angel #1 doesn't hit you right out of the gate like some of Black Mask's other titles; it's a slow burn that was a bit conventional at first, but certainly picks up in the final pages.
No Angel #1 is the debut comic of actress Adrianne Palicki (Mockingbird on Agents of SHIELD) and she's co-writing it with her brother Eric Palicki, who most recently wrote for Marvel's Guardians of Infinity animated series. The story follows an Iraq War veteran turned FBI agent named Hannah Gregory, who returns to her hometown after the inexplicable murder of her father and brother. She hopes to investigate off the books with the help of her high school friend deputy Sean Flynn, despite not officially being able to take part in the investigation.
At this point, the story is largely set dressing and most of it is fairly routine for a murder intrigue. The shameless relative who digs into Hannah's personal business at the funeral, the "other woman" who shows up uninvited to reveal her father's secret affair, the estranged, yet overprotective mother who pretends she didn't know, but clearly did. There isn't anything new that really hooks you into the story and I wasn't fully invested until a little over the halfway mark when we get a good look the killer as he tries to take Hannah out of the picture. He gives off a distinctive Corinthian vibe that's downright eerie. It's the tipping point when the story goes from murder mystery to dark fantasy and the final pages turn the whole mistress cliché on it's head with an unexpected twist!
No Angel #1 is also the artistic debut for Ari Syahrazad from Indonesia and his style has a certain edge that draws you into the story early on. Syahrazad's artwork is really what kept me turning the first few pages and even though I felt some of the facial expressions were a bit stiff and boxy, overall I loved the hard angles and bold inking that, along with Csuka's autumn hues, gives this issue its dark grit.
Verdict
Check it out. No Angel #1 takes a while to get going, but by the end it sets up an interesting premise as Hannah is thrust into a completely different world, a world she didn't know she was always a part of. I loved the tone and atmosphere of this issue and I feel that Syahrazad's artwork will tighten up as the series progresses. I wouldn't say No Angel is a must read title at this point, but with dark powers aligning against Hannah's bloodline in a conspiracy dating back to Biblical times, I'll definitely be checking out the next issue!