The Canadian literature scene blew up in 2014 over Emily St. John Mandel's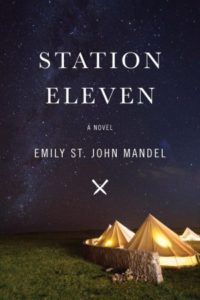 post-apocalyptic novel Station Eleven. Set in Toronto and the surrounding area, the novel moves back and forth in time to before and after a society-collapsing influenza pandemic, with interweaving storylines of several main characters. It's the kind of story that deserves the book-to-screen treatment, but it would be absolutely diluted into nothing by trying to fit it into a two-hour movie.
Thankfully, we live in an era of streaming services banking binge-worthy TV shows out of just that type of book. WarnerMedia, whose new streaming service is slated to go into beta later this year before its launch in 2020, is hoping to start strong with a few book-to-screen adaptations, and Station Eleven is one of them.
No cast has been announced yet, but Patrick Somerville and Hiro Murai have signed on to run the show. Somerville, creator of the fantastic mini-series Maniac, starring Emma Stone and Jonah Hill, will executive produce and serve as showrunner. Murai, who directed Bill Hader's Barry and Donald Glover's Atlanta and the internet-breaking music video for "This is America," will direct the 10-episode series.
Station Eleven was one of my favorite books of the year when it came out, and I have been dying to see it on screen. So far, the talent attached to this project looks promising, and I'm holding out hope that they will do this Arthur C. Clarke Award winning book justice.