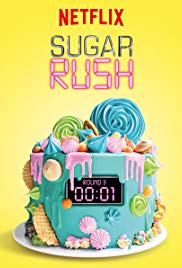 SUGAR RUSH
Hosted by: Hunter March
Judges: Candace Nelson & Adriano Zumbo
Nailed It! was probably the first reality show that I watched where the focus was baking. It was the first cooking-based reality show I'd ever really watched, period. Having loved the delightful tone of that show, I wanted more mindless fun to watch, and when Sugar Rush arrived on Netflix, I decided that I wanted to try it out.
The show features three rounds of baking by bakery owners (usually). The teams of two are tasked in the with creating a cupcake for round one, a confection for round two, and an extravagant cake for round three. All the rounds are connected by a theme that is usually dictated in some way by the guest host on that particular episode (guests include Nancy Silverton, Colin Hanks, and Betsey Johnson). After each round, a team is eliminated until there are only two teams left for the final cake round (there are only four teams to start). The winner of the cake round goes home with the prize of $10,000.
Unlike Nailed It, the aim of Sugar Rush is to make the best looking and tasting treats for the judges. A much more polished show with less emphasis on the fun. But that being said, unlike reality shows hosted by, let's say, Gordon Ramsey, this is still ultimately a very feel-good program. The competitors are mostly in good spirits, albeit a bit stressed and panicked as they compete. There's a great mix of personalities and styles from episode to episode. Each of the treats are critiqued by judges Candace Nelson, Adriano Zumbo (who has his own sweet treats competition series), and a guest judge. Additionally, commentary and banter is offered up by host Hunter March who I have never ever heard of before Sugar Rush.
Candace Nelson and Adriano Zumbo offer up really level critiques of the treats. They challenge the contestants to push boundaries and try new things. If their treats aren't up to snuff, they're never cruel or flippant about it. The feedback provided to the teams always feels constructive. Candace Nelson especially works hard to ensure that her negative critiques are paired with positivity that cushions the blow. It's a nice balance for me where they're obviously being a lot more critical than on a show like Nailed It but still ensuring that they're not crossing a line into an uncomfortable place that feels more hurtful than helpful.
The weakest part of the show for me is definitely Hunter March. Where Nailed It has the ever effervescent Nicole Byer, Sugar Rush has a host who has lots of energy but doesn't really nail having a big on-screen presence. Every time he's there, I almost wish he wasn't. He tries to steer the show and judges into fun banter but really leaves me ehhhhhh. Byer on Nailed It is flirtatious and playful with the judges. March feels like he's trying to emanate that sort of persona but doesn't really do it the same kind of justice. It all falls a bit flat for me.
Thankfully, March and the hosts really aren't the stars of the show here. The focus of Sugar Rush is much more on the contestants as they work on their treats. The judges and host leave the room for the entirety of the competition itself. Coming back only to taste the food and offer commentary amongst themselves towards the end.
Verdict:
Watch it! Sugar Rush is a lot of fun for the most part. There's a more serious tone to it than Nailed It as the competitors take baking more a bit more seriously (it's literally their jobs) but it still manages to give off a fun, light tone overall. Sugar Rush was something to watch to decompress with after work and get my mouth watering for sweet treats. It all ended a bit too quickly. I wanted more episodes but hopefully like Nailed It, the show will return with a new season soon.