Nancy Drew #5
Writer: Kelly Thompson
Artist: Jenn St-Onge
Colorist: Triona Farell
Letterer: Ariana Maher
Publisher: Dynamite
Review by Christoph Staffl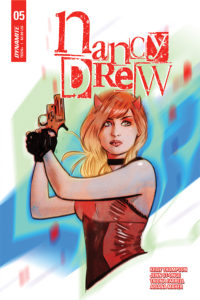 As I caught up on Dynamite's Nancy Drew series a couple of weeks ago, I didn't exactly know who the character is. However, the name was somewhat familiar and who could turn down a good detective story with a female lead? So I took the opportunity in writing this review to pull up the Wikipedia page of the character and find out more about her. As it turns out, Nancy Drew has almost 90 years of history on her shoulders, and, judging by the quality of this series, she is not slowing down. After a lot of books, some movies, and graphic novels, as well as a TV series, she finally has a monthly comic book.
I just wanted you to know that, so you understand where I am coming from. Without intimate knowledge of the character and what she endured, I can read Dynamites's new series with a pair of fresh eyes, enjoying the hunt, and detective work. So believe me when I say, this book is something special. But what is Nancy Drew's latest case about?
In the previous issues, we learned that Nancy lives in River Heights, being a student by day and a detective by night (without the costume, although she wears one in this issue. She got a letter from her hometown and had to return to Bayport. Her friends Bess, George, Joe, and Frank, welcomed her with open arms and immediately offered to help with her new case. Or better yet, old case. The letter was sent by Pete, who lost his mother a few years ago. She supposedly killed herself at Deadman's Cliff. But another, more recent murder supports Pete's theory that hid mother did not die by her own hand. So the group investigates further, and in the last issue, they found themselves at a rave party at The Palace of Wisdom, hoping to get some new information. And new information they got: Bess was kidnapped.
Throughout the previous issues we learned a lot about Nancy Drew, but nothing about her past. I don't mind the gaps in her story, because they are not relevant (yet), and it lets us focus on the story at hand. Thought bubbles are a simple technique to let us know what characters think and feel in certain situations. In the case of Nancy's bubbles, we get a glimpse into her analytical mind, always observing what is going on around her. But we also get to look behind the curtain, experiencing the reasons for her actions first hand. Reasons she does not always share with the group, if ever.
This is especially interesting because we see why she is the center of the group. Everybody trusts her. Maybe even too much. In the case of Bess's abduction, Nancy is, of course, overwhelmed. She can no longer distance herself from the case. It got a lot more personal than she might be used to. However, the others are in shock as well and think Nancy has everything under control and knows the ultimate solution to all of their problems. I am not sure if it is something negative regarding the unusual nature of the situation. Still, one has to ask what the others did in the seven years that Nancy lived in River Heights. Some independence would have been appreciated.
Other than that, I have no complaints about this issue. The story is well-told and executed. In addition to that, we get the feeling that the characters lives are at risk, with a twist at the end that might lead into the next story arc. Detective stories rise and fall with the inherent suspenseful nature of the genre. Who is the murderer? Who is in danger? So far the creators have done a great job, dropping some hints here and there, but nothing specific, until they are ready to reveal some aspect of what is going on.
The Verdict: Buy it.
Nancy Drew #5 continues the story right from the point where we left our protagonists in the last issue. As the drug storyline comes to a suspenseful end, not all of the characters might get out unharmed. Though I mention it last, do not underestimate the artwork, especially regarding body language and facial expressions. And even though everything takes place at night, it does not get too gritty and dark. I am looking forward to the next issue.
One more thing:
As I googled some of the creators involved in this series, I learned that each and every one of them has their own website. I am always bad at remembering who did what series, so I think visiting some Wikipedia pages, and the creators own websites, might help with that. Above, I have linked them so you can investigate on your own. Have fun!
Nancy Drew #5 will be available in stores Wednesday, October 31, 2019.