Nancy Drew #1
Writer: Kelly Thompson
Artist: Jenn St-Onge
Colorist: Triona Frarell
Letterer: Ariana Maher
Cover Artist: Tula Lotay
Publisher: Dynamite
Review by Nico Sprezzatura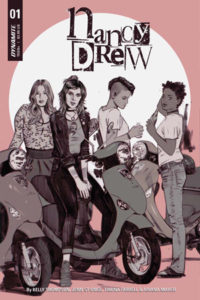 Hot off the heels of Dynamite's recent noir-inspired Nancy Drew and the Hardy Boys, the publisher introduces yet another spin on the girl detective in this week's Nancy Drew #1. How does it fare as an entry point? Let's find out.
Nancy Drew is one of those characters who may as well be considered public domain now — everybody's experienced at least one iteration of her in their time. I read a bunch of the Nancy Drew books as a kid, but as an avid gamer growing up, I was especially into the point-and-click PC games by Her Interactive. And those aren't even mentioning the various movies, television projects, and other mediums that she's appeared in since her introduction in 1930. A new ongoing series seems like a logical extension of the Nancy Drew brand, especially in our current age of comic book omnipresence.
Because of how long she's been around in pop culture, it's pretty easy to overlook Nancy's place in the pantheon — and admittedly, she doesn't seem that compelling on the surface. But upon closer inspection, you can't deny Nancy's overall influence in fiction, especially to young girls. Back in the day, detective stories were pretty exclusive to adult male characters, so the notion of a young girl solving crimes was pretty revolutionary.
Because of how that basic archetype is so (relatively) well-dispersed now (characters like Veronica Mars, Goldie Vance, etc.) it's easy to forget that, at her core, Nancy Drew has a lot to offer as a concept. Dynamite seems to think so, since this new title follows the recent Nancy Drew and the Hardy Boys, which portrayed our heroine as something of a femme fatale. It's pretty safe to say that this version of Nancy, contemporary updates aside, is closer to the original vision of the character than that one was.
Though this series is set in the modern day, it's a classic Nancy Drew setup. When a mystery in her small town attracts Nancy, she teams back up with her best friends Bess, George, and the aforementioned Hardy Boys to crack the case. It's not a high-concept premise, and the stakes are particularly high, but Nancy isn't a character that warrants either of those things.
Written by Kelly Thompson —late of Marvel works like the upcoming West Coast Avengers as well as IDW's reimagining of another established IP, Jem & the Holograms— Nancy Drew is refreshing in its simplicity. The choice of Thompson in particular is especially fitting, since she just wrapped a fantastic run on Hawkeye: Kate Bishop, featuring yet another character cut from (and influenced by) the cloth of Nancy Drew herself. It's a metafictional full circle that just fills me with so much glee!
But Thompson's only part of why Nancy Drew #1 works. Fellow Jem alum Jenn St-Onge provides the art here, and it's possibly some of the best I've seen from her. You can tell when a creative team is well-matched and synced up, and Nancy Drew #1 is an example of precisely that. There's a clean softness to St-Onge's art that really serves the classic nature of these characters, but there's also just enough edge (including Nancy herself, grunged up more than we're used to seeing from her) to appeal to modern readers. Also, I really appreciate St-Onge's design of Bess, which retains her heavier frame as described in the books, but not always interpreted as faithfully in other mediums.
And colorist Triona Farrell's colors are vibrant and well-rendered, which enhances St-Onge's linework. Farrell's lighting and shadows are especially very good; nighttime looks like night, while daytime looks like day. It's surprisingly tricky to get those right in comics. Ariana Maher's lettering is also very easy to read, despite the slight wordiness of some panels, and her narration boxes —made to look like lines of notebook paper— are a nice touch.
The Verdict: Buy it.
If you're in the market for a breezy, updated take on the Nancy Drew character, then Nancy Drew #1 delivers on that front.