Myst 25th Anniversary Collection
Category: Video Games
Goal Date: May 24, 2018
Currently Funded: $891,00 of $247,500 goal
Campaign Type: All or Nothing
It's happening. It's finally happening!
Our dreams are finally coming true on its 25th Anniversary with the re-release of ALL 7 Myst games in one linking book.
On April 9, Cyan Worlds Inc., the masterminds behind the Myst series, announced the re-release via Kickstarter. And in less than 24 hours their goal of $247,500 was met.
We all remember the original release of Myst in 1993. It started the craze of computer gaming, and at the time it seemed everyone who owned a working desktop owned and played the game. The secrets to advancing in Myst were closely guarded and hard-earned and yet friends always boasted about how they reached the ending of the game, a lie I'm sure we all told at one point in time. The Myst game went on to sell 6 million copies in its lifetime and establishing itself in gaming history.
The following sequel Riven, was even more well received, praised by critics and games alike for its world-building, challenging puzzles, and immersive experience. The success was followed by the release of Exile, Revelation, End of Ages and the online Uru: Ages Beyond Myst published by various gaming studios such as Ubisoft and Presto Studios.
As computer software evolved, the Myst games were left behind, incompatible with current desktops and gaming consoles. Eventually, Cyan Inc. was able to release upgraded versions of Myst and Riven on Steam and GOG, but the licenses to the other games were still held by various publishers and unreachable. Until now.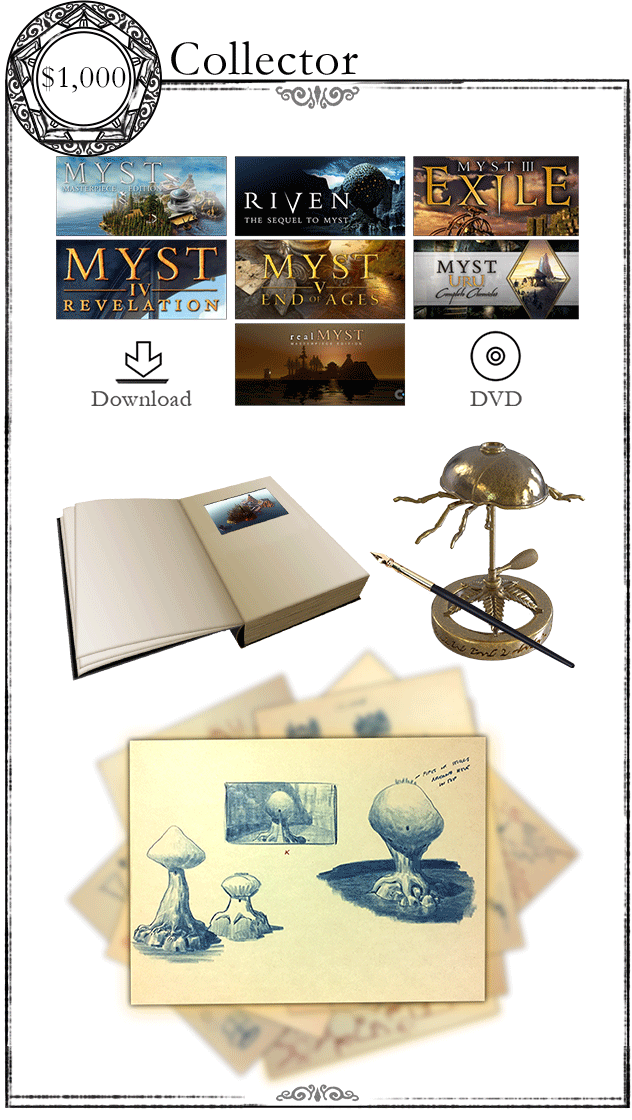 Working behind the scenes over the past few years Cyan Inc. was able to secure the licenses of all the games in the series and have gifted us longtime fans with the opportunity to own limited artifacts of the Myst universe. Kickstarter Tiers range from $49 digital downloads of the series to $169 for physical copies within your own Myst Linking Book, complete with working LCD screen. If you make it $250, you also get Gehn's working Pen and Inkwell from Riven. Sadly, almost immediately snapped up in the initial 24 hours were the $1,000 tier that included limited edition hand-drawn concept sketches of Riven. Still, this is the only time you can own a limited piece of Myst history. When the Kickstarter closes in May, none of these physical items will be made available again.
With public figures like Adam Conover (from Adam Ruins Everything) narrating the Kickstarter promo video to stars such as Neil Patrick Harris discussing the announced release on live television, the funding has almost reached $900,000 and is steadily climbing. Cyan has yet to announce any stretch goals, but they are said to be in discussion. The games themselves will be digitally released on GOG for Windows 10, but so far the creators are unable to promise a working Mac Computer version.
The Kickstarter is a once in the lifetime opportunity to celebrate 25 years of Myst video games. So it's time to jump on board, get some unique gaming artifacts, and revisit the various worlds we spent hours aimlessly wandering in the search for more clues amongst beautiful and captivating scenery.