During Bi Visibility Week, I'd like to bring you two Must Watch Lists. Both of these actors aren't bisexual, but I, as a bi person, am completely and absolutely in love with them (and their movies…). The first on The Must Watch List for Bi Visibility Week is the filmography and some gushing about Captain Marvel herself, Brie Larson.
Brie has been a rising star from the time she stepped on the scene in performances on The Tonight Show with Jay Leno. She wears many hats including musician, actor, director, and advocate. She's won countless awards, most notably her 2016 Academy Award for Best Actress for Room (2015). Recently, she's made her full directorial debut with Unicorn Store premiering at TIFF and announced as Captain Marvel for the upcoming Marvel slate. Brie Larson is doing fantastic things as well. She has advocated for sexual assault victims and stays true to herself, not needing the limelight to stay fresh. Brie also wants others to find their voice and not be afraid of what they want to do, which is an inspiration and so very lovely to hear.
Her filmography is long, but a great resume for the girl who will only get better and bigger. Here are some Brie films (and TV shows) that you should be watching.
Short Term 12 (2013)
Director: Destin Daniel Cretton
Starring: Brie Lason, John Gallagher Jr. Stephanie Beatriz, Rami Malek, Keith Stanfield
Short Term 12 follows Grace (Brie Larson), a supervisor for a teen group facility for troubled kids. Grace is a savior at the group home, but when she finds out something major, it almost breaks her. She not only tries to hide it from her boyfriend Mason (John Gallagher Jr.) but herself as well. She must try to put together pieces of her troubled life while helping the kids who need it.
It's hard not to fall in love with Short Term 12 upon viewing it. It has a particular type of magic that you just wish every indie movie would have. The cast is stellar, displaying the talents of a young Stephanie Beatriz, Rami Malek, and Keith Stanfield. Brie Larson's performance in Short Term 12 is just so powerful and pulls you closer into the story. She plays off her other cast members in trying to make their lives better as she falters with her own. Even though you may not have the problems of Grace, she is very understandable and relatable. Her character is full of grace, but she doesn't know if she's coming or going and afraid to push forward. It's an incredible performance that put her on the map.
Tanner Fall (2009)
Director: Francesca Gregorini & Tatiana von Furstenberg
Starring: Rooney Mara, Georgia King, Brie Larson, Amy Ferguson
Girls are terrible in high school. It's not me saying that out of the blue. It's a known fact. Tanner Hall tells the story of Fernanda (Rooney Mara), a shy girl whose entering her senior year at Tanner Hall, a boarding school in New England. She's met with a challenge when her childhood mate Victoria (Georgia King), becomes jealous of the attention of that she's getting and decides to ruin her friendships, relationships, and life.
This film is almost a hidden gem. You'll find gifs of this movie on Tumblr. However, when you search for the film. It's almost nowhere to be found. Tanner Hall was my bi-awakening in a way. I knew I liked Brie Larson, but I didn't know how much until I saw this movie. She's witty, alluring and she knows that power in this film. There's a particular gif where she skates backward, and her legs move side to side. You can only imagine the feelings of feels that I felt watching it.
Free Fire (2016)
Director: Ben Wheatley
Starring: Brie Larson, Cillian Murphy, Sam Riley, Armie Hammer, Sharlto Copley, Jack Reynor, Babou Ceesay, Michael Smiley, Enzo Cilenti
There are some who will either love or hate Free Fire. If they hate it, they don't deserve to love you. Free Fire lays out an all-star cast mixed with American and British, to bring you the grandest shoot-em-up of them all. A couple of criminals try their best to buy guns and get out as quickly as possible. You'd think that'd be the end of the story. NOPE. An incident from the night before triggers two of the criminals into starting a battle. However, the others are left in the crossfire as they battle it out to get the guns, get the money and split before the cops show up.
The one thing I loved about Free Fire was the single space they found themselves in. I'm a big fan of movies that have confined spaces. It leaves the actors the chance to shine without having to rely on a location to do their work. With Free Fire, it gives you that and more. The actor's performances are outstanding. They bring their own acting game and binge off each other like the bullets they fire. Brie Larson shines in this film that you forget that she's the only woman in the cast.
If you want to read more of my thoughts on Free Fire, click here. (Spoilers: I fucking love this movie.)
Kong: Skull Island (2017)
Director: Jordan Vogt-Roberts
Starring: Tom Hiddleston, Samuel L. Jackson, Brie Larson, Toby Kebbell, John Goodman, John C. Reiley
I think only a select many people know this, but I'm a massive kaiju and giant monsters nerd. It's quite a problem, and now you know a little more about me. Upon hearing Kong: Skull Island was coming out, I immediately booked the first couple of tickets I could for my dad and me.
Kong: Skull Island tells the legend and myth of King Kong differently. It's an origin story that's not quite an origin story. Kong: Skull Island follows military and scientists as they team up search an uncharted island in the Pacific. There, they meet Kong, the big ape in charge, and other creatures that inhabit the island.
First off, thank f*ck for Jordan Vogt-Roberts for pitching this new film to Legendary's Monsterverse. If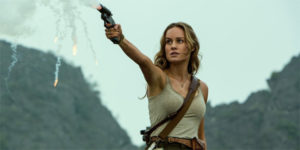 I had to watch a giant monkey crawl up a building ONE MORE TIME, I was about to lose it. That said, I fell in love with this movie the second the beginning credits started rolling. It's shot beautifully, and the writing is quick, witty and to the point. It never slows down after the action starts. If it does, it's meaningful. You find yourself saying, "wait… come back. I like that. That's real good shit." The actors of this film are massively brilliant. This movie could easily go into a b-movie type territory, but it keeps you engaged and mesmerized. Brie Larson's Mason Weaver is one of those mesmerizing pieces to this film. She towers over most of her male co-stars, giving that classic Kong girl feel, but doing it her way.
United States of Tara (2009 – 2011)
Creator: Diablo Coby
Starring: Toni Collette, John Corbett, Brie Larson, Keir Gilchrist, Rosemarie DeWitt
This show is where my real love started. United States of Tara turns its attention to Tara Gregson, who has dissociative identity disorder, also known as multiple personality disorder. The series follows her, her personalities, her husband Max and their children Kate and Marshell as well as Tara's sister Charmaine. Her family tries to understand and work within her disorder, but it leads to chaos, but ultimately learning.
United States of Tara is a unique show that I'm happy was on TV for the short time it ran. Diablo Cody did a fantastic job in telling the story of what you don't regularly get to see within a family. It laid some important dialogue on if one of your family members has to cope with a mental illness of some kind. Brie Larson's character in the show was of Tara's daughter Kate. She was not only a bit of a brat but her own person trying to figure out herself in the mist of her mum's illness. Brie is just an all-out babe in this show. If you watch anything first to introduce you to Brie, I suggest watching this show first. I saw this mostly because it brings you into what she was into what she is now.
Honorable Mentions:
Room (2015)**, Hoot (2006), 21 Jump Street (2012), Don Jon (2013), The Spectacular Now (2013), Greenberg (2010), Community (2013-2014), Jenny Lewis: Just One of the Guys (2014), The Glass Castle (2017), Scott Pilgrim vs. The World (2010)***
** Brie won an Academy Award, plus other fantastic awards for this film, so you should watch it without me telling you.
*** I didn't add Scott Pilgrim vs. The World because you should just know to watch that. Seriously. It's a great film. I'm still mad about Brie's vocals not being on that soundtrack though.