Murder Falcon #1
Writer/Artist: Daniel Warren Johnson
Colorist: Mike Spicer
Letterer: Rus Wooton
Publisher: Image Comics
Review by Greg Brothers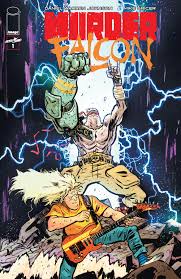 With a name like Murder Falcon you would expect for a comic book to start off with a bang and lots of action. That is exactly what we get with the start of Murder Falcon #1. A monster is attacking the city, the citizens are fleeing in panic, and the police are absent. Suddenly a conversion van straight out of the 80's busts onto the scene and our main protagonist, Jake, is there to save the day. He pulls out his trusty……guitar?!? and calls upon Murder Falcon to defeat the dastardly beast. Bravo! Great first issue. Oh wait! That was only the first five pages. Literally I counted, first five pages. What follows next is some of the best dialogue and character building that you may read all month.
Murder Falcon #1 runs that line between the absurd and the effecting in a way that many books try to achieve, but very few succeed. Those first five pages that I talked about embraces the over the top, loud, and ridiculousness that metal in the 1980's was. It does it in a way that it is obvious that Johnson is in on the joke. When Jake yells out "I brought METAL," you can not help but hear it in the classic Sunday, SUNDAY! SUNDAY!!! Of the local Monster truck rallies of days gone by. If all that Murder Falcon #1 involved was a fun parody of what heavy metal was, then we would have had a fun quick read that you enjoy but easily forget.
Instead, after the opening action, we see Jake a few weeks before. He is obviously a bit glum about something. Things are not going the way he wanted, and he is obviously mourning something. As we move through Jake's days, we find that despite Jake avoiding playing music again, lots of people want to see him get the band back together. Whatever it is that is bothering Jake is not completely explained, but the way that Johnson builds the dialogue affects you as a reader much of the same way that Jake has been affected.
Johnson is pulling double duty of writing and art in Murder Falcon #1. Thankfully Johnson's as adept at drawing emotions as he is at presenting them in dialogue. The lines in people's faces match their words. And the furrowed brow and hunch of Jake just confirms his thoughts and ideas. On the flip side, when the action picks up within the panels you can feel the energy in Johnson's style pick up. The panels flow, and every square inch is fill with bright and booming colors and characters.
Verdict: Buy it.
Murder Falcon #1 is going to surprise people. Readers who just look at the title are going to pick up this book thinking that it is going to be action and humor. And they will find that. However, they will also find a story that is just as deep in emotional character building that invites the reader care about Jake and his journey. So plug in the amp, crank it up to 11 and buy Murder Falcon #1.