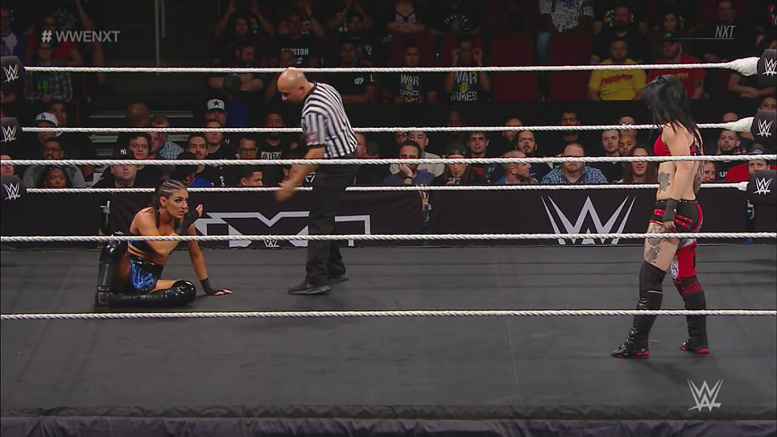 So, yeah, WarGames happened. New champ Adam Cole launching himself from the top of a cage, Aleister Black said the name. But then. Then five NXT women turned up on Raw and Smackdown this week. Two of them as part of the most hotly anticipated return of the year. NXT's women division is so stacked they can lose five women. I can still sit here and wonder if maybe NXT has too many women for one division. FIVE WOMEN GOT CALLED UP AT ONCE!
And, as it happens, two of them are facing off on this week's show, so let's get started: welcome to Rogues Portal Wrestling's coverage of NXT. There's a lot of fluff this week, so we'll keep it brief.
Good news, weird news: Ruby Riot (W) vs. Sonya Deville
Nigel points out on commentary that both these women debuted on the main roster this week — Smackdown and Raw respectively. There are no NXT-related stakes for this match, and there don't seem to be any stakes so far in their new homes. They're just wrestling because they want to prove a point before they don't get to wrestle each other again. It makes so much sense, and maybe that's why it feels so strange. Shoutout to the NXT women's division for being the best.
Sonya does get the chance to beat the hell out of Ruby Riot before she says goodbye though. She targets Ruby's damaged ankle, an injury that didn't exist on Tuesday because this match was definitely not taped in the past. That's not a drag. Ruby Riot is awesome. She gets the win with a sharp and sudden pele kick, but both these women demonstrated precisely why they're headed for the bright lights of the main roster in this one.
Misty Watercolor Memories
Remember when Aleister Black beat Velveteen Dream and said his name anyway? When Ember Moon won the fatal four way and Asuka gave her the belt, and we all cried? Remember when Lars Sullivan threw down with Kassius Ohno? NXT remembers.
Bear Claws
After his match, Lars delivers a sort of Silas Young-esque Real Man promo. He has the same extremely dry delivery that makes it hard to tell whether or not he's playing it straight or coming at you from a thick veneer of irony. As the camera focuses on Lars' big bear paw hands, he announces his intentions to continue to bulldoze his way through the men's division.
Destiny Fulfilled
Ember Moon says the words "independent scene" in her post-match promo. I always worry someone is going to pop up out of nowhere to mind wipe us Men In Black style anytime someone mentions non-WWE wrestling. Jokes aside, Ember cuts an emotional promo and announces that now that she's got the belt she's going to be that much harder to beat. I believe it — she's going to be an amazing champion.
If You Don't Feel Bad For Drew McIntyre, You Don't Feel At All
Drew McIntyre is the most miserable loser of all time. He is so utterly devastated to lose that belt that it makes the belt seem infinitely more important. That belt broke a man heart. Zelina Vega and Andrade Almas destroyed a man by taking that belt! There's no official word yet on whether or not Drew is injured, but he's itching for a rematch already, and so am I.
Please Let the Street Profits Win the Dusty Classic
Tino, don't call a black man 'boy.' Collect your friend, Riddick. Shoutout to all these audience members who help scare off Tino and Riddick. They get a match for next week's show. I need the Street Profits to win. There's no fun footage to accompany the announcement, but a singles match for Peyton Royce and Kairi Sane gets confirmed for next match as well.
Bruiserweight (W) vs. The Little Gargano That Could
Is Johnny Gargano allowed to hold this title? Or if he wins, would Pete just get it back immediately because Johnny is from Cleveland? Johnny is extremely happy to be here either way. Maybe tonight is the night he finally lets go of the heartbreaking loss of his best friend, the worst person in the world, Tommaso Ciampa. Pete Dunne is just glad for a chance to beat someone up.
This match is as good as you could want from these too. There's a moment where Johnny hits a back leg kick and then just holds his leg there, grinning back at Pete. It's little moments and expressions that make both of these men so incredible to watch. Pete Dunne is a deceptively strong wrestler, but Johnny is so quick on his feet that he can slip his way out of the most devastating maneuvers. With the bitter end, Pete Dunne gets the win. Shoutout to Johnny Gargano for making me believe he might take home the belt.
That's all for this week's edition of NXT — tune in next week for more WarGames fallout as we begin to see how the new number one contenderships start to shake out.