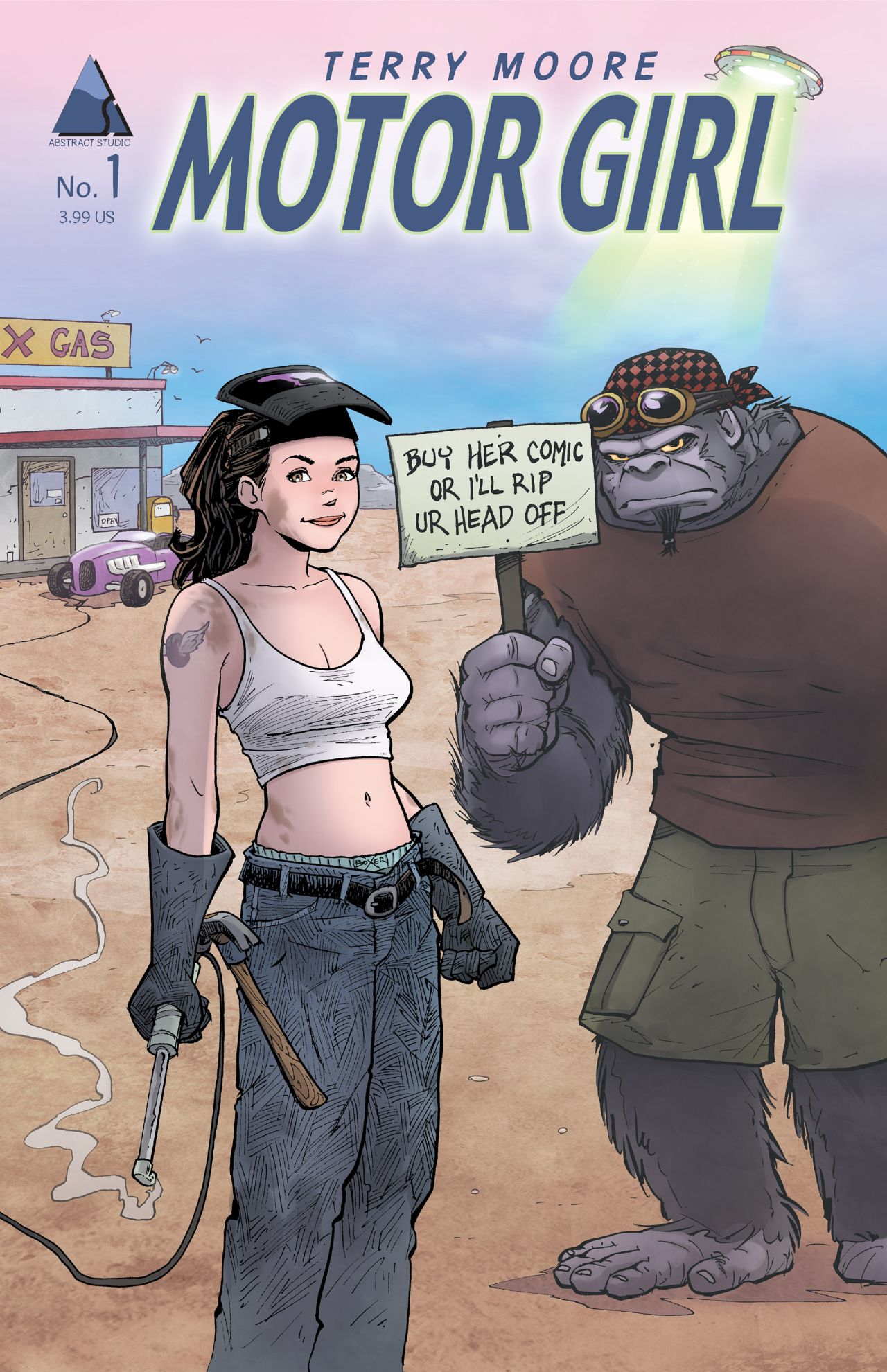 Motor Girl #1 Review
Writer: Terry Moore
Artists:  Terry Moore
Cover Color: Steve Hamaker
Publisher: Robyn Moore
Terry Moore is a creator who has carved his own niche in an industry dominated by corporations. His previous works of art include masterpieces Strangers In Paradise, Echo, and Racheal Rising. These books have cemented him as an indie darling, and Motor Girl #1 continues Moore's tradition of great works.
Motor Girl is the type of genre bender that makes having to describe it difficult. Dramedy might be the best classification. There is, however, a wonderful tinge of science fiction within the story, along with the ominous and foreboding corporate interest lurking in the background. There's also a gorilla.
Our titular character in Motor Girl #1 is Sam. She is a spunky, smart mechanic at a junkyard. She's a veteran and after three tours she suffers lingering damage that she is coping with in her own way. Mike is her simian 'companion' throughout the issue. Sam confides in Mike and he appears to have her best interests at heart. Finally, we have Libby is the owner of the junkyard. Even though she owns the junkyard, she considers Sam her partner and consults her on everything.
I appreciate the way Terry Moore crafts his stories. Motor Girl #1, like most of his works, is extremely character driven and we get lots of page time with Sam. Even though we are never privy to her inner monologue, we understand what is important to her and what emotionally roots her in the story, and these character traits are especially highlighted through her interactions with Mike. Very rarely in an opening issue are characters so firmly defined yet still shrouded in enough mystery to keep readers coming back. Motor Girl clearly has its head in the game from issue one.
Moore not only wrote the issue, but drew it as well. His art and storytelling are a joy to behold. In a book dominated by women, he doesn't hypersexualize them. Even when Sam is in boxers, a wife beater and combat boots, never does the book suffer from issues of male gaze. There's a moment where we get to see Sam's fingers as she peers through her blinds and they are appropriately mangled and dirty. As a mechanic, she doesn't have manicured nails but the nails of someone who works on engines and with car oil all day. I appreciated this thought and attention to detail. Moore's storytelling is a masterclass. Panels that we are supposed to spend more time on are larger and capture more time. Even though there is a bunch of dialogue in the issue, Moore will also carefully use quiet panels to add a sense of poignancy to the moment every time they are used.
This is a black and white book. While that could have been a handicap for the art, Moore's storytelling noticeably doesn't suffer and Motor Girl #1 instead uses the limitation to enhance the emotional beats of the story. The shading of grey Moore does to indicate the time of day subtly distinguishes day and night clearly for the reader and allows the book a passage of time that it otherwise may not have had.
Verdict:
Buy It! This issue is a must. Motor Girl #1 has so many twists and turns that my neck hurt because I wanted to speed through to figure out what happened next. A master like Moore inserts such impetus into this story. The strength of this book is its strong characters and great storytelling. I tried hard not to spoil a thing about this issue because what happens is so interesting I didn't want to ruin it. Believe me when I say this issue is worth picking up for what happens. You should experience it for yourself.