Mother Panic #1
Writer: Jody Houser
Artist: Tommy Lee Edwards
Publisher: DC's Young Animal
Review by Anelise Farris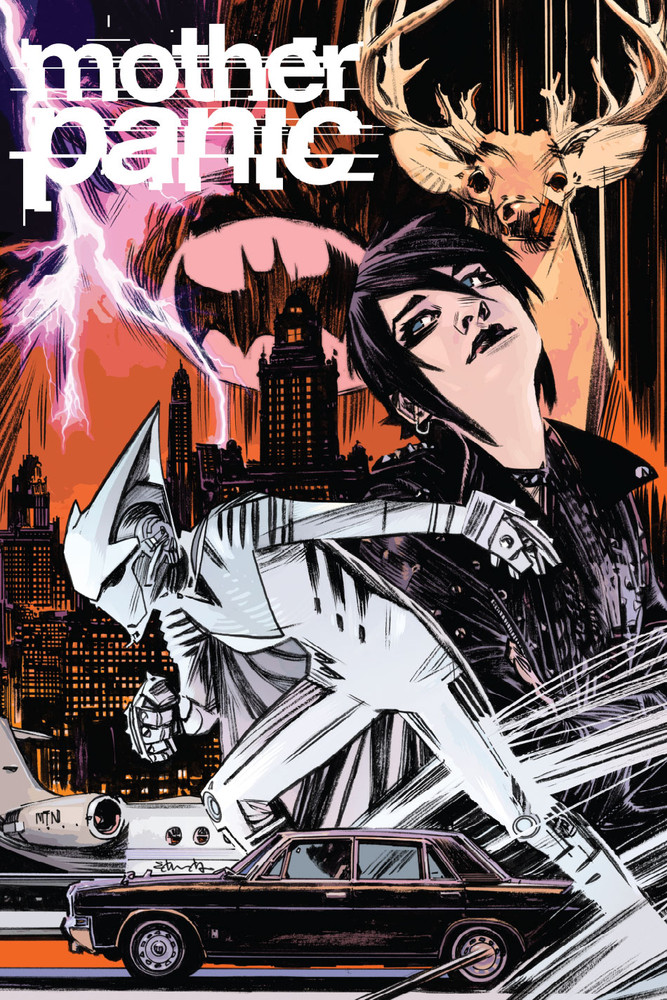 Mother Panic #1 introduces readers to Violet Paige: a cynical, jaded heiress with a whole lot of attitude. After having spent a significant amount of time away, Violet has returned to Gotham City, to her home where
her mentally-unstable mother lives. Violet is not a hero by any means, and though she dawns a white superhero suit, readers aren't exactly sure what her main objective is: other than rage and revenge.  Not waiting for issue #2 to jump-start the action, Violet heads to a gala to locate a target—only to have her plans foiled, and more un
settling circumstances, involving art and bloodshed, emerge as a result.
The writing is fast-paced and carries a type of frenetic energy that definitely works well with the tone of the story. Although there are a few flashbacks to Violet's childhood, much of her backstory is left up to the reader. From Violet's dark, brooding nature and ruthless dialogue, it is clear that she doesn't care for anyone—not even Batman. And yet, she is a strong, spunky figure, that I found immediately likeable (or, perhaps, compelling would be a better word choice).
The art is chaotic, frantic, trippy, gritty, and a bit surreal—giving it an almost otherworldly character. At times, the combination of the psychedelic art and an overload of speech balloons, made me feel overwhelmed—yet it seems almost intentional. The world of Violet Paige is a chaotic one, and that is certainly communicated here. Although this is somewhat of a traditional superhero story set in Gotham City, it feels very different, in an interesting way, and I think that can be attributed both to the art, as well as to the attitude behind this book.
The Verdict:
Wait and See. While this is clearly Violet's story, there is a lot going on here—especially for a first issue. This is a comic that requires some effort from the reader: both to piece together Violet's backstory and to not feel too overwhelmed or lost in the various plot strands and trippy art.  While this is the start of a refreshingly different vigilante story, fueled by a raw, vibrant energy and eccentric art, I just hope it comes together more smoothly in subsequent issues.