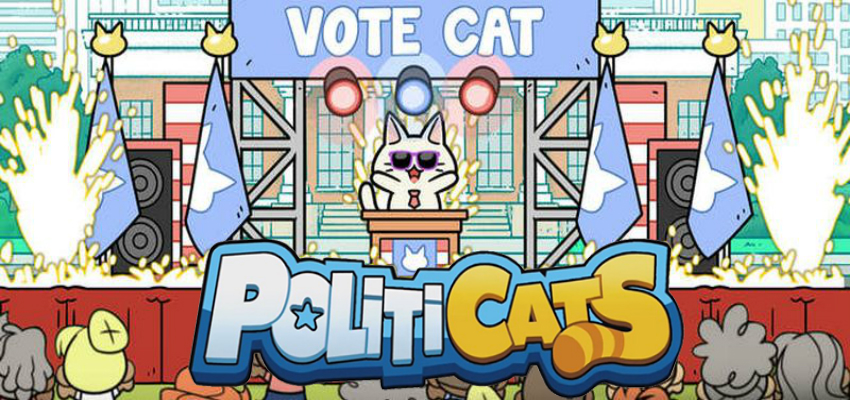 Mobile Gaming: PolitiCats
Genre: Role playing
Developer: Reality Squared Games
Platform: Android, iOS
A review by Amelia Wellman
In a reality where cats are the most adorably devious creatures in existence, it's only natural for them to seek unlimited political power–and they need your help! Create your cute, cuddly candidate, and realize your dreams of world domination by assembling a team of tiny humans to manage your campaign and get you elected. You'll start out as Class President and work your way up to become Supreme Earth Cat, earning endorsements from Celebrity Cats along the way! Watch as supporters flock to hear what you have to say, offering up their hard earned cash to fund your global campaign. So get out there, Vote Cat, and make 2017 the year of the kitten!
The gameplay of PolitiCats is super simple and super addictive. Simply tap your screen to collect votes and campaign donations to get you through the many tiers of democratic world domination! The money you'll collect will go towards hiring and upgrading staff and upgrading your abilities which will earn you more votes and more money.
Throughout the game you can personalize your cat with a name, slogan, and special look, be endorsed by celebrity cats, play as famous felines (including Garfield), and even when you're not playing, the game keeps going with donations rolling in and the opportunity to double it by watching thirty second ads. It gives you a huge boost and stops the later levels from becoming too hard and frustrating.
PolitiCats does have some in-game currency and micro-transactions. You'll collect paper money in-game to upgrade abilities, but to buy bonuses you'll need gems. The gems will buy you campaign perks like more staff for more votes, speed up cool down times for bonuses, and earn huge money for your campaign. They'll cost you $2.59 for 200 gems, all the way up to $134.99 for 15,000 gems. You can also watch ads to earn gems for free.
The Verdict
Play it! PolitiCats is the perfect game to while away some time on. It's fast-paced but not stressful, it's generous in its bonuses and not pushy with its in-game micro-transactions, and it's just the cutest damn thing you're ever going to see!
PolitiCats is available for Android and iOS.