A few other tap/idle games have piqued my interest since my last mobile game reviews, so I decided to come back and share them in part two!
There isn't an overall goal to this game, rather just a bunch of small quests (if you can even call them that) that provide some sense of progress throughout the game.
Crusaders can't be played offline and has the usual components of online play,  like watching ads to double the amount you accrued while you were away or just to get more money.
I give this game 1.5/5. It has some interesting features, but it doesn't have anything to keep players coming back or to make it stand out from other tap/idle games. It has a formation feature that seem cool in the beginning, but once you acquire a few more heroes, it's problematic to keep track of all the abilities and bonuses that each hero gets depending on their spot in the formation. Another feature I really like is the offline tracking. It tells you how long you've been away from the game and how much gold was collected. With other similar games, you don't know if it kept track the entire time you were gone or just capped out at a certain point.
Aside from the cool offline feature, Crusaders of the Lost Idols doesn't really have anything else going for it. At a certain point the game just runs itself and no human interaction is needed.
The goal of this game is to become a trillionaire by tapping and building up your business. Again, this game can't be played offline and has the usual online components where watching ads nets you more money.
I give it a 4/5. To start, Tap Tap Trillionaire is a bit slow, but after a while you're able to do more and experience the full potential of the game. In addition to just tapping for coins and upgrading your tapping powers, you can get traders that make investments. But investors beware! These investments aren't always guaranteed, so you take a risk if you agree. On top of that, you can invest in the stock market. Once you achieve a certain cash flow, you can expand into other cities, including Japan and Spooky Hollow city. Each of those cities have their own currency and you need to start from the beginning, so to speak.
I love the interaction involved in this game, it's not just you tapping repeatedly on the screen. You can use traders to take chances on investments or even play the stock market. There's actually something for the player to do and there's definitely a bit strategy to the game. The other cities are also refreshing; most tap/idle games that have a reset feature will get rid of all your progress for some premium items or for 20% more coins per tap in the new game. In Tap Tap Trillionaire, you get the feeling of a reset when going into the new cities without losing any of your progress in the first one. Though after you expand into the third city it becomes extremely time consuming to manage all three locations. It shifts from being something casual into something more serious and it's not like you're actually making money here.
You're a cat running for office and are competing against other animals!
It's another game that can't be played offline and has you once again watching ads to double the amount you acquired while you were away or to net more money.
Tapping gets you votes as you run in local towns, going up against their mayors. Taps also somehow equate to contributions to your campaign, which you can use to acquire new staff or to power up your tapping abilities. I give this game a 1/5. Aside from the pun in the title and the cute cats, PolitiCats gets boring pretty quickly.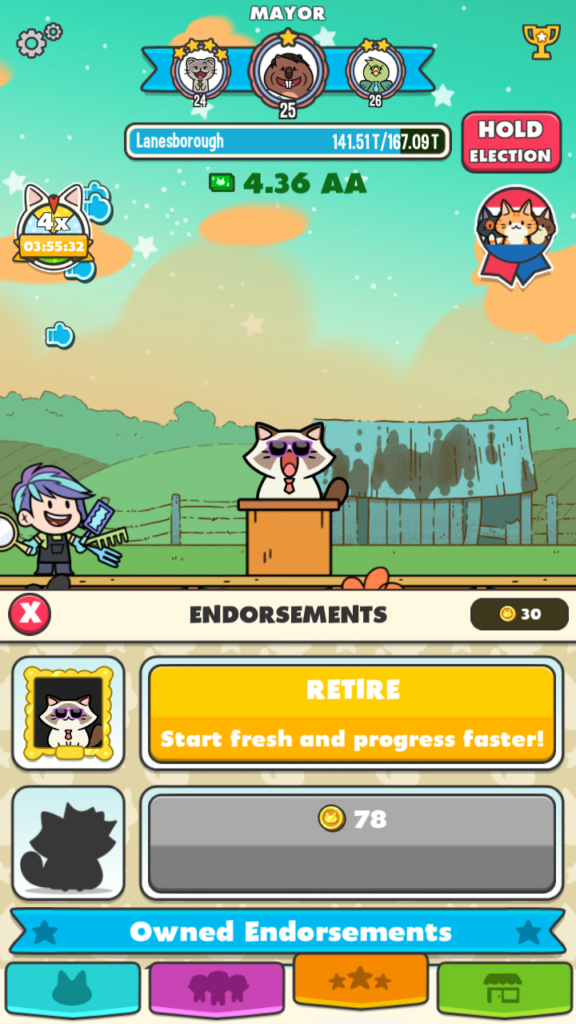 ---
Do you have any games you want me to review or know of any other tap/idle games? Sound off in the comments below, tweet me @Andrew_Dmyt or send an email to andrew@roguesportal.com!