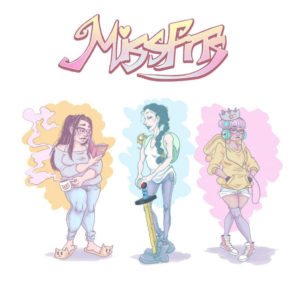 iTunes Download
Google Play Download
Hosts: Insha Fitzpatrick (@benwyyatt), Heather Fischer (@CostumedHeroes), and Amelia Wellman (@FatalAmelia)
Official Twitter: @the_missfits
Air Date: 2017/05/01
It's the Missfits! In episode 100, The Missfits get heavy with a look at the good, the bad, and the ugly in the spectrum of shitty relationships. Before we begin this heavier episode of The Missfits, we want to be very sure that anyone sensitive to the mention of domestic abuse or sexual assault is aware that those topics are present in this episode. Nothing is brought up for the sake of shocking you, but if you are uncomfortable approaching these subjects at all, please proceed with discretion.
Feeling generous? Rate and review The Missfits on iTunes, tweet us questions and random stuff, or just leave your thoughts somewhere on the internet! Any little bit helps the podcast out!
Like our art? Check out our fabulous (and official!) Missfits artist Maria Lazos! Her Instagram is full of amazing art and she's open for commissions!