Michael's Best TV Shows of 2017
It's the end of the year, so it's time for some completely arbitrary and subjective lists!
I kept my list limited to shows that I've seen every episode that aired during the calendar year. Also, I've split it into a Comedy and Drama category, and the Drama category has 15 entries. And why shouldn't it? Top 10 is as arbitrary a number as any other. Why not a top 25?
Some of these series can cross over into either category, but I went with the feeling it gave me as a whole. I laughed until I cried at some of the dramas and felt real, emotional pangs during some of the comedies. I've still placed them where I placed them. The top five of each list I've given a little blurb about why I think it deserved to rank so high.
So, on with the show:
COMEDY
10 – The Tick
09 – Veep
08 – Rick and Morty
07 – Wet Hot American Summer: Ten Years Later
06 – Vice Principals
05 – Catastrophe
Sharon Horgan and Rob Delaney created and star in this British series. It's incredibly honest, sweet and vile and I love it to pieces. The third season brought the characters to some sad and interesting places. Ending on a heartbreaking cliffhanger, all while remaining insanely funny. Horgan and Delaney have the chemistry of a casting agent's wet dream. This was also one of Carrie Fisher's final roles, playing Delaney's mother, and she gets some fantastic scenes to go out on.
04 – American Vandal
As a huge fan of true crime documentaries and podcasts like Serial, The Staircase, Making a Murderer and The Jinx, I'm both the perfect audience and a tough critic for a show like American Vandal. In six episodes American Vandal manages to pull off a perfect parody of these types of shows while still being its own thing. The stand out moment of the series — besides the digital recreation of the handjob on the dock — is the episode that recreates and analyzes "Nana's Party" using messages and Snapchats and Facebook posts. It's a true crime staple with a truly 2017 twist.
03 – Mystery Science Theater 3000: The Return
I was oddly split on the idea of bringing back Mystery Science Theater 3000. On the one hand, it's an incredibly simple concept that should work indefinitely. On the other hand, MST3K feels so of-its-time that thinking about "new" episode feels weird. Well, I was wrong to worry at all. The new cast and new episodes are basically the best case scenario for a new season of this classic show. There may be a couple of rocky episodes or moments — I'll consider it growing pains — but no more than any other season of the series. I feel like there are already a couple of instant classics. Another season was recently announced, and if they refine their efforts even further, I wouldn't be surprised to see it back on this list again.
02 – Nathan For You
Nathan For You was a little different this season than in its first three. Season four kicked off with a celebratory look back at previous episodes. The season as a whole may have had the flimsiest concepts for "helping" the businesses involved as if the show was stretching the limits of the basic premise. Well, it ended up breaking the format in the two-hour finale, "Finding Frances." The show goes into unexpected places and explores unexpected stories with barely any lip service paid to the Nathan For You we know and love. But that doesn't really matter because "Finding Frances" is one of the best TV episodes or even movies I've seen in 2017.
01 – The Good Place
The Good Place is the type of show that seems like it would have a very short shelf life. It's incredibly high-concept and has a basic premise that would either get old or annoying in lesser hands. Luckily creator Michael Schur, the writing stagg and the extremely game cast elevate to unexpected heights and take it to places I could never have expected. Ted Danson is famous for being a sitcom icon, so I shouldn't be so surprised by his performance in The Good Place. He blew me away in season one — particularly the final episode — and continues to put in impressive and interesting work so far in season two. The Good Place was recently picked up for a third season, and I wouldn't be surprised if it ends up topping my list next year too.
DRAMA
15 – Riverdale
14 – Inside No. 9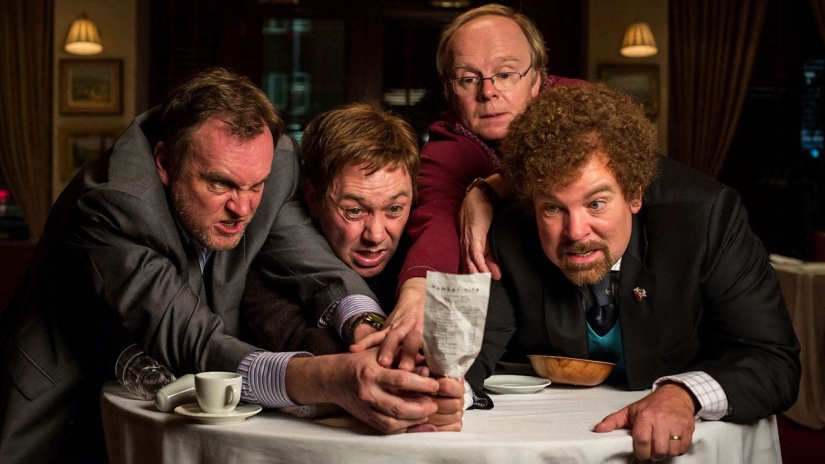 13 – Broadchurch
12 – Game of Thrones
11 – American Gods
10 – Fargo
09 – Mindhunter
08 – Better Call Saul
07 – Legion
06 – Big Little Lies
05 – Godless
I didn't know what to expect when I sat down to watch Godless. I knew Steven Soderbergh produced it and the cast was great. I was willing to be generous but wasn't sure if screenwriter Scott Frank could pull off the type of visual storytelling I expect from a western. Yet I had no reason to worry, Frank acquitted himself nicely. He took an interesting screenplay concept — a mining town where all the men died in a collapse — and expanded it into a miniseries, and one of the best shows I watched all year. Merritt Wever put in a star-making turn if there's any justice. Jeff Daniels portrayed one of my favourite screen villains of the year.
04 – The Young Pope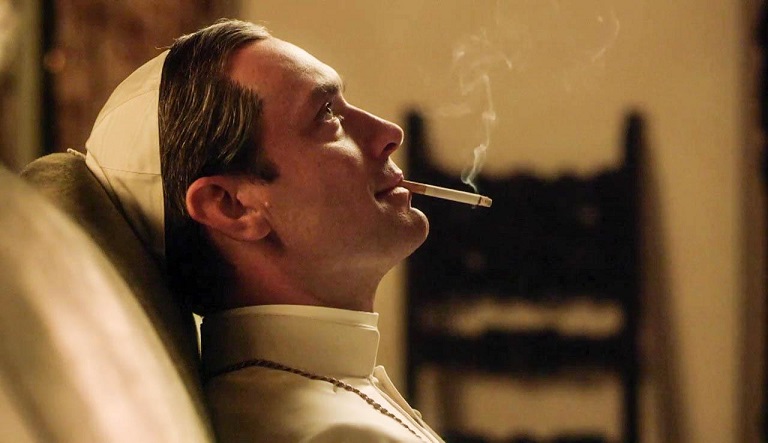 I mean, it's a show about a young pope called The Young Pope. It's exactly what it says on the tin while being so much more. It seems like a series that should be enjoyed ironically and memed to holy heaven. It kind of is that, but it stars Jude Law, Diane Keaton and created by Paolo Sorrentino. They know exactly what they're doing when they have Jude Law smoke inside, drink Coke and literally say the line "I am the young pope." These are just the flashier moments they're using to sneak in the actually interesting thoughts and ideas. (Ed note: Dat ass. – Insha)
03 – Feud: Bette and Joan
Feud: Bette and Joan is the exact type of series Ryan Murphy should be creating. Campy, melodramatic and full of great actors working hard as hell. It's been a decent year for television showcasing strong female performances (Top of the Lake: China Girl, Big Little Lies, Godless, The Handmaid's Tale) but Feud may lead the pack. Jessica Lange continues to do career-defining work with Murphy, and Susan Sarandon matches her every step of the way, while Jackie Hoffman, Judy Davis, and Catherine Zeta-Jones have strong supporting roles. On top of all that, "And the Winner is… (The Oscars of 1963)" is like an awards season heist film. One of the most entertaining episodes of television I've ever watched.
02 – The Leftovers
The Leftovers had three seasons on HBO, each one with distinct differences from the others. The third and final season was the most experimental, the most philosophical and the most beautiful. It's a shame that the show never received the audience it deserved. I understand why a meditation on the purpose of life and death and the inherent lack of answers the universe gives us isn't exactly an easy sell for some.
But if you didn't watch The Leftovers you're missing out on two amazing lead performances from Carrie Coon and Justin Theroux. The most effective part of the finale is purposefully the exact opposite of the old "show, don't tell" mantra and it lands squarely on target thanks to Coon and Theroux. Besides, what other season of television has a running joke about Perfect Strangers turn into an important storyline, a mythical lion that eats God, a Presidential dick scanner and a bunch of dope beards?
01 – Twin Peaks: The Return

There have been TV series that have gotten revivals. There have been film directors and auteurs who have created TV shows. Hell, there have even been other seasons of Twin Peaks. But Twin Peaks: The Return is a strange, singular, innovative and experimental season of television that will end up being discussed and dissected for years. Its format-breaking concept and execution are already being hotly debated, having made its way onto several best movie lists. I wouldn't necessarily categorize it as a movie, but I don't have an issue with it appearing on any movie list because It's easily the best piece of media I saw in 2017. Like the first two seasons and the movie, Twin Peaks: Fire Walk With Me, I plan to revisit The Return as often as I can.