Mera: Queen of Atlantis #1
Written by: Dan Abnett
Pencils by: Lan Medina
Inks by: Richard Friend
Colors by: Vero Gandini
Letters by: Simon Bowland
A review by Cory Webber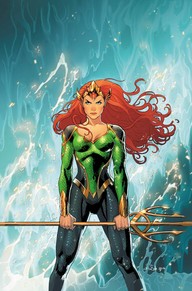 Mera: Queen of Atlantis #1 takes place concurrently with the main Aquaman book. This issue takes a closer look at Mera's situation as a queen in exile. To see how she got here, read Aquaman Volume 4.
Dan Abnett has been on fire with Aquaman and his universe. He is crafting a Game of Thrones-esque epic, and this series is exploring Mera and her path to the throne. Mera: Queen of Atlantis is, surprisingly, Mera's first standalone book.
Abnett's Character work here is outstanding. He gives us great insight into who Mera is, and how she came to be the great warrior, lover and queen-to-be that she is today. This script is a great study of fate versus destiny and how free will comes into play. Mera's destiny was to murder Aquaman, but fate had other plans.
If not for this duality of fate and destiny, I would start to see Mera as a your prototypical damsel in distress. There's even a panel where Mera looks longingly into the distance as she contemplates a life without Arthur — it was almost reminiscent of the silver age of comics that featured many female characters, whose sole purpose was to be subservient to the men in their lives. But Mera is a badass warrior who is more than just the man she chooses to be with. She is smart, resourceful and willing to fight for what she believes in, destiny be damned. This series showcases her true character to great effect.
The art is a step down from Volume 4's Stjepan Sejic, (see my glowing review here). However, that is not a dis to the art in this book. Sejic is just that good! The art is very well-suited for this story. Medina's character designs and body work are fantastic — I particularly liked the Eel's look and feel. Medina's sense of movement and action are solid, making the action very easy to follow.
Friend's inks really make Medina's art jump off the page. Add Gandini's colors and Bowland's letters to this equation and you have a smooth, gorgeous looking comic.
The parts I liked the best, both script and art-wise, were the flashback scenes. I really gained a great sense of who Mera is as a character. Her ability to choose her own destiny in spite of her fate is what makes her such a strong, well-rounded character. The muted colors and tones of these flashbacks were nicely juxtaposed with the bright, vibrant art of the present day story.
The ending of Mera: Queen of Atlantis #1 debuts a character we haven't seen since midway through the New 52 era. I won't spoil who it is, but if you know your Aquaman, you will know who it is from the beginning. The reintroduction of this character will only complicate, and thus improve, the "game of thrones" Abnett is currently playing with in Aquaman.
Verdict:
Buy it! Mera: Queen of Atlantis #1 is a welcomed expansion of Abnett's concurrent Aquaman epic. It's hard to believe this is Mera's first standalone series. The only disappointment is that it will be a six-issue mini-series.